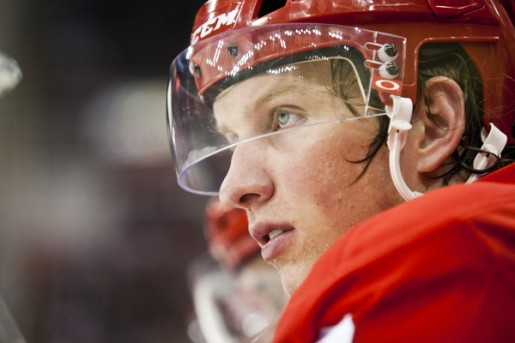 Sometime around 2009, I had a heated discussion with a colleague regarding the Detroit Red Wings' prospect pool. We were attempting to rank the prospects based on potential and there was a debate over who had the brighter future between Gustav Nyquist and Justin Abdelkader. Perhaps I was just flustered with how the conversation was going, but I'm pretty sure I typed the words, "he's a third-line winger, at best" in reference to Abdelkader. While I maintain that Nyquist has the higher ceiling of the two players, the native of Muskegon, Michigan has certainly exceeded my expectations. In a short period, he has gone from a third-line penalty killer to top-six winger.
Piano-Pulling At Our Heartstrings
Abdelkader played a very similar role for the Red Wings during the 2010-11 and 2011-12 seasons. He played an average of 10:25 and 10:45 ES TOI/GP, respectively. He was also a key penalty killer for Detroit during both years, averaging above 1:25 in short-handed time per game each season. It was not until the lockout-shortened season 2012-13 that Abdelkader saw his role on Detroit change. Injuries to Todd Bertuzzi and Mikail Samuelsson pushed the winger up the depth chart. While his time on the penalty kill dropped drastically, he found himself on Pavel Datsyuk's wing. Mike Babcock might be the man who makes the coaching decisions, but Datsyuk had no problem endorsing the move.
"It's like somebody needs to pull the piano and somebody needs to play the piano. This is a guy who pulls the piano."
Despite the increase in ice time (13:45), the "piano puller's" offensive production did not increase – it stagnated at .27 P/GP. During the 2013-14 season, he spent most of his time on a line with Henrik Zetterberg and Gustav Nyquist. While his offensive production rose to .40 P/GP, there were still those who felt that his offensive totals were not enough to earn him a spot on a scoring line.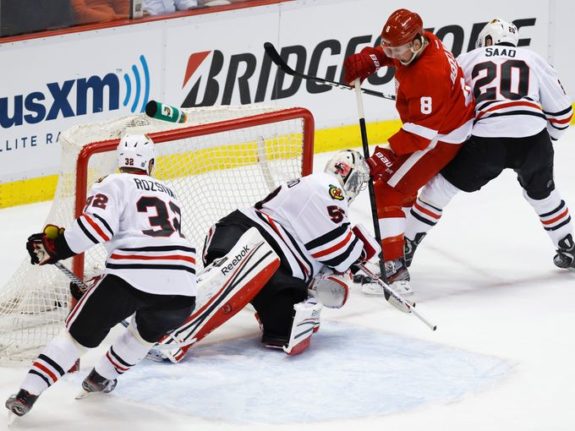 [Related: Analyzing Justin Abdelkader's Recent Offensive Surge] 
Despite the questions surrounding Abdelkader's ability as an effective top-six forward, Babcock placed him on a line with Zetterberg and Nyquist once again. It has proven the right move, as Abdelkader has experienced his most potent offensive season to date, scoring 39 points through 64 games. He has become an important piece in Detroit's line-up, ranking fifth on the team in short-handed time (0:56 SH TOI/GP) and power play time (2:40 PP TOI/GP). While you can link his increase in offense with his spike in power play time, it is tough to imagine anyone else playing the net-front role on this current Red Wings team as well as Abdelkader.
What Does The Future Hold for Abdelkader?
With just one year remaining on a deal that pays him $1.8 million per year, Abdelkader will be in line for a raise heading into the 2016-17 season. I think it is fair to assume that he will be asking for something in the neighborhood of $3.5-4 million per year. While I would be hesitant to pay that much today, another strong season from Abdelkader could justify the price tag. When gauging what kind of term to give the rugged winger, Ken Holland will have to consider the progression of the Red Wings' prospects. One thing is for certain: Justin Abdelkader has carved out a niche for himself in Detroit.
Subscribe to our Red Wings stories to get email updates every time a new story is published.
I am a writer from Windsor, Ontario who has covered the Detroit Red Wings for The Hockey Writers. I have had the pleasure of doing so since February of 2015. Previously, I have written about Red Wings prospects for Hockey's Future. I am always up for chatting about the Red Wings and hockey in general, so leave me your comment and/or tweets. Follow me on Twitter at @BrandonPeleshok.