Raise your hand if you thought Justin Abdelkader would be tied for the team lead in goals after the first nine games of the season?
Put those hands down, because you're all lying. However, Abdelkader has found a scoring touch early in the 2014-15 season and is tied with Gustav Nyquist with five goals. He has eight points on the season and is second behind Henrik Zetterberg's 12.
So what's the reasoning behind this outburst on offense? Anyone who has followed the Red Wings for the past seven seasons knows Abdelkader is not known for his scoring. He's a gritty player like Kris Draper, Kirk Maltby and Tomas Holmstrom who will go into the corners winning puck battles and park himself in front of the net to establish a presence.
Abdelkader's Linemates Key in Surge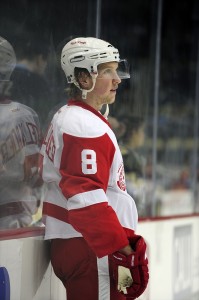 Last season, coach Mike Babcock put Justin Abdelkader on a line with Pavel Datsyuk and Henrik Zetterberg. At first, I hated the idea. Mostly because Abdelkader's skill, or lack there of, was handcuffing Datsyuk and Zetterberg. They would make an excellent tape-to-tape pass in the slot to Abdelkader, only to have him fumble it or fan on a scoring opportunity.
The growing pains lessened, as Abdelkader got accustomed to his new linemates, and the trio did some damage last year. However, with the addition of Nyquist at the beginning of the season, many felt he would be a prime choice to be on the top line with Zetterberg and Datsyuk.
He's better with the puck, he's a better skater and more worthy of the top line minutes than Abdelkader is. However, Babcock decided to keep Datysuk, Zetterberg and Abdelkader together once Datsyuk came back from injury, and so far, it's paying dividends.
Abdelkader gave props to both Zetterberg and Datsyuk on his second goal against Washington on Wednesday. He told MLive.com's Ansar Khan:
"With those two guys, you just try to skate and be hard on the forecheck for them, be hard around the net, find my areas I need to go to, similar to what (Tomas Holmstrom) had to do when he played with those guys."
"Those guys are so offensively gifted and skilled, teams give them so much respect. You kind of saw that on the third goal, the D backed in and Pav just created when most guys in the league, when it's a one-on-two, you aren't thinking about much offense. But he's got eyes in the back of his head. He makes great plays."
Zetterberg created the turnover, Datsyuk drew the defenders toward him and made the heads-up play back to Abdelkader, who rifled a shot past Braden Holtby to give the Red Wings a 3-2 lead. Abdelkader saw that the defenders were closing in on Datsyuk and gave him an option should Datsyuk have nowhere to go with the puck.
Even though Abdelkader's first goal was unassisted, it doesn't happen if Datsyuk doesn't force the turnover. The puck slides into the slot to Andre Burakovsky, Abdelkader picks his pocket and fires a quick shot past Holtby.
The slick takeaway was all on Abdelkader, and you can tell his hockey IQ is getting better and better by the year. There's no way Abdelkader make a play like that five or six years ago.
Can He Sustain This Production?
Like Nyquist had last year — and so far this year — Abdelkader's shooting percentage is ridiculously high at 22.7 percent. Abdelkader will not be able to sustain that high of a shooting percentage, but he should easily pass his season high he set in goals last year and the year before at 10.
Obviously, having two of the greatest playmakers in the game on your line helps tremendously, but Abdelkader is smart enough to take advantage of those situations, whereas in years past, he was not.
Goalie Jimmy Howard recognized the hard work Abdelkader has put into not only improving his offense, but the mental side of his game as well.
"He's working hard out there. He's getting in areas where he can put the puck in the net. He stays after practice late, works on his shot, works on his hands. Year after year it's getting better."
Babcock wants to keep the trio of Datsyuk, Zetterberg and Abdelkader together, and barring injuries or a lack of production, he has every right to do so.
Tom Mitsos is a writer from Michigan who covers the Red Wings and the Red Wings' AHL affiliate, the Grand Rapids Griffins, for The Hockey Writers.