Since Andrew MacDonald and Braydon Coburn were lost to injury for at least 4 weeks, rumors have swirled that the Flyers would look to a veteran free agent replacement. The name that was speculated the most was Ryan Whitney, who had an NHL out-clause in his contract with HK Sochi of the KHL.
However, at first the Flyers elected to fill the void internally with a series of call-ups from the AHL. Shayne Gostisbehere made his much-anticipated NHL debut for two games before being a healthy scratch last night in a 4-3 loss to the Tampa Bay Lightning. Another call-up, Brandon Manning, took his spot. Last night's game had barely finished before the Flyers made an announcement that they found their veteran replacement in Carlo Colaiacovo.
BREAKING: The #Flyers have signed free-agent defenseman Carlo Colaiacovo.

Details → http://t.co/OjfJhlhUjt

— Philadelphia Flyers (@NHLFlyers) October 31, 2014
Terms of the contract have not been disclosed, but it is believed to be a one year deal worth $625,000, according to Capgeek. Colaiacovo is expected to join the team for practice on Friday, and he will wear #26.
So Why Did Hextall Wait?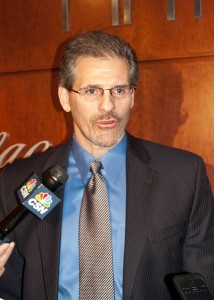 Ron Hextall has made it abundantly clear many times that
he preaches patience
when developing young players. Following the successful model that Dean Lombardi used in Los Angeles, Hextall is planning on building this Flyers team from within. It's the same reason that none of Samuel Morin, Shayne Gostisbehere, or Scott Laughton made it onto the Flyers opening day roster.
With that in mind, it came as quite as a surprise that Hextall elected to bring up Gostisbehere instead of finding a veteran replacement immediately.
After announcing the signing, Hextall even admitted he didn't want to do it, saying "I don't think it's right, I don't think it's right for him." when referring to Gostisbehere.
So why did he do it?
"Well, you know what, when you recall a guy, you look at everything," the GM said. "You look at your defense. We've got five guys? OK, who fits best with this group? Who's our next game? We're playing Detroit. It's a fast team."
It was a tactical decision (that apparently paid off, as the Flyers beat the Red Wings even though they were badly outshot). The injuries to Coburn and MacDonald were announced on the 24th, and Gostisbehere's first game was on the 25th so they could have had Colaiacovo there in time if they wanted him.
Either Carlo Colaiacovo wasn't on the Flyers' radar at that point, they couldn't agree to terms (unlikely), or they didn't think he was a fit (unlikely, Colaiacovo is a good skater that was on those fast Red Wings a few years ago). It seems Hextall didn't think he needed to pull the trigger on a signing until he saw what the defense looked like with the youngsters.
How Does Carlo Colaiacovo Fit?
Stylistically, Colaiacovo should be a solid fit with the defense. He's a good skater, has some offensive instincts, and can move the puck well. Defensively, he isn't very physical but uses his hockey IQ and positioning to play effectively. His mobility and puck-moving skills are particularly useful at even strength, where he's been a very strong possession player.
Since 2007-08, when Corsi started getting tracked, Colaiacovo has never had a negative Corsi On per 60 minutes. That may not seem that impressive considering the Blues have been a dominant team the past few years. But from 2008-2011, they missed the playoffs twice, and were a sixth seed the other year. In 2008-09 and 2009-10, Colaiacovo led all Blues defensemen in Corsi, and was the only regular defenseman to have a positive Corsi in 2008-09. He wasn't riding the coattails of a great team, he was a very effective even strength player himself that drove possession.
The biggest knock against Carlo Colaiacovo is that he is incredibly injury prone. That's a big concern, especially for the Flyers, considering he was brought in specifically to help an already injury depleted unit. He's played 70 games in a season just once in his career. He hasn't had one recurring, nagging injury. Instead, he's been incredibly unfortunate to have a plethora of injuries to basically every body part.
In the past 3 games, Gostisbehere and Manning have been paired up with Luke Schenn on the third pairing. That is likely where Carlo Colaiacovo will end up. The Flyers won't need him to set the world on fire, but if he moves the puck effectively at even strength on the third pairing, it will be a solid signing.
Once Coburn and MacDonald are healthy, he will likely find himself in the press box or the AHL.