The Problem with the Ottawa Senators Offense
Just like any team, the Sens (rare) strength in recent years has been their ability to roll 3 lines and get secondary and even tertiary scoring. Early on in 2014-15 however, the Ottawa Senators offense is playing a dangerous game and relying far too heavily on their top trio of Clarke MacArthur – Kyle Turris – Bobby Ryan, with Erik Karlsson obviously deserving mention. Only one other forward has 6 points through 9 games – newcomer Alex Chiasson.
For an offensive unit that lacks a point per game contributor at this early stage of the season and will be unlikely to provide one by season's end (with the possible exception of their captain) everyone needs to pull their weight and do their share. So far, that's yet to happen and Head Coach Paul MacLean and second line center Mika Zibanejad can share the blame.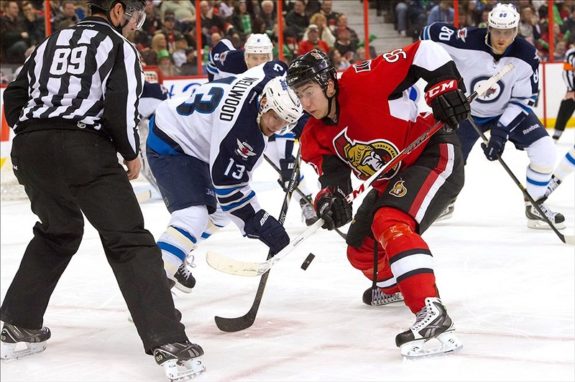 Why it's Paul MacLean's Fault
A severe lack of consistency can take a large share of the blame for the problems with the Ottawa Senators offense in the early going of the 2014-15 season.
Via LEFTWINGLOCK.com: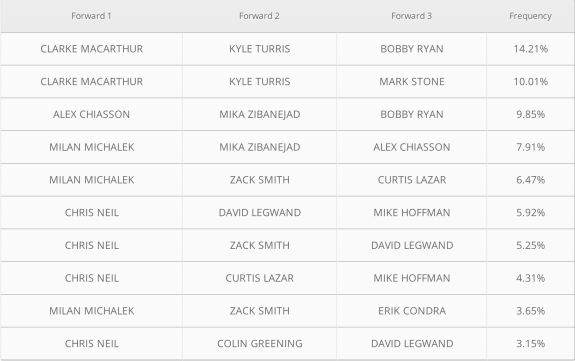 By comparison, the Tampa Bay Lightning and New Jersey Devils are the only other teams currently in an Eastern Conference playoff spot who aren't rolling out any one identical trio of forwards over 20% of the time. As seen in the above graphic, MacLean did try putting star winger Bobby Ryan on the second line with Zibanejad in search of a kick-start. As opposed to improving the center's performance, it simply rendered Ryan ineffective as well.
The first place Canadiens are rolling out there top trio of Max Pacioretty – David Desharnais – Brendan Gallagher a staggering 22.61% of the team's 5-v-5 ice time. While the second line of P.A. Parenteau – Tomas Plekanec – Alex Galchenyuk are being used for 17.55% of even-strength time.
Why it's Mika Zibanejad's Fault
Zibanejad has not been shooting with anywhere near the same frequency as he did a year ago. In 2013-14 he averaged over 2.2 shot on net per game, on route his breakout 16-goal season. Through 9 games this season, Zibanejad has recorded just slightly over 1.5 shot on net per game, and scoring just once – in his most recent game against the Chicago Blackhawks on Thursday. Additionally, he ranked 2nd amongst team forwards in terms of Corsi On in 2013-14, while this season he's the 11th ranked forward and last amongst team centers who've played more than one game at the position.
There is reason for hope, however; Zibanejad is currently scoring on a career-low percentage of his shots on net, a fate that could quite possibly see an upward turn of fate. It will need to start with shooting more often, and cutting out a more defined role for himself with regular wingers would help to allow for that.
How the Ottawa Senators Offense Stacks Up
So far this season – small 9 game sample size duly noted – the abilities of the Ottawa Senators offense to share the goal-scoring burden do not stack up well against last season's Eastern Conference playoff teams. Using 0.66 points per game as the mark, the Sens currently have 4 forwards meeting the requirements, which includes Kyle Turris, Bobby Ryan and Alex Chiasson just barely meeting the minimum. The second comparison will be to players at or above 0.5 points per game, which can be considered consistent production and of which the Sens have just one extra forward meeting the requirements in Mark Stone.
Boston Bruins – 4 forwards over 0.66 PPG, 8 over 0.5 PPG
Pittsburgh Penguins – 5 forwards over 0.66 PPG, 6 over 0.5
Tampa Bay Lightning – 3 forwards over 0.66 PPG (4 including Steven Stamkos' 40 points in 37 games), 7 over 0.5 PPG
Montreal Canadiens – 2 forwards over 0.66 PPG, 4 forwards over 0.5 PPG
New York Rangers – 2 forwards over 0.66 PPG, 7 over 0.5 PPG
Philadelphia Flyers – 4 forwards over 0.66 PPG, 7 over 0.5 PPG
Columbus Blue Jackets – 2 forwards over 0.66 PPG, 5 over 0.5 PPG
Detroit Red Wings – 5 forwards over 0.66 PPG, 7 over 0.5 PPG
As can be seen – with the Canadiens acting as the exception – there's a strong correlation between scoring balance and sustained success. Ottawa ranks well with the desired competition in terms of high-end point-getters, but trail off in the depth department. In order for them to right the ship, they'll need to find a way to balance the load.
A need that will be emphasized all that much more in a month of November that includes 14 games, and 3 sets of back-to-backs.
Esten McLaren graduated from the University of Guelph with a B.Sc in Biological Sciences before enrolling at the College of Sports Media in Toronto. He graduated with a diploma in Radio and Television Sports Broadcasting in the spring of 2014 and now works at the FNTSY Sports Network in Toronto. Esten writes for lockerroomfantasysports.com and thefakehockey.com as well as for The Hockey Writers.