Back in January, a significant debate really started to take center stage amongst Winnipeg Jets fans: Who should be the starting goaltender for the team?
On one hand you have up-and-coming rookie Michael Hutchinson, who really started to make a name for himself with the Jets after not really getting a chance with the Boston Bruins. With a record of 13-4-2 along with a 2.00 goals against average and .932 save percentage at the time, Hutchinson was making a strong case to be given the reigns as the team's number one netminder down the stretch.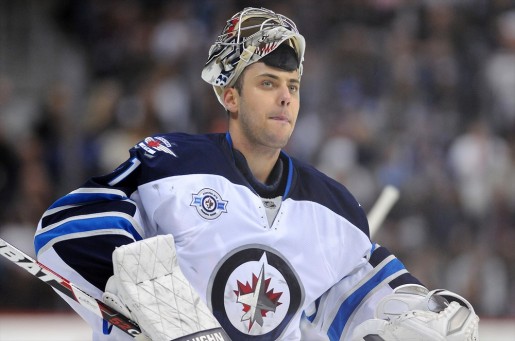 At the other end of things was Ondrej Pavelec, the veteran goaltender who, despite never making the playoffs during his career, has pretty much seen it all at the NHL level during his time with the Jets and Atlanta Thrashers. Sure, he's given up some pretty bad goals in his time; I've harped on him for that, among other flaws in his game, more often than I care to remeber. However, it's not always about the goals you've allowed, but how you rebound from those bad goals which is something Pavelec has done remarkably.
When Hutchinson began to struggle leading up to and after the trade deadline, the Jets saw their lead in the Western Conference Wild Card race dwindle from eight points to two, and were even surpassed by the surging Minnesota Wild. Hutchinson posted an awful .845 save percentage in March after an unimpressive .898 in February, something that is never good enough for a team fighting for its postseason life. It led Jets fans to begin panicking and wondering if the team was doomed to yet another season of coming up just shy of the playoffs despite holding a spot late in the year.
But then, when everything seemed doom and gloom for Winnipeg and its fans, the white knight came from the shadows to guide the falling heroes back to the forefront of the playoff battle while proving many wrong in the process.
Since giving up a center ice goal to Barret Jackman of the St. Louis Blues and making some choice comments about the situation, Pavelec has been nearly impenetrable for the Jets. In five straight starts since that awful night, Pavelec has given up a grand total of five goals on 151 shots against the likes Tampa Bay, Washington, St. Louis, San Jose and Edmonton. Sure, San Jose and Edmonton aren't playoff teams, but Pavelec playing as well as he did against the other three, which includes a shutout of Washington, is nothing to scoff at.
He is a man playing possessed right now, and is making a very strong case to be the man who gets the nod should the Jets hang on and make the postseason. Heck, it's pretty safe to say that without Pavelec playing the way he has over the last two weeks, Winnipeg would be on the outside looking up at the defending Stanley Cup Champion Los Angeles Kings in that second Wild Card spot. Pavelec has been playing what is arguably his best stretch of games since becoming a full-time NHL goaltender in 2009, posting a 1.18 goals against average and a .967 save percentage during this five-game run. He's also on pace to post a career best goals against average and save percentage, though he has played in fewer games than previous seasons.
Head coach Paul Maurice may decide that going with a "play the hot hand" system into the playoffs may be what's best for the Jets heading down the stretch, but how can you justify such a thing with one of your goaltenders playing as well as he is. With so few games remaining, one has to wonder what Maurice will do should Pavelec have a so-so or even downright bad game. Will he automatically start riding Hutchinson again, or will he give Pavelec an opportunity to play out of the funk like he has with his younger goaltender?
As someone who's been in favor of Hutch being the man heading down the stretch and beyond for quite some time, I know enough to admit when I may have jumped the gun. Pavelec is showing that he could be a guy to backstop a team late into the season — at least for the short term — and should be given the opportunity to do just that. Hutchinson may very well be the goaltender of the future for the Jets, but right now, this is Pavelec's time to shine.
Michael is a former Managing Editor for The Hockey Writers. He's covered the Buffalo Sabres, along with the NHL in general, for various outlets since 2009. His work has been featured on outlets such as Yahoo, Sports Illustrated and Fox Sports.