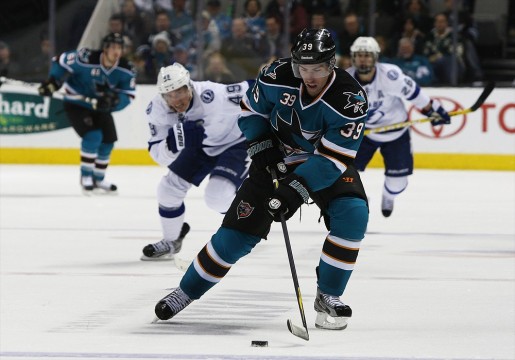 Logan Couture has become one of the best first-round draft picks in San Jose Sharks' history. Selected ninth overall in the 2007 Entry Draft, he has been successful in teal and is now one of the key pieces in the Sharks' plans for the future. However, the pick used to draft him was not originally San Jose's. The team had to make a three-way deal with the Toronto Maple Leafs and the St. Louis Blues during the opening round in order to select him. Now it is time to take a closer look at the moves made that day and evaluate which of the three clubs benefited the most.
Timeline
On June 22, 2007, the NHL Draft was set to take place in Columbus, Ohio. While the Sharks originally possessed the 22nd overall pick, they traded it to Montreal during the season to help obtain Craig Rivet. The pick they dealt would eventually become the American-born Max Pacioretty, who played in both the 2008 World Junior Tournament and the 2014 Olympics in Sochi. Team Teal lost that trade by a mile.
Luckily, San Jose did acquire another opening-round selection earlier in the season from the Washington Capitals (originally a Buffalo Sabres pick), but that only gave them the 28th overall choice. In an effort to earn a top-ten pick in a respectable draft class, the Sharks' management elected to make a number of deals on draft day.
General manager Doug Wilson started his opening day deals with a call to the Toronto Maple Leafs. He offered goaltender Vesa Toskala and forward Mark Bell to the Leafs' for their first and second round picks in that draft, as well as a 2009 fourth rounder. This trade definitely seemed mutually beneficial at the time; San Jose wanted a higher pick and Toronto needed an improvement in net. Since Evgeni Nabokov had successfully defended his starting role in the Sharks' crease, Toskala was considered an expendable player.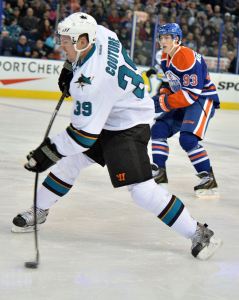 This move gave San Jose the 13th and 44th overall picks in that draft, but Wilson was still not satisfied. In part two of his grandmaster scheme, he contacted the St. Louis Blues in an effort to get their first round pick, which was the ninth overall selection. The Blues agreed to give San Jose their pick in exchange for the two, 2007 picks the Sharks had acquired from the Maple Leafs earlier that day. As most of us know, that draft pick San Jose acquired from St. Louis turned into Logan Couture.
As a summary:
-San Jose ended up with St. Louis' 2007 first-round pick and Toronto's 2009 fourth-round pick
-St. Louis received Toronto's 2007 first and second round selections
-Toronto acquired Vesa Toskala and Mark Bell
Outcome: San Jose
Drafting Logan Couture has proven to be an incredible move for the Sharks' franchise. Since his arrival in the NHL, he has never scored less than 20 goals in a season and has developed into one of the best two-way forwards in hockey. In 369 games with the team, he has scored 135 goals and tallied 143 assists while upholding an outstanding plus-49 rating.
Couture is strong at even strength, but he is also one of Todd McLellan's most trusted players on the penalty kill. The forward pairing of Couture and Tommy Wingels has been lights-out for San Jose while they are a man down. The duo has generated a number of goals and scoring chances shorthanded, including this well-executed two-on-one play.
On top of his stats in the NHL, he was nominated for the Calder Trophy in 2011 and played in the All-Star Game that same season. He showed great promise as a rookie and has developed into an even better forward in the years since.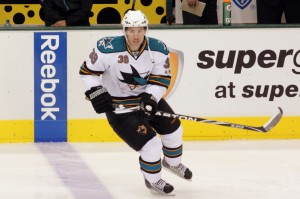 While selecting Couture turned out to be a home run (or breakaway goal?) for San Jose, the other pick they received on June 22nd became a bust. The Sharks eventually traded Toronto's 2009 fourth-round pick and their 2008 7th round pick to the Nashville Predators for their 2008 fourth-round pick. With their newly added selection, San Jose chose goaltender Harri Sateri. Even though Sateri was projected to be the second best European netminder in that draft, he never played a game in the NHL and is currently signed with Vityaz Podolsk of the KHL. The two picks the Sharks traded turned into Craig Smith and Anders Lindback.
Outcome: St. Louis
With Toronto's two, 2007 draft picks that were acquired via San Jose, the St. Louis Blues selected Lars Eller and Aaron Palushaj. These two players combined to play a total of seven whole games for the Blues before being shipped off elsewhere. Though they didn't get much from the initial trade, the return for Eller and Palushaj may have made the draft day deals worth their while.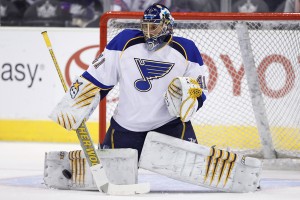 After his seven-game stint with St. Louis, Eller was dealt with Ian Shultz to Montreal for Jaroslav Halak. The Canadiens were faced with a goaltending controversy between Halak and the young Carey Price after the 2010 playoffs. Both goaltenders were set to become restricted free agents in July of that summer. Price ultimately won the contest and the Slovakian netminder was sent to St. Louis, where he signed a four-year deal with the club.
By signing Halak, the Blues possessed one of the best goaltending tandems in the NHL. Both he and Brian Elliott were good enough to be considered starting goaltenders on most teams, which meant that the Blues' coaching staff could rest their goalies and play the hot hand. This was especially useful in the opening round of the 2012 playoffs, when Halak went down with an injury and Elliott was able to take over the starting position with relative ease.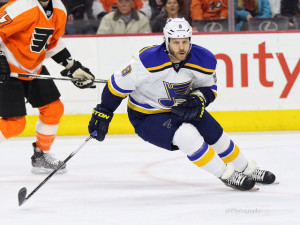 Halak recorded a .916 save percentage and a 2.23 goals against average while with St. Louis. However, he was moved at the 2014 trade deadline in a deal that sent himself, Chris Stewart, William Carrier, a 2015 first-round pick, and a 2014 third-round pick to the Buffalo Sabres for Ryan Miller and Steve Ott.
Both of these players failed to succeed in St. Louis. Miller started just 19 games and suffered a terrible .903 save percentage and 2.47 goals against average. Meanwhile, Ott has just three goals in 93 games and has racked up 114 penalty minutes for the Blues.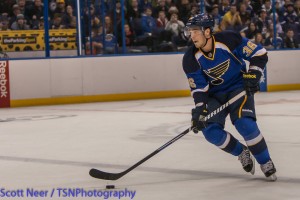 The other result of Toronto's draft picks, Aaron Palushaj, was also traded to Montreal. Before his NHL debut, the Blues moved Palushaj to the Canadiens for Matt D'Agostini. Agostini played 160 games for St. Louis, accumulating 66 points in that span and earning a plus-13 rating before being traded with a 2015 conditional seventh-round pick to the New Jersey Devils for a 2015 conditional fifth round pick.
Outcome: Toronto
All prejudice aside, I think it is safe to say Toronto emerged the ultimate loser in this three-way deal. They gave away two, top-50 picks and a fourth-rounder for two players that turned out to be terrible. Neither Vesa Toskala nor Mark Bell worked out for the Leafs, which is why neither one of them exceeded 150 games played with the franchise.
Trading early draft picks for Toskala was a huge gamble for Toronto. The Finnish netminder had moderate success in San Jose and even started a number of games for the Sharks in the 2006 playoffs. But his statistics in teal were subpar and declined even further when he played behind a terrible Leafs team. In his 145 games with Toronto, he earned a pathetic .894 save percentage and a laughable 3.08 goals against average. He also gave up this infamous goal against New York Islanders:
Fortunately, the Maple Leafs were able to trade Toskala– as well as Jason Blake– to the Anaheim Ducks for Jean-Sébastien Giguére. With a .906 save percentage and a 2.73 goals against average in 48 games, Giguére was bad. But, at least he wasn't Toskala bad. The new goaltender would suffer a groin injury though and forfeit the starting role to James Reimer. He signed with the Colorado Avalanche that offseason.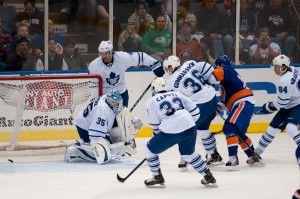 Mark Bell, on the other hand, was suspended for 15 games before even setting foot in Air Canada Centre. The suspension was administered due to a DUI and hit-and-run he was accused of in San Jose that summer. He would play only 35 games in a Toronto uniform before being sent down to play with the Marlies. He accumulated 14 points in his brief tenure.
The Winner
It is now time for you to choose the winner of the trade by using the poll below. As a quick review, here is a list of all three teams involved and the players they acquired as a result of deals made on June 22nd at the 2007 NHL Entry Draft.
San Jose Sharks: Logan Couture, Harri Sateri
St. Louis Blues: Lars Eller, Aaron Palushaj, Jaroslav Halak, Ryan Miller, Steve Ott, Matt D'Agostini
Toronto Maple Leafs: Vesa Toskala, Mark Bell, Jean-Sébastien Giguére
[yop_poll id="20″]
I encourage you to justify the way you voted in the comments section, as no discussion is better than a hockey discussion. Many times, readers will bring up points that even I didn't know about, which is probably one of the best things about being a writer here.
Potential Tuesday Trade Review suggestions would also be appreciated.
Previous Tuesday Trade Reviews:
San Jose Turns Expendable Goaltender into Franchise Defenseman
The Trade: Joe Thornton to San Jose
Sandis Ozolinsh for Owen Nolan – A Mutually Beneficial Move
Sharks Deal Youngsters and Picks for Dan Boyle and Brad Lukowich
Drew Weber is a columnist for the San Jose Sharks at The Hockey Writers. He previously wrote articles and appeared on podcasts for Teal Town USA (formerly Pucknology) and contributed briefly to Fear the Fin. You can follow him on Twitter at @puck_over_glass.