With the NHL Entry Draft having come and gone, it is now time to shift gears and focus on Friday's NHL Free Agent Frenzy. Because of the shortened season, the deadline to sign all pending unrestricted free-agents was moved up from July 1st to July 5th (my apologizes to all fellow Canadians who were not able to enjoy Canada Day with the Free Agent Frenzy).
The Detroit Red Wings enjoyed somewhat of a successful season. They finished the season 7th place in the Western Conference, and advanced as far as the second round of the NHL Stanley Cup Playoffs, where they lost to eventual Cup winners, the Chicago Blackhawks.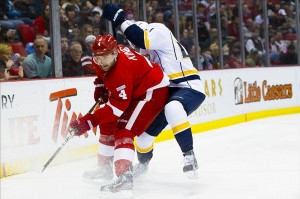 Ken Holland has already been busy this free-agent season, re-signing Pavel Datsyuk (RFA), Darren Helm, Jakub Kindl, and Drew Miller. There are still others to sign in the likes of Damien Brunner, Valtteri Filppula, Joakim Andersson (RFA), and Gustav Nyquist (RFA).
With re-alignment set to kick in next season, the Detroit Red Wings may be facing a challenge as they will be playing teams they are not familiar with. To facilitate this transition, fill holes in his roster, Ken Holland must be pursuing free agents in these three areas come Friday at the Free Agent Deadline.
Back-up Goaltending
Looking back to a previous article I have posted, the Red Wings need to be looking for a back-up goaltender on Friday. Jimmy Howard proved his worth (and his newly-signed 6 year extension with the franchise) by finishing the season 21-13-7 with a .923 SV% and 2.13 GAA in 42 games played.
Long story short, the Red Wings need to find a viable back-up who can take the pressure off of Howard, now that the NHL will return to its 82-game schedule. Jonas Gustavsson's woes have continued in the Motor City and I don't see him as the best option to either come in mid-game, or play a string of games if Howard was to get hurt.
[See Related: Red Wings Search For a Backup Goaltender]
Jose Theodore and Chris Mason are two goalies I have previously expressed a potential targets for Holland (who will most likely come cheap as well). Another interesting goaltender to emerge lately is Tim Thomas.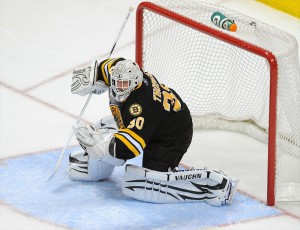 After taking a year of because of the three F's (Friends, Family, and Faith), Thomas has made it known that he wants to come back. He proved two years ago in Boston that even at the age of 37, he was good enough to play in the #1 goaltender spot. With his return, you can bet that he will want a starting role wherever he ends up.
However, at 39, there may not be that much time left for him, and a long-term deal seems like a somewhat idiotic idea. Ken Holland should take a look at the veteran goaltender. He can steal you games, his unorthodox style works for him, and he's capable of playing long stretches of games. He's also a veteran goaltender who knows how to win a Stanley Cup (The Ray-Shero Model). A 1-2 year contract in and around $2-3 million per season seems about reasonable for a man of his caliber.
Top-4 Defence-man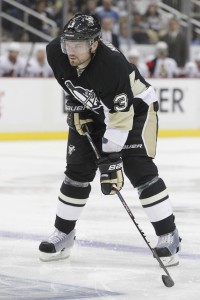 Aside from Jonathan Ericsson, Niklas Kronwall, and Jakub Kindl, the Detroit Red Wings received some below-average defence from their bottom three blue-liners. Carlo Colaiacovo, Brendan Smith, and Kyle Quincey spelled 'inconsistent' last year, and Holland should be looking for another blue-liner to give Detroit another shut-down pair.
With Kronwall and Ericsson as the first pairing, the Red Wings should be looking for a partner for Jakub Kindl. A stay-at-home guy is needed to complement the puck-carrying, offensive flare of the recently re-signed Kindl.
Douglas Murray may fit the bill here. At 6'3″ and 245 lbs., the Swede is a +-player for his career. He may not rack up the points, but he is a solid, veteran defence-man who doesn't make many mistakes. His cap hit last season was $2.5 million, so a 1-2 year deal for Murray around $3-3.5 million may be a solid grab for Ken Holland.
Top-6 Scorer
The Detroit Red Wings did not receive a lot of secondary scoring last season. Aside from the usuals (Datysuk, Zetterberg, Franzen), only a couple guys really chipped in.
Damien Brunner's first season in the NHL was a success with 12 goals and 26 points; he lead the team with 5 goals in the playoffs. Justin Abdelkader set his own personal record for goals in a season with 10 (in an 82 game season, you think he may have been able to put up close to 20 goals). He also had 2 goals in the playoffs. The secondary scoring pretty much stops there. Daniel Cleary was pretty much non-existent in the season, but had 10 points in the playoffs (almost equalling his output of 15 points from the regular season).
If Detroit is to really take charge in the Eastern Conference next year, Ken Holland needs to be looking for another top 6 scorer that will complement, as well as take the bulk of scoring off of Datysuk, Zetterberg, and Franzen.
Here are a few potential candidates:
Dustin Penner: The towering (6'5″) left-winger has not developed into the scorer Los Angeles thought he was. He has 30 goals in him (from his Edmonton days), it's just a matter of whether he can find it in the right place. Along side Datsyuk or Zetterberg, the Motor City may be it.
Jarome Iginla: Iggy's time in Pittsburgh didn't go as planned, as the Penguins were eliminated in the Conference Final by the Boston Bruins in 4 games. At 37, he's showed signs of slowing down, but one has to think that right-winger (in a full season) will put up at least 20 goals and 60 points.
Brad Boyes: He bounced around the NHL, found success in St. Louis, and then hit a bump in the road in Buffalo. The right-winger from Mississauga, Ontario regained his form last year in Long Island with 35 points in 48 games. If interested, Ken Holland must tread carefully as Boyes is no stranger to streaky play.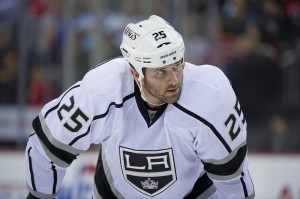 I am a fourth year student at the University of Toronto studying Physical Education/Concurrent Teacher Education. I have been a hockey fan all my life and play in a men's league during the winter. My favourite leagues are the NHL first and foremost, the MLB, and the NFL. I also work at the hockey megastore Pro Hockey Life. Follow me on twitter @rob_ruscitti and check out my sports blog on twitter as well @EhSport360