Thursday brought some big news out of Toronto – in an effort to retain top center Tyler Bozak, Maple Leafs GM Dave Nonis waived center Mikhail Grabovski with the intention of buying out his contract.
After playing parts of two seasons with the Montreal Canadiens, Grabovski moved on to Toronto where he spent five seasons, amassing 91 goals, 117 assists and 208 points in 340 career games as a Leaf.  Most notably, the 29-year old combined for 52 goals and 109 points in the 2010-11 and 2011-12 seasons, earning a five-year, $27.5 million extension last summer.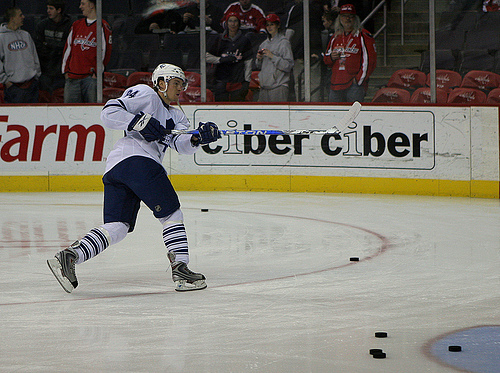 In 2013, Grabovski added just 9 goals and 16 points, along with an abysmal minus-10 rating, which was a large factor in the buy-out.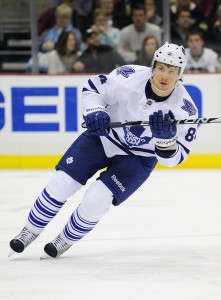 The 5'11" 183 lb. playmaking forward is known for his smooth skating and daft maneuverability, while also possessing quick hands and great timing with passes. Grabovski, along with oft-linemate Nikolai Kulemin, were the center of controversy last season for their unproductive play. But as THW's Mark Ascione pointed out in March, these players were given the tough task of playing against other teams' top lines on a nightly basis. In return, the two players saw their power-play time diminish.
Under Leafs Head Coach Randy Carlyle, Grabovski lost his offensive zest for which he was so greatly known across Ontario. He will be looking to sign with a team that needs him for offensive firepower.
Enter the St. Louis Blues.
St. Louis Head Coach Ken Hitchcock stresses a very defensive game as well, but his team is severely lacking offense. A team that ranked 17th in terms of goals-per-game (2.58), the Blues also need to fill the loss of long-time top-six forward Andy McDonald, who called it quits this summer due to medical concerns. Grabovski plays a similar style to McDonald. He is a pass-first player who excels when playing along the half boards.
The Blues are stockpiled with guys that can drive the net – Chris Stewart, David Backes and T.J. Oshie to name a few. Grabovski, who excelled when playing with the feisty Clarke MacArthur in 2011-12, can get the puck to the middle while other Blues forwards create havoc in the slot.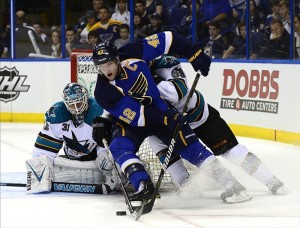 Hitchcock would not likely ask for Grabovski to be in a defensive role. With two-way forwards Backes and Oshie finding time against top lines, Grabovski could lead the Blues' offensive mindset.
The Blues were one of at least seven teams that met with recent Lightning buyout Vincent Lecavalier last weekend. He has since signed a five-year contract with the Philadelphia Flyers.
Other free-agent options include Stephen Weiss and Mike Ribeiro. These centers are very attractive to a growing offense, but Grabovski would fit more of the mold that the Blues play. He has experience in a defensive system, but could step in as a top-line center. This could alleviate some of Backes' offensive responsibilities, allowing him to have more of a defensive-focus in his game.
[See Related: Stephen Weiss Asking For How Much Per Year?! ]
After signing Jordan Leopold to a two-year, $4.5 million extension on Wednesday, the Blues have about $13.20 million remaining in cap-space. The team still has defenseman Alex Pietrangelo and forward Chris Stewart remaining as restricted free-agents.
If owner Tom Stillman is willing to spend to the cap next season, Grabovski could be the piece that finally pushes the young Blues offense over the hump in 2013-14.
I am a former NHL media member and reporter for the St. Louis Blues, working for various media outlets. Currently, I am an NHL News Writer and Editor for The Hockey Writers. I live in St. Louis and work as a freelance copywriter in numerous industries.