Free Agent Frenzy gets started today, as teams can officially sign players. The Washington Capitals are in need of a capable second line center until Evegeny Kuznetsov heads to North America after the Olympics, at least that's the plan as I write this. Mathieu Perreault is an option till the Russian Kuznetsov arrives, but has rarely played that role as a Washington Capital. Mike Ribeiro is unlikely to return and will test the free agent waters.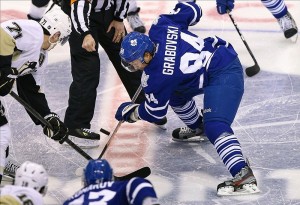 One option for Washington should be former Toronto Maple Leafs center Mikhail Grabovski, yes, the player who trashed his coach after being bought out the day prior to UFA day. His production dropped off dramatically after three twenty goal seasons in four years for the Leafs. The 29 year old center totaled nine goals and seven assists in 48 games this year, along with two assists in Toronto's first round series loss to the Boston Bruins, the future Eastern Conference Champions.
"I would like to thank Mikhail for his contributions with the Leafs over the past five seasons," Leafs general manager David Nonis said in a statement on the team website. "This was not an easy decision to make as Mikhail made numerous contributions to our hockey club. This is a roster move that will give us salary cap flexibility moving forward."
Grabovski then went on to blast former head coach Randy Carlyle on the radio, complaining about his role and mostly his lack of ice time. He posted a 1.0 Corsi Relative during even strength play this regular season, meaning his team averaged about one shot more per game than their opponents while he was on the ice.
He drew .8 penalties per sixty minutes, third for Maple Leafs forwards with at least 30 games played, behind only Nazem Kadri and Leo Komarov. However, the main reason for the drop in his production from years past was who he played with and where he started on the ice. Grabovski started in the offensive zone only 36.7% of the time, only ahead of role players Jay McClement (27.9%) and Nikolai Kulemin (35.5%).
"He makes me [expletive] play on the fourth line and he put me in the playoffs on the fourth line and third line again," Grabovski told TSN.
"Yeah, I don't score goals. I need to work more about that, I know that, but if you feel support from your coach [you'll score]. I don't feel any support from this [expletive] idiot."
As Grabovski becomes a UFA, the Capitals should be in the mix. He is still a valuable player, but only if he is used right. Head coach Adam Oates has proven he can change players for the better, just as he did with Captain Alex Ovechkin this past season. Grabovski could sign with Washington on a multi-year contract, maybe three years for twelve million dollars, giving him a cap hit of four million per season. This would give Kuznetsov a chance to ease himself in to the North American game, along with giving the former Maple Leaf playing time on the second line with wingers Martin Erat and Troy Brouwer.
Stay in touch with The Hockey Writers for more news on the Capitals free agent activity this summer.
You can follow Matthew on twitter @m_speck and email him at mspeck21@yahoo.com with any questions or comments.
Matthew Speck covers the Washington Capitals organization for The Hockey Writers. He provides coverage of both Washington at the NHL level and prospect related content. Matthew also covers local sports for the Lebanon Daily News in Central Pennsylvania. You can email him at mspeck21@yahoo.com with any questions or comments.