While the rebuild is in full swing for the Detroit Red Wings, their prospect pipeline depth seems to vary by position. In particular, Detroit does not have much going on in the goaltending department compared to their forwards and defensemen. This shouldn't come as a shock, though.
Dating back to the mid-90s, the Red Wings have not been able to draft and develop NHL goaltenders. This is evidenced by the state of the franchise's goaltending tandem: Their one success is a 34-year-old veteran. Otherwise, they have an overwhelmed undrafted free agent.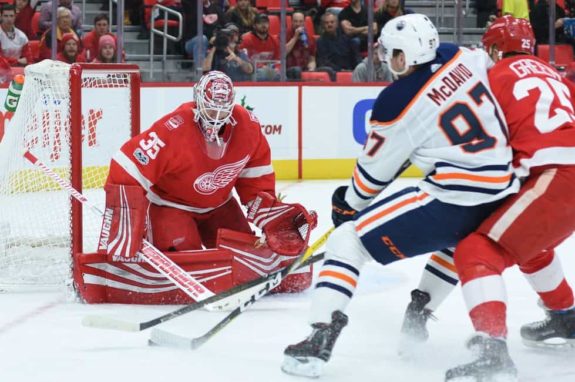 It's true that not all draft picks work out. Very few selections go on to sustained success at the NHL level. But other organizations have had substantially more success than the Red Wings when it comes to drafting and developing netminders. Of the 18 goaltenders chosen by Detroit since the 1994 NHL Draft, only two have started more than five NHL games: Jimmy Howard and Petr Mrazek, who is trending in the wrong direction after a stellar start to his career.
Related – Red Wings Most Wanted: Goalies
Red Wings Missed Opportunities at the Draft
Since Howard was selected 64th overall by the Red Wings in 2003, the organization has drafted eight goalies, with four chosen in the past four years. Eight netminders in 14 years isn't very many, especially considering Detroit's past batting average when it comes to developing these picks (0-for-9 leading up to the Howard selection). As you'll see below, the trend continued after choosing Howard.
| | | | | |
| --- | --- | --- | --- | --- |
| Player | Year Drafted | Final Ranking | Round (Overall) | Others Available* |
| Daniel Larsson | 2006 | EUR – N/A | 3 (92) | James Reimer, Chad Johnson |
| Tom McCollum | 2008 | NA – #1 | 1 (30) | Jacob Markstrom, Jake Allen, Braden Holtby |
| Petr Mrazek | 2010 | NA – #25 | 5 (141) | Frederik Andersen |
| Jake Paterson | 2012 | NA – #3 | 3 (80) | Matt Murray, Frederik Andersen, Connor Hellebuyck |
| Chase Perry | 2014 | NA – #8 | 5 (136) | Hayden Hawkey |
| Joren van Pottelberghe | 2015 | EUR – #5 | 4 (110) | TBD |
| Filip Larsson | 2016 | EUR – #10 | 6 (167) | TBD |
| Keith Petruzzelli | 2017 | NA – #2 | 3 (88) | TBD |
*Goaltenders chosen after Detroit selected a goalie in that year's draft.
It's still too soon to debate the picks used to select the four most recent goalies but the four that were drafted after Howard come with a few "what could have been" thoughts. Daniel Larsson, Tom McCollum, Mrazek, and Jake Paterson did not pan out, whether that was immediately noticeable or overtime and seeing which goalies were drafted after these players would make many people reach for Alka-Seltzer tabs.
Chicken or the Egg?
It's hard to look at the missed opportunities above and not want to assign blame. The easy choice is to blame Detroit's scouting staff. But if you look at the Central Scouting Bureau's rankings, the goalies were probably picked in the adequate spots.
There's another way to look at these "failures" at the draft: not enough was done to groom these netminders into NHL-ready players after they were drafted, a knock on player development. After all, McCollum and Paterson were consensus top goalies in their draft years and the Red Wings selected them in appropriate draft spots.
So how do you avoid this in the future? Better goaltender scouting? More development oversight while the goalies are still in juniors, college, or overseas?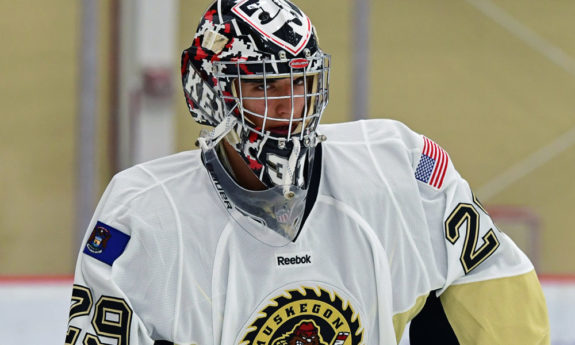 Goaltenders become great through superior skating, near-perfect angles, quick, controlled movements, and a hawk-like ability to track the puck through traffic. These traits need to constantly be refined, even if a goaltender is naturally perfect at one or two aspects.
Presently, netminders work with their junior or college team's coach in-season and NHL-level coaches during training camp and summer development camp to improve their game. But perhaps NHL-level coaches should spend more time with goalies in-person to ensure that their progress is moving along at the desired pace. That way, the NHL-level coaches can help implement practice strategies in-season to get goalies moving at a quicker pace – one that's similar to the next level up.
If a goaltender can adapt to play faster, he'll have more time to focus on his save selection and rebound control, rather than just getting in position. This will ultimately prepare them for the NHL, where the pace of play is much faster than any other league. It's possible this strategy—or another—could have helped Mrazek shake his bad habits early on, rather than once he reached the NHL. By then, the Red Wings couldn't convince him—their only draft-and-develop "success" apart from Howard—to further refine his game for the best league in the world.
Final Word
Solving Detroit's goaltender development woes is a complex task but identifying the issue and taking steps to remedy it is the first priority.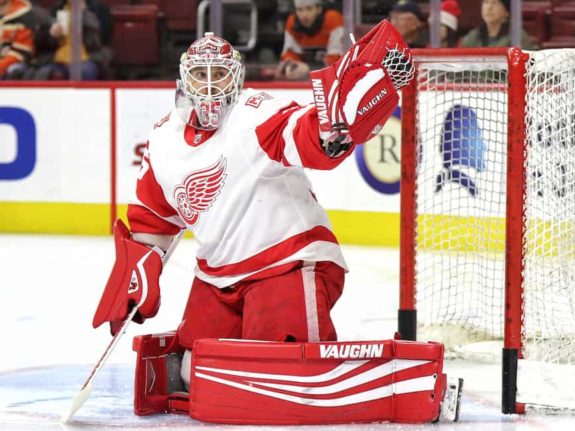 The Red Wings were fortunate to have been able to rely on Hall-of-Fame-worthy goaltending from Chris Osgood and Dominik Hasek. Save the 2002-03, one of the two guarded Detroit's net every year from 1994 to 2011, with Howard mixing in during the last couple of seasons. But now, as Howard's career is winding down, there really isn't a suitable replacement.
Sure, Filip Larsson and Keith Petruzzelli have potential to step into an impact role down the road, but Daniel Larsson, Tom McCollum, and Aren Miller also had "potential" at some point. Let's not allow today's prospects to suffer a similar fate.
Do the Detroit Red Wings need to draft or develop goaltenders better? Comment below with your take.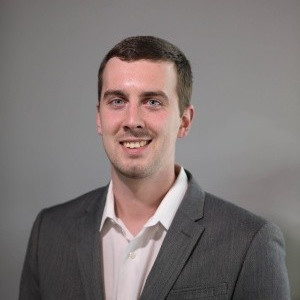 Tony Wolak is based in the Washington D.C. area and covers the Detroit Red Wings for THW. As a former junior and college hockey player, Tony has a unique perspective on Red Wings topics.