It's official. The NHL will be sending it's players to Sochi, Russia, in 2014 for the Winter Olympic Games.
After much speculation and patience, international ice hockey fans can breathe a sigh of relief as many of their hockey stars will be showcasing their skills against the rest of the world come next February.
In the Detroit Red Wings case, much of the roster has been given invitations to attend Olympic selection camps in the up-coming months. Here is a look at who has been given an invite by their native country and the reasons for their selections.
Perhaps the most important piece of the Canadian Olympic Team will be coming from the Detroit Red Wings, and no, he is not a player. Mike Babcock, coach of the Red Wings, will be behind the bench for Team Canada in Sochi, Russia.
This is probably the best choice that Bob Nicholson (president and CEO of Hockey Canada) and Steve Yzerman (general manager) could have made, as Babcock coached Canada when they won the gold medal in at the 2010 Olympics in Vancouver. He also has a IIHF World Hockey Championship title to his name from 2004.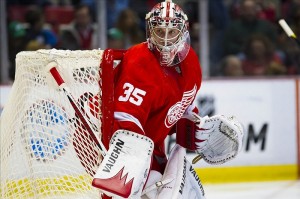 Jimmy Howard – Howard has been selected as one of the five goalies to take part in the selection camp. After a stellar year, Howard may have the best chance of making Team U.S.A. Howard is no rookie to international tournaments, as he has worn the red, white, and blue three times at the World Championships.
Danny DeKeyser – DeKeyser is somewhat of a surprising pick to me as he only appeared in thirteen games (season and playoffs) and never really made the biggest impact for the Red Wings. At 23, DeKeyser is still very young and has much to learn about the NHL game still. Perhaps a long shot to make it on Dan Bylsma's (U.S.A. coach) roster, Danny DeKeyser may become a future international star.
Justin Abdelkader – Justin really evolved into more of a complete top-6 forward this past season. He showed that he can still play a rough and tumble game, while putting the puck in the net (he had 120 hits with 10 goals in all 48 games of the shortened season). Abdelkader will be an under-the-radar player heading into camp, but should turn a lot of heads with his improved play.
Henrik Zetterberg – No surprise here. Zetterberg was easily the Wings' most complete player all season and was a major reason why Detroit made a successful push for the playoffs. There is no such thing as a shoo-in, but he is a strong candidate to not just make the team, but wear the 'C' for his home country as well.
Johan Franzen – 'The Mule' will be making his second appearance at the Olympic selection camp after making Team Sweden back in 2010. Franzen is a pure power forward who has a nose for the front of the net and nothing else. A large presence in front of the net will be extremely enticing for Sweden's coaching staff, given the size of some of their rival teams (i.e. Canada and U.S.A.).
Gustav Nyquist – The young Red Wing will be making his first appearance at an Olympic selection camp. This is an extremely well-deserved invitation for Gustav as he played a pivotal role on the Red Wings' third line. He may not be the biggest name, or the biggest player, at the selection camp but he is there and may be in-line for another third or fourth line role with his speed.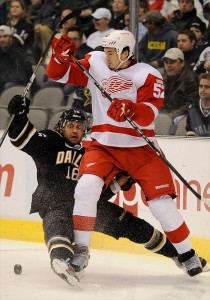 Jonathan Ericsson – One half of the Red Wings' top defensive unit, Jonathan has really stepped up as one of Detroit's most consistent defence-men. A large, steady presence on the blue-line, Ericsson showed he is also capable of putting up points with his 13 points in 45 games last season. I would not be surprised to see Ericsson in blue and gold come February.
Niklas Kronwall – Kronwall is the other half of Detroit's top defensive pairing. He has assumed leadership on the Red Wings' blue-line after the departure of Nicklas Lidstrom. With his great success thus far, I assume that Sweden's coaching staff would like to have his defensive leadership in Sochi as well. Another large presence on the blue-line, this hard-hitting defence-man will be a vital component if Sweden wants to win Olympic gold again.
The Russians selected only one player from the Detroit Red Wings franchise.
Pavel Datsyuk – No surprises here folks. Pavel was the Red Wings' biggest scoring threat last year. His mix of stealthy offence, with smooth skating, and strong defensive abilities make him easily the most well-rounded player heading into the Russian selection camp. His veteran presence will be key for a team that will be extremely young, offensively-gifted,  and perhaps irresponsible (defensively). There is no way the Russians exclude Datsyuk, in their own country, for easily is last shot at the Olympic Games.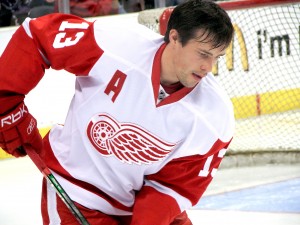 Only 5 teams have sent out invitations for the Olympic selection camps. With many more teams yet to submit their lists, there is still hope for more Red Wings to possibly make their way onto one of the biggest stages of the world.
I am a fourth year student at the University of Toronto studying Physical Education/Concurrent Teacher Education. I have been a hockey fan all my life and play in a men's league during the winter. My favourite leagues are the NHL first and foremost, the MLB, and the NFL. I also work at the hockey megastore Pro Hockey Life. Follow me on twitter @rob_ruscitti and check out my sports blog on twitter as well @EhSport360