In preparation for the 2014 Winter Olympics in Sochi, Hockey Canada announced a 27-player roster in April that will centralize in 2013-2014. Final cuts still have to be made, but it's time to take a look at this group of women who will train and compete together this upcoming season in hopes of earning a fourth-straight gold medal.
Goaltenders
#1, Shannon Szabados (Edmonton, Alta.), Northern Alberta Institute of Technology (ACAC)
#31, Geneviève Lacasse (Kingston, Ont.), Boston Blades (CWHL)
#32, Charline Labonté (Boisbrand, Que.), Montreal Stars (CWHL)
The Canadians' goaltending rivals that of every other country, at worst. At best, their netminding trio is second to none.
They are led in goal by Shannon Szabados, and it's going to take a gigantic effort on someone else's part to take over the starting job. When not with the national team, she suits up for the Northern Alberta Institute of Technology-for the men's team. Szabados is a rock in net, and looking ahead to February 2014, projects as the starter for Team Canada in Sochi.
If something should happen to Szabados, by way of either injury or a drop in performance, the other two goaltending options at hand will help ease Canada's worries. There's Charline Labonté, who's got plenty of experience, winning Olympic gold medals with Team Canada in 2006 and 2010. And there's also Geneviève Lacasse, who has yet to prove herself at the international level but has plenty of potential, having won the Canadian Women's Hockey League's Goaltender of the Year Award in 2012-2013 as a rookie with the Boston Blades.
I'm not sure any other country has the depth in goal that Canada does, and although that starting role likely belongs to Szabados, having both Lacasse and Labonté gives the Canadians a kind of insurance that most teams don't have.
Defense
#3, Jocelyne Larocque (Ste. Anne, Man.), Team Alberta (CWHL)
#4, Brigette Lacquette (Waterhen, Man.). University of Minnesota-Duluth (WCHA)
#5, Lauriane Rougeau (Beaconsfield, Que.), Cornell University (ECAC)
#8, Laura Fortino (Hamilton, Ont.), Cornell University (ECAC)
#11, Courtney Birchard (Mississauga, Ont.), Brampton HC (CWHL)
#12, Meaghan Mikkelson (St. Albert, Alta.), Team Alberta (CWHL)
#18, Catherine Ward (Montreal, Que.), Montreal Stars (CWHL)
#25, Tessa Bonhomme (Sudbury, Ont.), Toronto Furies (CWHL)
#27, Tara Watchorn (Newcastle, Ont.), Team Alberta (CWHL)
The first word that comes to mind when looking at Canada's defense is "options". Between all seven defensemen from their 2013 IIHF World Championships squad and the additions of Brigette Lacquette and Tara Watchorn, they have an abundance of varying skillsets on the back-end.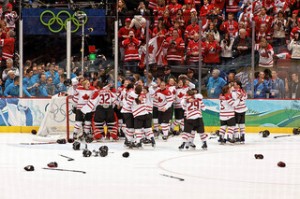 Following the World Championships, Canada's top-six defensemen for the 2013-2014 season project to be Catherine Ward, Tessa Bonhomme, Jocelyne Larocque, Lauriane Rougeau, Meaghan Mikkelson, and Laura Fortino. Led by Ward, the all-world defenseman with an excellent two-way game, there's Bonhomme who's also solid all-around and a good complement to any partner; Larocque and Rougeau, the shut-down specialists; and Mikkelson and Fortino, the offensively-adept blue-liners. Of this group, I'd say Fortino is the most questionable to remain in that top six. Despite having shown such promise offensively, she had a disappointing senior season at Cornell points-wise and will need to be much more consistent in every aspect with the national team this season to solidify her spot on the roster.
Tara Watchorn and Courtney Birchard will likely be battling each other for a spot on a lower pairing. Birchard basically played the role of depth defenseman at the 2013 World Championships, and Watchorn would fit that same part. Neither will garner top minutes, but they'll add depth to the defensive corps and each could be an option on special teams. However, considering all of the quality defensemen on the roster, it's not probable that both make the cut.
The wild card on the blue line is Brigette Lacquette. At 20 years old, she's the youngest defenseman on the team, but the tools are all there for her to have success at this level. Minnesota-Duluth head coach Shannon Miller called her "the most naturally talented player to ever come through the UMD women's hockey program". That's very high praise considering the amount of talent that has suited up for the Bulldogs over the years. Lacquette doesn't really fit the role of a seventh, depth defenseman, so she'll likely have to play her way onto the top three pairings to make the Olympic team, but her high skill level and creativity could earn her that spot.
Forwards
#2, Meghan Agosta-Marciano (Ruthven, Ont.), Montreal Stars (CWHL)
#6, Rebecca Johnston (Sudbury, Ont.), Toronto Furies (CWHL)
#9, Jennifer Wakefield (Pickering, Ont.), Toronto Furies (CWHL)
#10, Gillian Apps (Unionville, Ont.), Brampton HC (CWHL)
#13, Caroline Ouellette (Montreal, Que.), Montreal (CWHL)
#15, Mélodie Daoust (Valleyfield, Que.), McGill University (CIS)
#16, Jayna Hefford (Kingston, Ont.), Brampton (CWHL)
#17, Bailey Bram (Ste. Anne, Man.), Brampton (CWHL)
#19,  Brianne Jenner (Oakville, Ont.), Cornell University (ECAC)
#20, Jenelle Kohanchuk (Winnipeg, Man.), Boston University (WHEA)
#21, Haley Irwin (Thunder Bay, Ont.), Montreal (CWHL)
#22, Hayley Wickenheiser (Shaunavon, Sask.), University of Calgary (CIS)
#24, Natalie Spooner (Scarborough, Ont.), Toronto (CWHL)
#28, Vicki Bendus (Wasaga Beach, Ont.), Brampton (CWHL)
#29, Marie-Philip Poulin (Beauceville, Que.), Boston University (WHEA)
12 of the 13 forwards who represented Canada at the 2013 World Championships will be with the team this season, the lone exception being Sarah Vaillancourt, who retired in April. Mélodie Daoust, Vicki Bendus, and Jenelle Kohanchuk will also centralize with the national team.
Losing Vaillancourt is a big blow to the Canadians' offense, as they won't be able to truly replace such a special player. But they've got plenty of other options up front and there shouldn't be any shortage of goals from this group of forwards.
Because of the depth of their offense, Team Canada will have three scoring lines instead of just two. They may choose to spread the scoring out even further, however, based on what we saw at the end of the World Championships. With Bailey Bram having a good tournament, pure goal-scorer Natalie Spooner was put on a line with her and the healing Hayley Wickenhesier, rounding out the offense and giving Canada four attacking lines.
Marie-Philip Poulin and Meghan Agosta-Marciano will without a doubt figure prominently into the offensive game plan, as they are in current form arguably the Canadians' best forwards. Spooner, Rebecca Johnston, and Haley Irwin will also be counted on to put up points. Brianne Jenner and Jenn Wakefield both had very impressive showings in Ottawa in April, and also likely slot in on the top three lines, though Wakefield's versatility will probably factor into the kind of role she plays.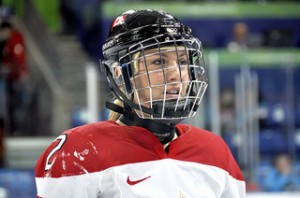 It's going to be interesting to see what happens with Wickenheiser, Jayna Hefford, and Caroline Ouellette. All three are veteran scorers, and legendary ones at that, but all three are also pretty well past their primes. It would be difficult to imagine any of the three getting cut from the final Olympic roster, but they'll definitely need to be in top form all season to compete with their younger teammates for spots on scoring lines.
Though Bram did impress at the World Championships, both her and Gillian Apps will still likely play on a lower line. Bram will add offensive punch there, and Apps will set a physical tone; both will be solid options on special teams, too.  But with the addition of Daoust, Kohanchuk, and Bendus, they're going to have some competition as well. Bendus might be on the smaller side, but she adds grit and skill to the bottom-six, and she'll have to carve out a spot there to make the Olympic team.
Kohanchuk and Daoust are the most intriguing forwards heading into the season. It would take a lot for her to break into the top-nine on this team, but Daoust is a highly-skilled player with a load of potential. Her pure talent might land her a spot on the Olympic roster anyway, just to add to the scoring depth. Kohanchuk doesn't have as high of an offensive ceiling, but her speed adds a totally different dynamic to this team. Although likely slotting in on that last line, Kohanchuk will be able to help greatly on the fore-check and that could be her ticket to Sochi.