Detroit Red Wings hockey is right around the corner.
If you're an optimist, it's about time to get excited. If not, then at least you can seek solace knowing that the annual prospects tournament begins Sept. 8.
Red Wings training camp is set to open the following week, with preseason games starting soon after. Finally, the regular season begins Oct. 5 against the Minnesota Wild in what will be the first game played in Hockeytown's new home, Little Caesars Arena.
Even though most NHL teams have set rosters minus a few tweaks, the Red Wings still need to make major changes to become salary cap compliant, let alone find the right roster mix. Plus, they still need to sign Andreas Athanasiou.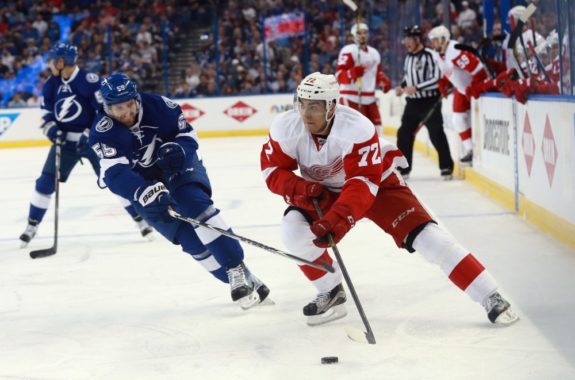 Here's how the opening night roster could shake out with the cap situation, injuries, waivers, and more taken into consideration.
Red Wings' Opening Night Roster
After Ken Holland is done kicking tires, players have been placed on injured reserve, and it's time to pencil in the home opener lineup, Detroit's 23-man roster could look like this:
| | | |
| --- | --- | --- |
| LW | C | RW |
| Anthony Mantha | Henrik Zetterberg | Dylan Larkin |
| Andreas Athanasiou | Frans Nielsen | Tomas Tatar |
| Gustav Nyquist | Darren Helm | Justin Abdelkader |
| Riley Sheahan | Luke Glendening | Martin Frk |
| Tyler Bertuzzi | | Luke Witkowski |
| | | |
| --- | --- | --- |
| LD | RD | G |
| Danny DeKeyser | Trevor Daley | Jimmy Howard |
| Niklas Kronwall | Mike Green | Petr Mrazek |
| Xavier Ouellet | Nick Jensen | |
| | Robbie Russo | |
Red Wings Voted off the Island
Three players from last year's team were excluded from the lineup: Jared Coreau, Jonathan Ericsson, and Ryan Sproul. The latter will likely find himself on long-term injured reserve to start the season following ACL surgery. For Coreau and Ericsson, they'll likely be on the outside looking in.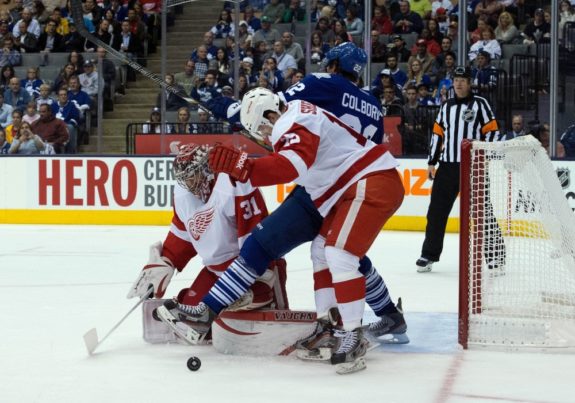 With the revitalized Jimmy Howard and the rebounding Petr Mrazek between the pipes, the Red Wings will likely expose Coreau to waivers in order to send him down. It's entirely possible he's claimed as Martin Frk and Teemu Pulkkinen were last season. If there are injuries around the league, it becomes almost certain that someone will nab Coreau. That's just the position the Red Wings are in now.
Trading Jonathan Ericsson
As for Ericsson, I firmly believe the Red Wings will trade the veteran defenseman before the season begins to comply with salary cap restrictions. Detroit has a surplus of (elder) defensemen and Ericsson appears to be the probable trade candidate. Mike Green is a possibility, but the Red Wings would likely want to wait until the trade deadline to maximize his value.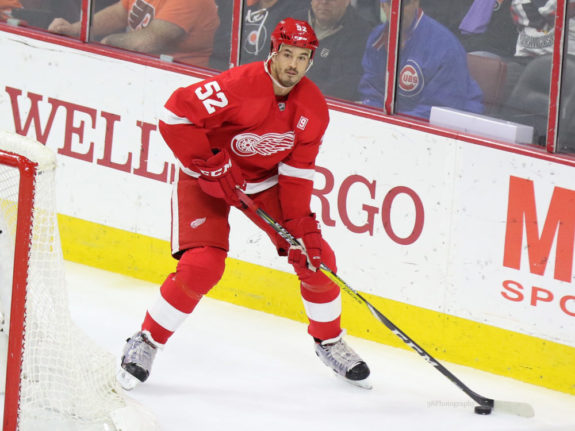 Buying out Ericsson instead of trading him would be ill-advised. If he were to be bought out before the season, the Red Wings would carry a dead-weight cap hit for six seasons. Keep in mind that Anthony Mantha, Dylan Larkin, Riley Sheahan, and Petr Mrazek will all need new contracts following this season and are due for raises. Some, significant. As we've seen with the Stephen Weiss buyout, sometimes the savings simply aren't enough.
To move Ericsson, the Red Wings will need to package him along with a third-round pick and ship him to a team with plenty of cap space to go around (Carolina, Arizona, New Jersey). In return, Detroit would be lucky to receive a fifth-round pick from its trade partner. It may seem foolish to lose a third-round pick to move Ericsson, but remember that Detroit also has a spare second-round pick from the Brendan Smith trade and they'll likely be receiving another quality draft choice if they choose to trade Green later on.
Back to the Red Wings' Lineup
Detroit could open some eyes this year. Last season was brutal, but a majority of the players underperformed. If Detroit finished the season the way they did with everyone contributing what they were expected to, then the franchise is certainly in trouble. That wasn't the case, though.
Dylan Larkin was plagued by a sophomore slump. Danny DeKeyser struggled after he was thrust into a top-pairing role for the first time. Riley Sheahan was expected to score more than two goals. Mrazek lost his game and confidence. Frans Nielsen took time to learn Detroit's system. Justin Abdelkader, Darren Helm, and Luke Glendening are certainly capable of more than last season's numbers, despite being complementary players.
All of these players struggled last year, have the ability to do more, and will be expected to contribute at a higher level this season.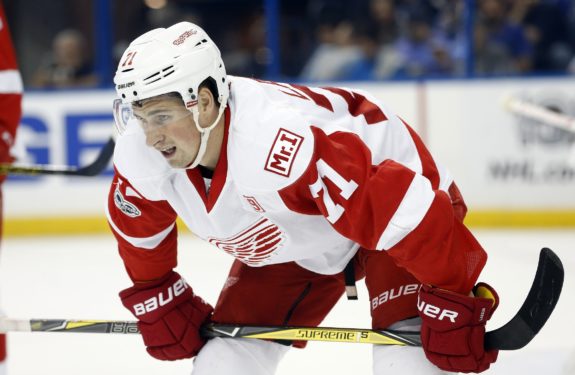 One area where the team will definitely improve is its power play. Following a season with stretches of historically bad man advantage results, Detroit's power play hit its stride at the end of the year (22.6 percent conversion rate in March and April). Associate coach John Torchetti has had all summer to brainstorm effective power play strategies and has a multitude of qualified players to choose from—including newcomers Trevor Daley and Martin Frk—when picking the two units.
In addition, the goaltending will be much better. While it may be difficult for Jimmy Howard to repeat his stellar 2016-17 campaign, the veteran will likely find some success with his game-by-game mindset. His partner, Mrazek, is hungry and will rebound this season. The Czech goalie is entering a contract year that will have the most impact on lifetime earnings than any other year in his career. For someone who has already wanted to maximize his compensation and has a tremendous amount of pride in his game, there's no way Mrazek has another forgettable season at such a crucial point in his career.
Last Word
The Red Wings are still rebuilding – there's no question about that. But they also might surprise you. There's a lot of pride in the organization and a majority of the players, coaches, and management team took last season's failure—not qualifying for a 26th consecutive playoff appearance—personally.
Despite the rebuild, Holland stated he wants to win right away at the new arena. If you combine that mantra, a newfound willingness to trade players, and a continuation of team underperformance, Holland and Blashill won't be hesitant to change things up. No one is safe. And the players will know that heading into the season. Hopefully, they'll respond with confident, winning play.