The Toronto Maple Leafs have made multiple roster changes this offseason via free agency. The Leafs signed forwards Dominic Moore and Patrick Marleau to one-year and three-year contracts respectively.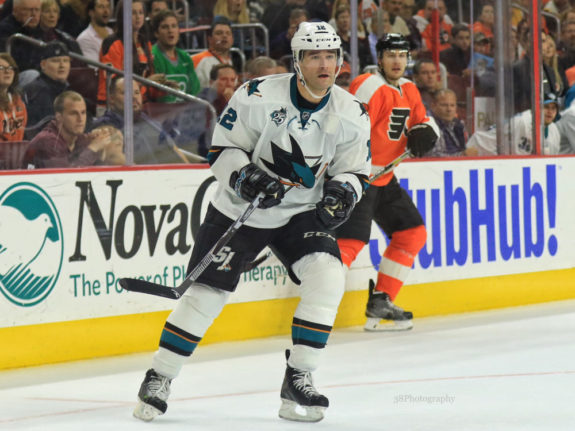 They also decided to sign the dependable Ron Hainsey after choosing not to re-sign Matt Hunwick. Although these signings have improved the Leafs' roster, they could still improve their blue line before being considered a legitimate contender.
Harsh Reality About Last Season
The Leafs made the playoffs last season by outscoring their defensive setbacks. Their goals-for ranked in the top five of the entire league, as their top-six forward group is often unmatched. However, their goals-against was ranked 22nd out of 30 teams. These statistics make it quite clear where they need to improve before they become a serious contender.
Without prior knowledge of the Leafs' current goalies, one could be quick to toss the blame to Frederik Andersen; however, he proved that he can handle the starting role last season by appearing in the second-most games in the entire league and was very consistent overall throughout the season. It is clear to those watching the games that defense is the issue, not goaltending.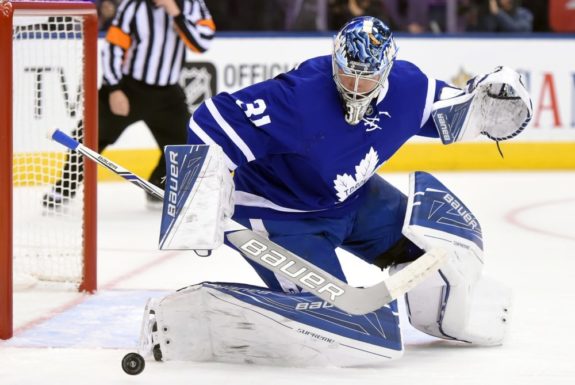 Leafs' 2017-18 Defensive Corps
The Leafs' defensive corps is very scrutinized today, but they will do nothing but improve in the coming years. The Leafs' blue line is led by Morgan Rielly (a 22-year-old), Jake Gardiner (a 27-year-old), and Nikita Zaitsev (a 25-year-old), who is fresh off of his rookie season. This is a young core that will only improve as they gain more experience.
The Hainsey addition helps, but he would be better served as a bottom-pairing, penalty-killing specialist. He will not fix the Maple Leafs' defensive issues, nor is he expected to. However the Leafs currently have no other options to fill out their top-four, so he is destined to be Rielly's partner.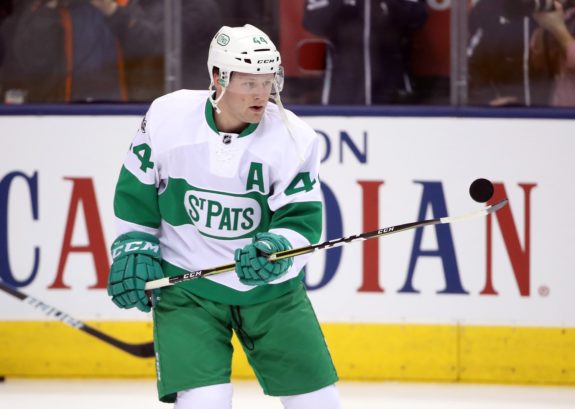 If you're a fan of odds for winning the Stanley Cup next season, it's a good time to be a Leafs fan. According to the Westgate Las Vegas SuperBook, the Leafs are tied for the sixth-best odds of winning it all next season, with odds of 14/1, the same as the Nashville Predators. Keep in mind these odds are with their current roster, and with Hainsey in their top-four paired with Rielly. At this point, it's hard to picture a Cup in Toronto when the defensive issue wasn't fully addressed. Imagine what these odds would be if the Leafs acquired a better option to round out their top-four and pushed Hainsey down to the bottom pairing.
Wishlist
If the Leafs are to become a serious contender next season, they must shed some of their offensive surplus for an above average top-four option on the blue line. This targeted player should be right-handed, mobile, around the same age as the current corps, and be ready to handle at least 20 minutes per game. Since the free-agent options are already taken, It's time to explore some trade possibilities to push this team towards contention status while Auston Matthews, Mitch Marner, and William Nylander are on their entry-level contracts.
Trade Option No. 1: Justin Faulk
Justin Faulk is a defenseman who fits all of the criteria mentioned above. At just 25 years old, he would fit in very well in Toronto. Faulk is a very mobile defenseman capable of chipping in offensively, with 37 points last season. Unlike most defensemen who mainly chip in with assists, Faulk scored a career-high 17 goals last season, meaning he has no problem finding the back of the net. This goal-scoring presence has been lacking on Toronto's blue line for a long time.
The Carolina Hurricanes have a surplus of solid defensemen with hefty contracts. The Hurricanes recently dished out two large, long-term contracts to Brett Pesce and Jaccob Slavin, which begin in the 2018-19 season. Noah Hanifin and Trevor van Riemsdyk will also need new contracts that season. Do they really want this much money invested into their blue line? My guess is no, and with an abundance of defensive prospects being close to NHL-ready, they could live to part ways with Faulk if the price and the timing are right.
The Hurricanes acquired James van Riemsdyk's brother Trevor this offseason. The two have yet to play together in the NHL, and if a trade between the two teams were to occur, they could be reunited. Since the value of a skilled defenseman with a long-term contract is always miles above a rental player, the Leafs would have to add more value to entice the Hurricanes, which would probably include prospects and draft picks.
Trade Option No. 2: Chris Tanev
Since the last trade option is mainly known for his offensive game, why don't I switch it up a bit? Chris Tanev is the Vancouver Canucks' anchor on their blue line, defensively speaking. Tanev is not offensive by any means, but can handle tough minutes and make solid defensive decisions. Even on a bottom-feeder Canucks team with a minus-61 goal differential, he still managed to be plus-3 while receiving the toughest matchups.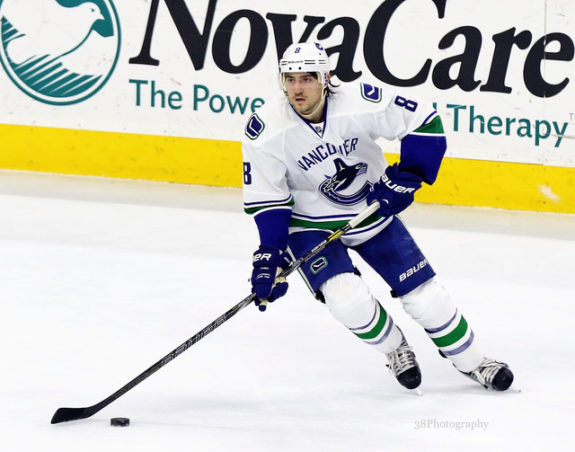 In Toronto, I see a guy like Tanev as the perfect defensive partner for Rielly. On this pairing, Tanev could shoulder the defensive workload and allow Rielly to flourish offensively. Tanev isn't offensive but he is a very mobile defenseman. Together, they would form a good puck-moving pairing that can handle the toughest matchups, something Rielly is already doing for the Leafs.
The Canucks will not be a good team until they get further along in their rebuild, and like the Leafs once did, they should start selling off assets and bring on the youth. Tanev is a player who can fetch a good return. The Leafs have an abundance of young skilled forwards that may be of interest to the Canucks such as Kerby Rychel, Kasperi Kapanen, Connor Brown, Jeremy Bracco or Josh Leivo. However, it's unclear what kind of trade value Vancouver would expect, as Tanev is signed to a very team-friendly contract.
If Toronto doesn't acquire a defenseman, then they will have to fill holes internally. Maybe some defensive prospects can surprise us, but a top-four role is tough for a rookie. If Toronto were to acquire either of these two defensemen, then I would consider them a legitimate Stanley Cup contender. Until then, have patience, fellow Leafs fans.
I've been a Leafs fan since I was a little kid, and had to live through the painful collapse of the 2012/13 season against the Bruins. Most of the Leafs top players are my age. They light up the NHL and I write about it! The youth on this roster makes for very entertaining hockey. You won't want to miss a game!