Finishing exhibition play with a 6-0-2 record, the Detroit Red Wings appear set to make a push for their 25th consecutive postseason appearance.
Training camp displayed Detroit's youth, off-season additions and future. While the future looks bright, both Danny DeKeyser and Darren Helm sustained injuries that will keep them out of the lineup for the Wing's season opener on October 9.
Those injuries come with the knowledge that star center Pavel Datsyuk won't be available until November after undergoing off-season ankle surgery to repair tore tendons.
Without their top center, arguably top defensive-defenseman and one of the team's speediest players, the Wings will need to start the season off on the right foot.
If Detroit can proverbially tread water without these three elements to start the season, then they will have a big boost come November.
Datsyuk Injured, Again
Detroit is an undoubtedly better team with Datsyuk in the lineup and his 2014-15 season of 65 points (26 G, 39 A) in 63 games proves it.
Datsyuk finished second in team scoring last season, one point behind Zetterberg who played 14 more games.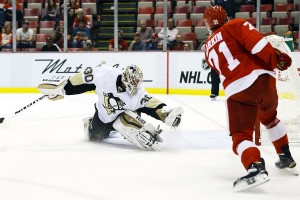 The leadership, hockey sense and skill that Datsyuk provides is irreplaceable by any one player on Detroit's roster. Datsyuk's imminent return will be a big push from having to tread water to potentially walking on it.
The team announced today that 19-year-old Dylan Larkin would be on the roster for opening night. Larkin will almost certainly be playing ext to Henrik Zetterberg on the top line where the Wings hope he can continue his offensive skill displayed during the preseason.
DeKeyser Out 3-4 Weeks
DeKeyser, who was set to be defensive partners with newcomer Mike Green before straining a ligament in his foot during Detroit's 7-2 exhibition win over Pittsburgh, is set to return in 3-4 weeks.
DeKeyser is possibly Detroit's best defensive-minded defenseman and his game would have been a perfect complement to the offensive-minded Green, who enjoys jumping into the play to create scoring chances.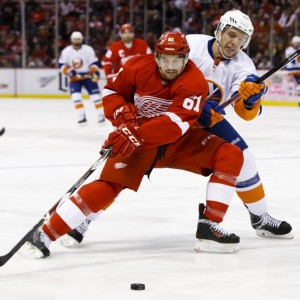 New coach Jeff Blashill has confirmed that Xavier Ouellet will stand in DeKeyser's place as Green's partner until number 65 can get back into action.
Green scored 45 points (10 G, 35 A) in 72 games for the Washington Capitals last year with a more limited role under Barry Trotz. While Green is past his prime, the 29-year-old, right-handed shot still has years left in him and is excited for a change of scenery after ten seasons in Washington.
"A long time in Washington but moving forward here I'm extremely excited to be a part of this group, especially with the history, the leadership here, the recipe to win," Green said during one of his first interviews in Detroit.
A two-time 70-plus point defenseman, the powerplay specialist has a lot of offensive skill to bring to Detroit's blue line. It's not unreasonable to think Green can post 50 points playing next to a still-developing DeKeyser, so long as they both remain healthy.
Helm's Contract Year
Just 15 minutes into Detroit Red Wings Training Camp, Helm collided with Jerome Verrier and suffered a concussion and separated shoulder. Verrier was stretchered off the ice with a broken leg and later released by the organization.
With a recovery time of 2-4 weeks (as of Sept. 19), Helm should be back in the lineup before each of Datsyuk and DeKeyser.
At the end of the season, Helm's contact expires along with teammates DeKeyser, Justin Abdelkader, Petr Mrazek, Teemu Pulkkinen, Brad Richards, Riley Sheahan, Drew Miller, Kyle Quincey and Joakim Andersson.
It will be nearly impossible for Detroit to re-sign all of the aforementioned players and Helm will need to establish himself as a future member of the team this season. The best way to do that is to build off of his 2014-15 season where Helm posted career highs with 15 goals and 33 points in 75 games.
If he is able to take another step forward in 2015-16, he just may beat out the competition mentioned above.