The New Jersey Devils are on the hunt for a top-six winger. In an interview with Pierre Lebrun that ran in The Athletic on Friday, Jan. 27, Devils general manager Tom Fitzgerald confirmed as much. But one thing Fitzgerald did note is that he's looking to acquire a top-six winger who can be with the Devils beyond the 2022-23 season and not for rentals (from 'LeBrun: Devils 'willing to give' to get at the trade deadline — for the right player' – The Athletic, 1/27/2023). 
In a different article in The Athletic previewing the 2023 NHL Trade Deadline and which player is most likely to get traded from each team, their NHL staff had a toss-up for two on the Florida Panthers: Sam Reinhart and Sam Bennett (from 'NHL trade deadline 2023: Which player (or pick) each team is most likely to deal' – The Athletic, 1/28/2023). 
While Bennett makes some sense for the Devils, Reinhart is more of the high-end scorer that their top-six needs. He might not cost much in a trade since the Panthers will have to make a cap-related move sooner than later. And though his contract expires at the end of the 2023-24 season, targeting him may be worth the gamble if they lose out on the Timo Meier sweepstakes. 
What Reinhart Offers as Top-6 Forward
With the Buffalo Sabres in teardown mode, they dealt Reinhart to the Panthers during the 2021 offseason in exchange for goaltending prospect Devon Levi and a conditional 2022 first-round pick. At the time of the trade, Reinhart was a restricted free agent. He'd end up signing a three-year extension in Florida at a cap hit of $6.5 million. 
That might seem like a pricey new contract, but Reinhart had been a solid top-six forward in his time with the Sabres. In his final three seasons in Buffalo, he averaged 27 goals and 62 points per 82 games, and he's continued posting top-six results in Florida. He had 33 goals and 82 points in 78 games a season ago. And while he's regressed closer to his career norms in 2022-23, he's still on pace for 27 goals and 62 points, exactly where he paced in his last three years with the Sabres.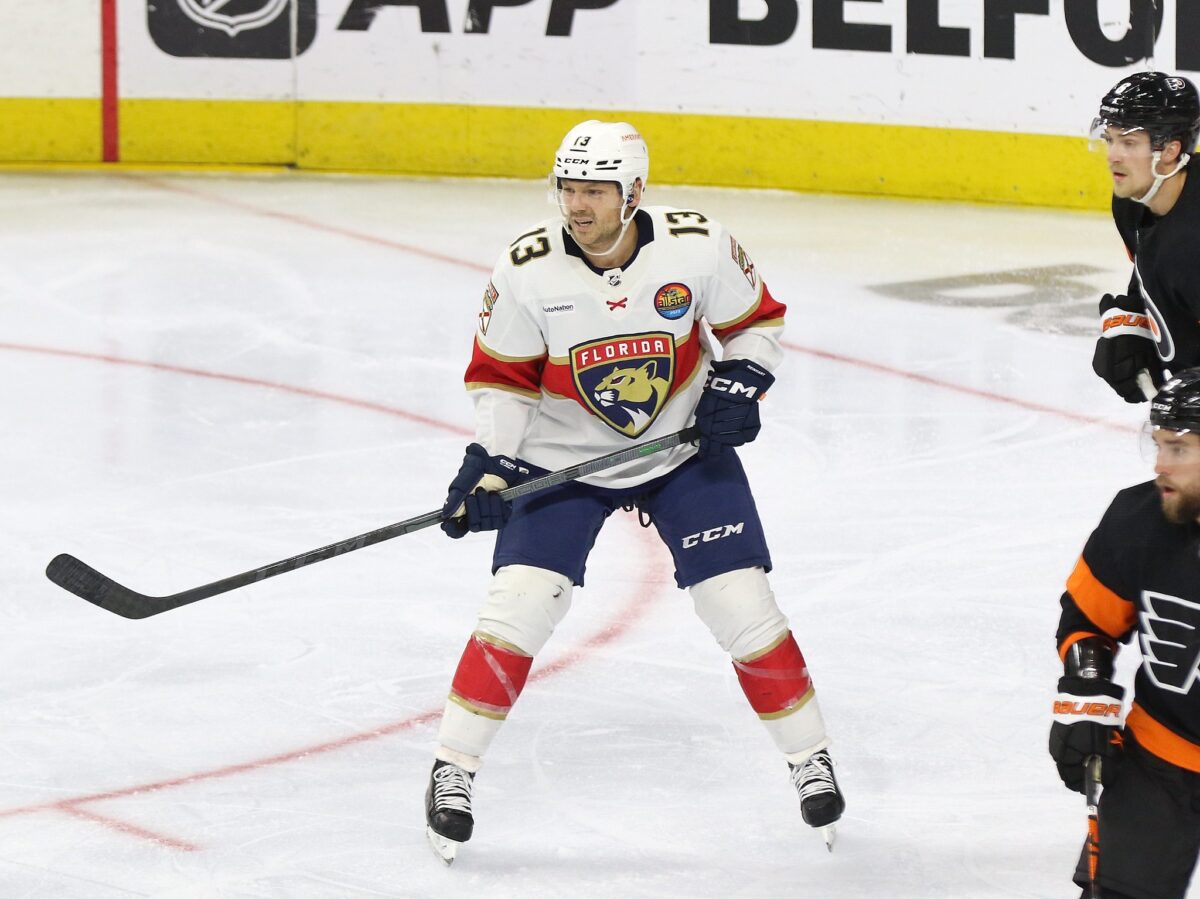 Since the start of 2020-21, Reinhart has averaged 1.82 points per 60 minutes at five-on-five. The catch is his five-on-five scoring rates have been a bit all over the place, from 1.38 in 2020-21 with the Sabres to 2.56 a year ago with the Panthers. He's at 1.52 through the all-star break, but he makes up for some inconsistent five-on-five scoring by producing on the power play. 
Though Reinhart's five-on-five scoring fluctuates, his play at that game state is quite excellent. Over the last three seasons, he's averaged an expected goals percentage of 54.3 percent. His team consistently outplays opponents when he's on the ice, and his defensive game is a significant reason for that. 
---
Latest News & Highlights
---
Even before getting traded to the Panthers, he was one of the Sabres' best shot-suppressing forwards. That's continued in Florida, even after the team moved on from Andrew Brunette — now an assistant coach with the Devils — to Paul Maurice as head coach. His defensive impacts show up quite positively in his RAPM chart, which does its best to isolate a player's impact by stripping outside factors like opponents and teammates: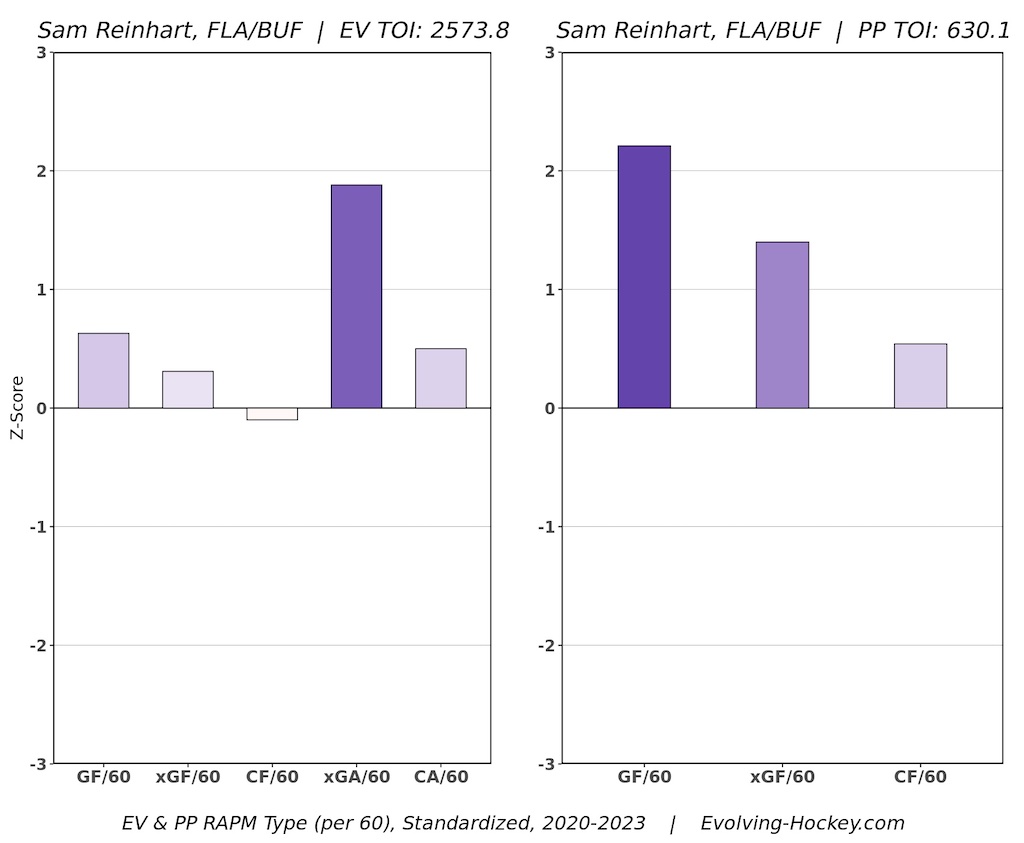 With the Devils needing a winger, more so on the right side than the left, it's easy to see Reinhart as a fit. The Devils could line him up alongside Nico Hischier or Jack Hughes and find combinations that should work. And since the Panthers will have to make a cap move, it may not cost the Devils much to acquire Reinhart. 
Trade Comparables for Reinhart
At the all-star break, the Panthers have $2,387,625 in cap space with a roster of 22 players, and that's with Duclair and Patric Hornqvist on long-term injured reserve. They will need to open up cap space to activate Duclair (and eventually Hornqvist), and their best path to doing so is through a trade. 
That's where the Devils should at least be keeping an eye on things. I wrote about Duclair as a possible fit, but given the Panthers' cap situation, moving Bennett or Reinhart's pricier cap hits may serve them better in the long run. Because everyone knows Florida's in a cap bind, the cost of acquiring someone like Reinhart should be far from astronomical. 
Two trade comparables where teams were in a cap bind but had to trade top-six wingers are the New York Rangers with Pavel Buchnevich and the Columbus Blue Jackets with Oliver Bjorkstrand. At the time the Rangers traded Buchnevich during the 2021 offseason, he was an RFA looking for a significant payday. The Rangers didn't think they could make the money work, so they dealt him to the St. Louis Blues for Sammy Blais and a second-round pick in the 2022 draft. 
Related: Devils GM Fitzgerald Could Have 3 Panthers as Trade Targets
In Bjorkstrand's case, the Blue Jackets had no cap space left after signing Johnny Gaudreau in free agency and needed to make a move. They ended up dealing him to the Seattle Kraken for third- and fourth-round picks in the 2023 draft. At the time of his trade this summer, Bjorkstrand had averaged 30 goals and 61 points per 82 games over his three previous seasons, similar to Reinhart.
Cap-related trades tend to happen in the offseason more often than not, but in the Panthers' case, they need to make a move mid-season. Still, that shouldn't affect the price of a hypothetical Reinhart trade. It will likely cost similar to the Buchnevich or Bjorkstrand deals. In the Devils' case, that'd mean giving up a couple of mid-round picks or a second-rounder and a lower-level prospect or NHLer. Since the Panthers can't take on significant salary, it's unlikely an impactful NHLer would be going the other way. 
Can Devils Pull Off the Financials for Reinhart? 
One obstacle for the Devils if they target Reinhart is his $6.5 million cap hit, as they will need to clear some space too. As it stands, they have $2,042,500 in cap space with Jonathan Bernier on LTIR. They could include Jesper Boqvist in a package for Reinhart as the Blues did with Blais for Buchnevich, opening up $874,125 in cap space. In a subsequent move, they could re-assign Alexander Holtz to the Utica Comets of the American Hockey League, freeing up another $894,167. 
That brings the Devils to $3,810,792 in cap space. Ideally, moving Andreas Johnsson's $2.275 million buried cap hit would remove a significant barrier in acquiring a top-six winger like Reinhart, but that's easier said than done. They'd have to attach a sweetener to trade Johnsson, and that's probably not something Fitzgerald wants to do.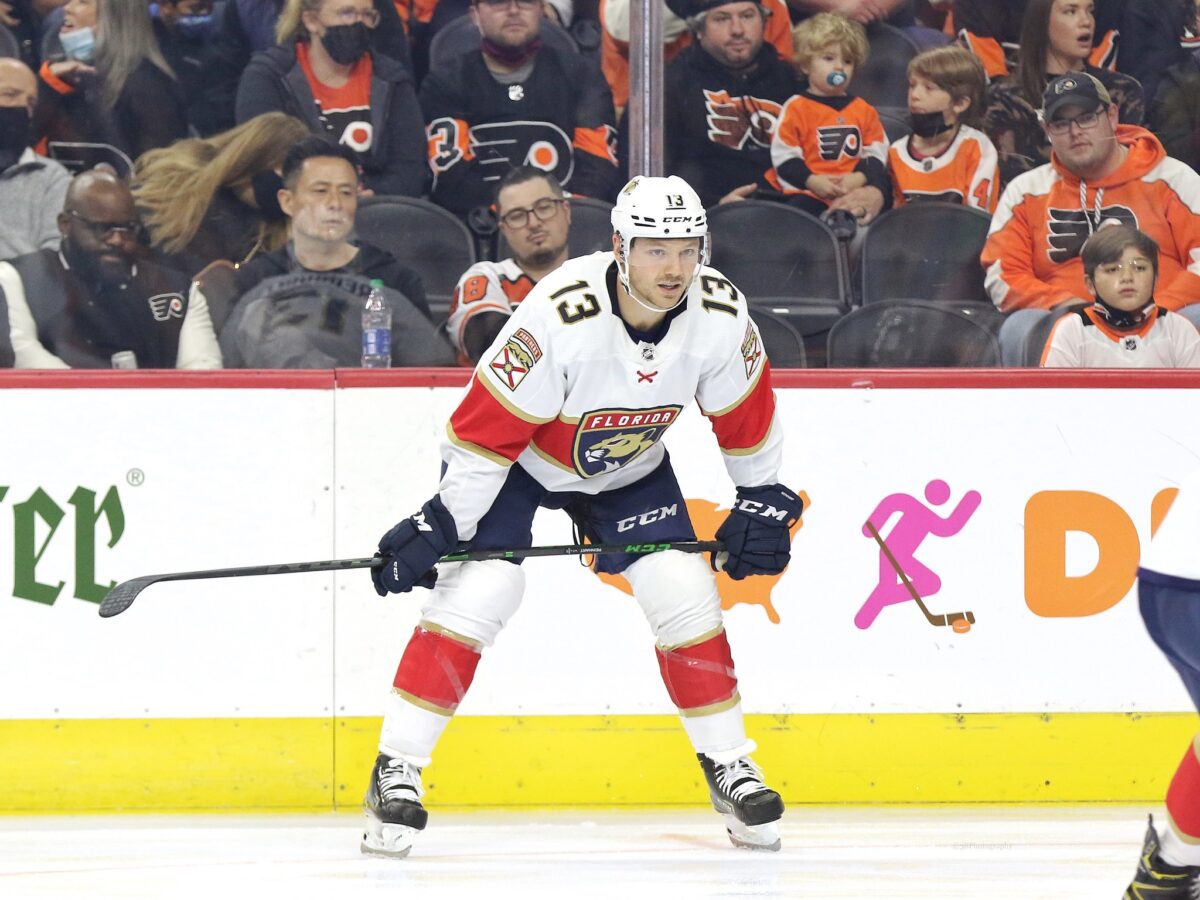 And even if they manage to move Johnsson's buried cap hit, they'd still need the Panthers to retain about $750,000 to $1 million to make the financials work. It's a lot of maneuvering to go through, but if they want to add a top-six winger like Meier, Reinhart or Brock Boeser, they will have to get creative with the salary cap and move money around. 
A second and lesser concern the Devils may have is that Reinhart has a year and a half remaining on his contract. That doesn't make him a rental, but it's not that far off from being a rental, either. It does technically fit what Fitzgerald is looking for since Reinhart would be a Devil beyond this season. But figuring out an extension that works for both sides when he becomes eligible to re-sign on July 1 is something that'd have to address too. 
There's plenty to like about Reinhart as a fit for the Devils hockey-wise. He's a proven scorer who can play as a top-six right wing with surprisingly great defensive impacts at even strength. If New Jersey can make the money aspect of it work and find a path to an extension that's fair for all parties come the summer, he could fill the team's long-term need for a top-six winger if they don't land Meier and need to resort to another option. 
* * *
Advanced stats from Natural Stat Trick