On Sunday, Feb. 5 the New Jersey Devils returned to RWJBarnabas Health Hockey House in Newark for their first practice since the NHL's All-Star Weekend. The race for the playoffs is on as the team prepares to resume its season.
Players slowly trickled onto the ice with goaltender Vitek Vanecek being the first to make an appearance. They ran drill after drill with the players swiftly moving across the ice with the puck. It wasn't the consistent tempo of a normal Devils practice, but that wasn't a surprise to head coach Lindy Ruff.
"Different players are going to feel differently based on probably the amount of work they got in on the off days," said Ruff after practice. "I've seen over the years at different times that some guys can look really good and some guys it takes a game or two. I liked our practice, I thought the pace got a little bit slower halfway through, but that's kind of normal."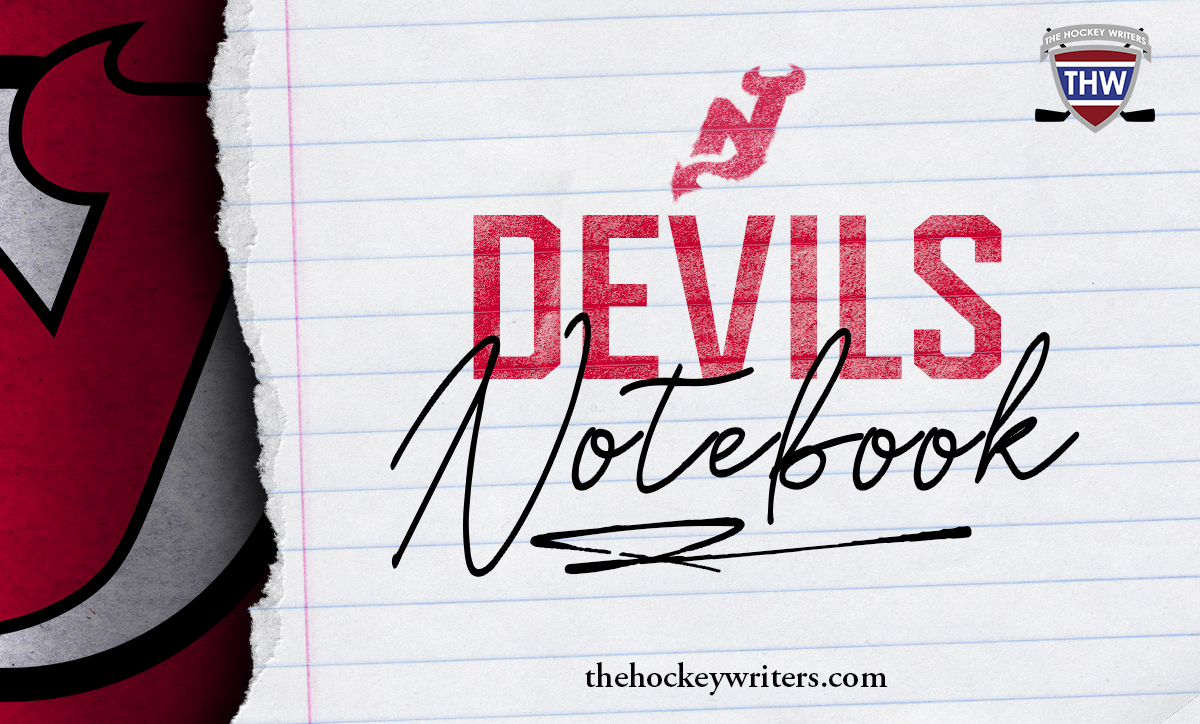 In this edition of the Devils' notebook, we discuss Jack Hughes' All-Star Weekend appearance and what some of the other guys were up to during their well-deserved time off.
Hughes' Second All-Star Appearance
For a second consecutive season, Jack Hughes represented the Devils at the NHL All-Star Game. The 21-year-old was the team's lone representative after having an explosive first half of the season including 64 points in 49 games.
On Feb. 3, Hughes participated in the accuracy shooting competition along with Nazem Kadri, Leon Draisaitl, Connor McDavid, Aleksander Barkov, Brock Nelson, Artemi Panarin, Kevin Hayes, Vladimir Tarasenko, and Nikita Kucherov. The Devils' forward finished in ninth place with a time of 32.324. Below is a breakdown of the first round of the event.
McDavid 9.497
Nelson 12.126
Panarin 13.235
Kadri 13.459
Kucherov 18.147
Hayes 22.377
Tarasenko 25.062
Barkov 25.297
Hughes 32.324
Draisaitl 36.956
Hughes did not advance past the first round. Eventually, New York Islanders forward Brock Nelson was named the winner of the event.
The next day he suited up for the All-Star Game as the Metropolitan Division faced the Atlantic Division on Saturday afternoon. Hughes' team fell by a final score of 10-6 with the Devils forward failing to get on the scoresheet. New Jersey's All-Star saw 5:46 of ice time and recorded two shots on goal and a plus/minus of minus-3.
What Fans Learned About the Superstar
I hate to break it to you, but Hughes confirmed he is not a Swiftie. When asked what his favorite Taylor Swift song was at NHL All-Star media day on Feb. 2, he admitted that he couldn't name one song.
He felt he had a few teammates who could have joined him in Florida: "I mean, we had like four guys that definitely could be here. Dougie, Nico, Bratter, and Vitek. You know, especially Nico. He's had a tremendous year and there's just not enough spots. A lot of guys have had great years and don't make it. Nico falls in that category."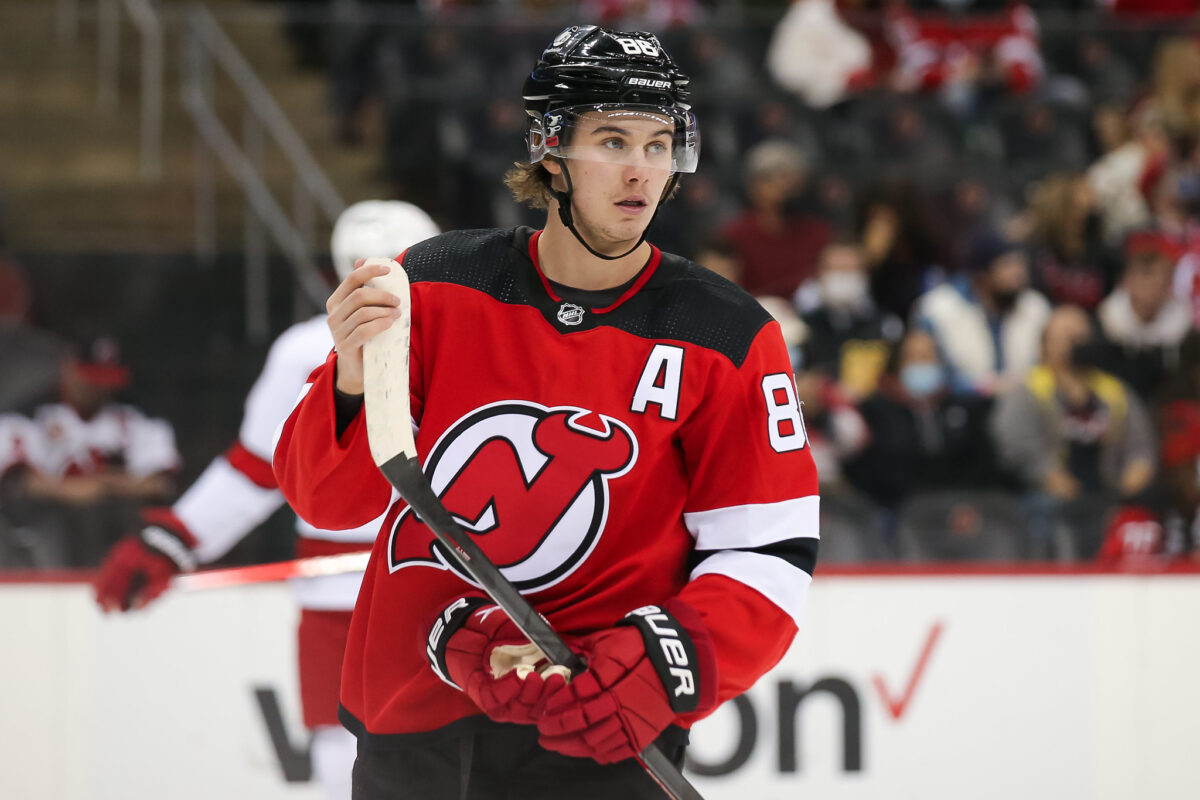 His pick for the Super Bowl is the Kansas City Chiefs.
He would prefer to have 10 minutes of three-on-three overtime hockey. "I don't know who wants it to go to a shootout anymore. If they make it 10 minutes, the game is going to be finished."
What His Competitors Are Saying About Hughes
Ottawa Senators Captain Brady Tkachuk: "The level he's taken as a player has dramatically helped the Devils as well. He's the heartbeat of their team. It's been fun to watch him, see what he's doing this year. Of course, playing against him it's all business but he's made that team a whole lot better."
Arizona Coyotes forward Clayton Keller: "He's just such an unbelievable player. I played with him at the World Championships a couple of years ago when he was 17, 18. Such a great player, great guy, loves to have fun and it's great to see him have such great success this year."
Anaheim Ducks forward Troy Terry: "As a hockey player, (Hughes is) someone I've really grown to just enjoy watching when I can. I know he's from a great family and a great person. He's someone I'm excited to be around this week and get the chance to sit and talk with him."
How Other Devils Players Spent Their Break
Forwards Tomas Tatar and Erik Haula spent the past week together with their significant others in Tulum, Mexico. Over the past few months, I've come to appreciate the dynamic between the two veteran forwards, who were previously teammates on the Vegas Golden Knights. When I asked Tatar who the worst soccer player on the team was he, without hesitation, said Haula. When I asked Haula which of his teammates would perform the best on Dancing With The Stars he laughed and of course named Tatar.
According to his wife's Instagram page, Jonathan Bernier spent a few days kids-free at Secrets Moxché Playa del Carmen. Toward the end of their trip, they met up with Tatar, Haula, Jesper Bratt, and his girlfriend.
Last week, Ondrej Palat shared via an Instagram story that he reunited with former Tampa Bay Lightning teammate Jan Rutta in Mexico. But not every player went in search of the sun and sand. Youngster Dawson Mercer went north to spend time with his family in Newfoundland.
Related: Devils' Mercer Needs Steady Top-6 Minutes
---
Latest News & Highlights
---
After the team's practice on Sunday, I asked Mercer if he contemplated heading south for warmer weather, like most of his teammates.

"I did think for a bit, but I haven't had a real winter in four or five years. So I went home and the snow melted right before I got there, but then halfway through the trip we got some snow and I was so happy."
Over the break, Mercer shared photos of himself with Bauer, the family's 7-year-old black labrador retriever on Instagram. The adorable pup became the topic of conversation between us as I learned that naming the retriever was a collective effort among Mercer, his siblings, and his cousins.
"All the boys play hockey plus my sister and one of the other cousins plays and another three were figure skaters so it just made sense," he said.
He continued to say that every day of the bye week was spent outside with Bauer either walking or snowshoeing by his family's home in Bay Roberts.
Returning To Newark With an Unfamiliar Feeling
Damon Severson is the longest-tenured player on the team's roster, as he is currently in the midst of his ninth season with the club. Throughout his career, he only has four playoff games under his belt. Like Mercer, he opted to travel north during the break and spend time at home in Canada. He spent his days with family and friends chilling out and sitting by the fire.
While he was sitting in his stall after practice, I asked if it was an unfamiliar feeling coming back knowing his team was in a playoff spot, and with a chuckle, he said yeah.
"The whole general season we've been playing well so you get into that mindset that right from the very start we have been good."
He mentioned that in previous seasons the mindset was, "we have a second half of the season, let's try to play well and we know we are going home." That's not the story this season.
"We are in a playoff spot, I mean anything can happen, but forget about just making the playoffs, we want to push for first," he said. "It's a good feeling."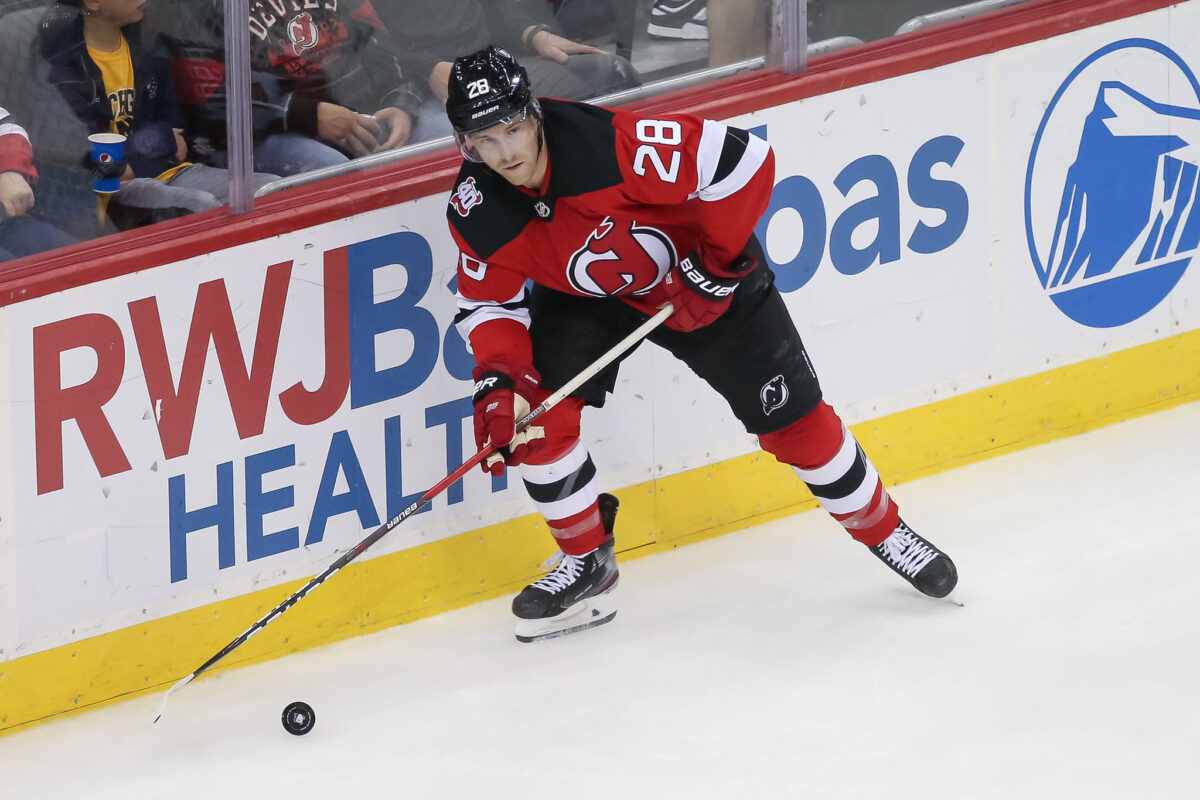 Is there more pressure on the team since they have been in a playoff spot through the first half of the 2022-23 season? For Severson, there is no additional pressure.

"I don't think so just because we just need to play how we've been playing," he said. "There have been some games that we've been winning where we do the right things a lot of the time, but we don't play our best, and we're still somehow finding a way to win. It's the old cliche of just find a way, and we have been and we haven't done that in the past."
The Devils will look to keep things rolling when they play their 50th game of the season tonight when they host the Vancouver Canucks at Prudential Center. It is the Canucks' first game since trading Bo Horvat to the New York Islanders in exchange for Anthony Beauvillier and Aatu Raty, and a conditional first-round pick in the 2023 NHL Draft. Bill Spaulding and Ken Daneyko of MSG Networks will have the call when the puck drops at 7:30 P.M.