With the announcement of a Jan. 13 start to the 2020-21 NHL season, things are beginning to ratchet up. In a mid-week news and rumors roundup, we take a look at a key restricted free agent signed by the New Jersey Devils. Plus, potential interest in a Vegas Golden Knights' forward, Yegor Sharangovich returns to North America after a successful loan in the KHL, and notes on the team's schedule. 
Devils Re-Sign Mackenzie Blackwood
The Devils took care of some housekeeping early yesterday morning, signing RFA goaltender Mackenzie Blackwood to a three-year deal that comes with an AAV of $2.8 million. 
Blackwood got off to a slow start last season, but he was arguably one of the best goaltenders in the league from Dec. onward. He had a .931 save percentage (SV%) at even strength, as well as a .924 SV% at all strengths — that ranked 11th and 9th in the league, respectively. His goals saved above average (GSAA) of 12.99 was third-best in the league from Dec to the end of the season. He finished 2019-20 with a 22-14-8 record and a .915 SV%. 
The bottom line is Blackwood was terrific last season. The Devils played at a 91-point pace in his starts, which would've easily qualified them for the NHL's playoff bubble. With Corey Crawford now backing him up, they should have a formidable tandem that'll keep them competitive on most nights.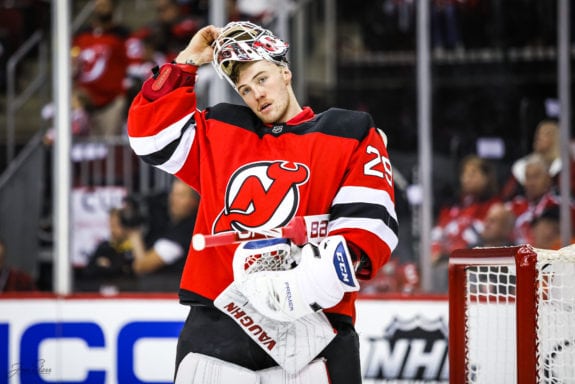 Blackwood's three-year deal takes him to his age-26 season, where he'll still be an RFA at its expiration. It was a bit of a surprise to see his AAV come in under $2.8 million. The Pittsburgh Penguins re-signed Tristan Jarry to a three-year deal worth $3.5 million annually. The two goaltenders' numbers are almost identical, with Blackwood's a touch better, so the Devils made out quite well with the new deal. 
If Blackwood keeps on his upward trajectory, he'll be up for a significant pay raise in three years. But for now, the Devils have themselves incredible value in a young goaltender on the rise. 
Devils Interested in Marchessault?
In the latest update of their offseason trade watch, The Fourth Period had the Devils listed as one of four teams interested in Golden Knights' winger Jonathan Marchessault. He played in 66 games and totaled 22 goals and 47 points in 2019-20, a 58-point pace over 82 games. 
Related: New Jersey Devils Re-Sign Mackenzie Blackwood to 3-Year Deal
The Golden Knights are in a cap bind and need to shed a contract, while the Devils have plenty of cap space (about $14.4 million after re-signing Blackwood). They could use another top-nine forward alongside Nico Hischier and Jack Hughes, and Marchessault would be a great fit. 
Marchessault has been one of the most efficient five-on-five scorers in the league over the last three seasons, averaging 2.10 points per 60 minutes. The Golden Knights have controlled over 53% of the expected goals with him on the ice. And while he's not the best defender, he's had a strong positive impact offensively at even strength and on the power play.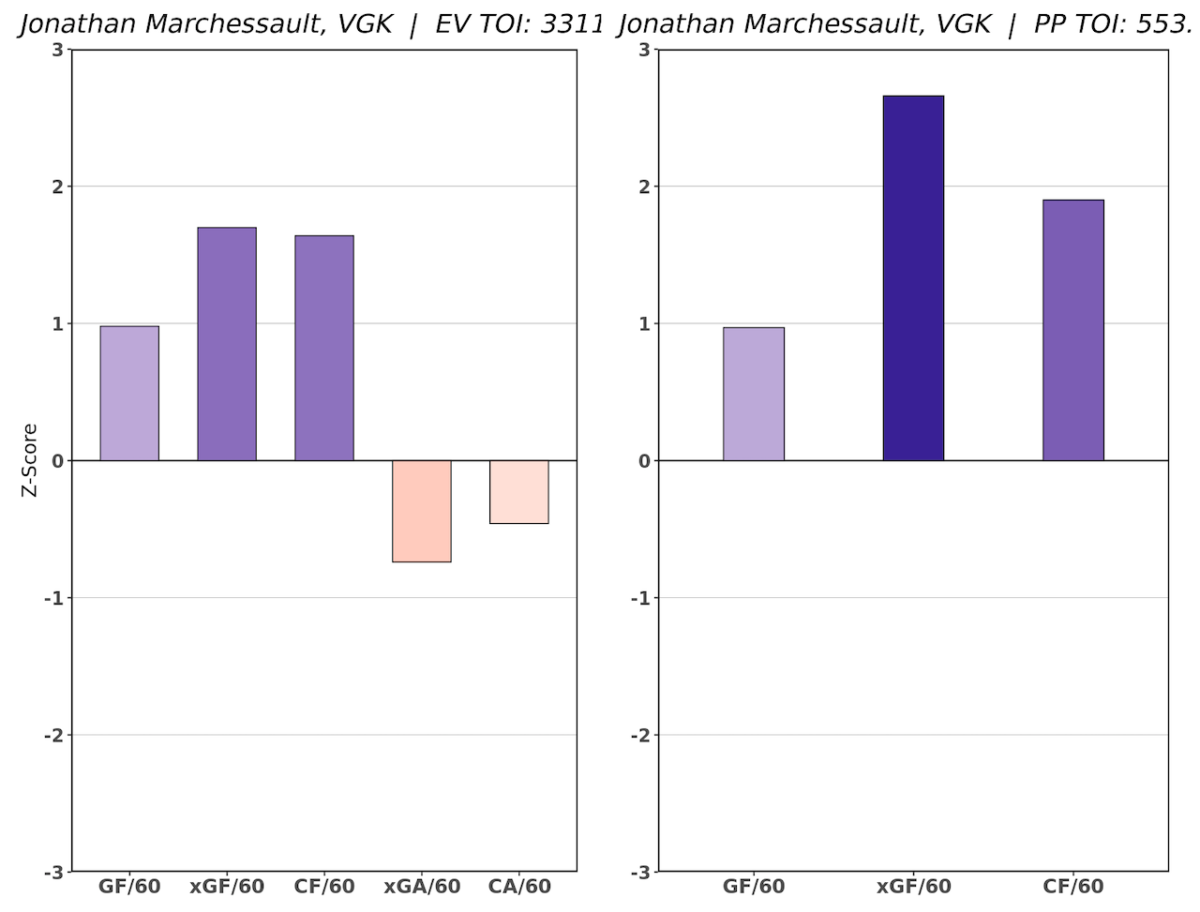 Marchessault is 29 years old and has a contract that runs for four more seasons, at a cap hit of $5 million. Even after the Devils re-sign Jesper Bratt, they should have around $11 million in cap space. They'd have no trouble fitting in Marchessault's contract if that's the case. And since the Golden Knights don't have much leverage because of their cap situation, he shouldn't cost much to acquire. He'd be a pretty significant upgrade to the Devils' top six and would be the ideal winger alongside either Hischier or Hughes for the next few years. 
Sharangovich Returns to New Jersey
After a successful stint with Dinamo Minsk, the Devils have recalled Sharangovich from his loan in the KHL. He finished with 17 goals and 25 points in 34 games and was one of the top goal scorers in all of the KHL. 
Sharangovich, a fifth-round pick at the 2018 Draft, has suddenly become a top candidate to earn a spot on the Devils' roster. Had there not been the COVID-19 pandemic and everything were running on a normal schedule, he wouldn't have been high on my list of prospects who'd have a shot at earning an NHL gig. 
But his play in the KHL has changed things quite a bit. The Devils don't have great depth in their bottom-six, but Sharangovich could provide a boost. His KHL scoring rate translates to 48 points over 82 NHL games, a 32-point pace for what'll be a 56-game NHL season in 2020-21.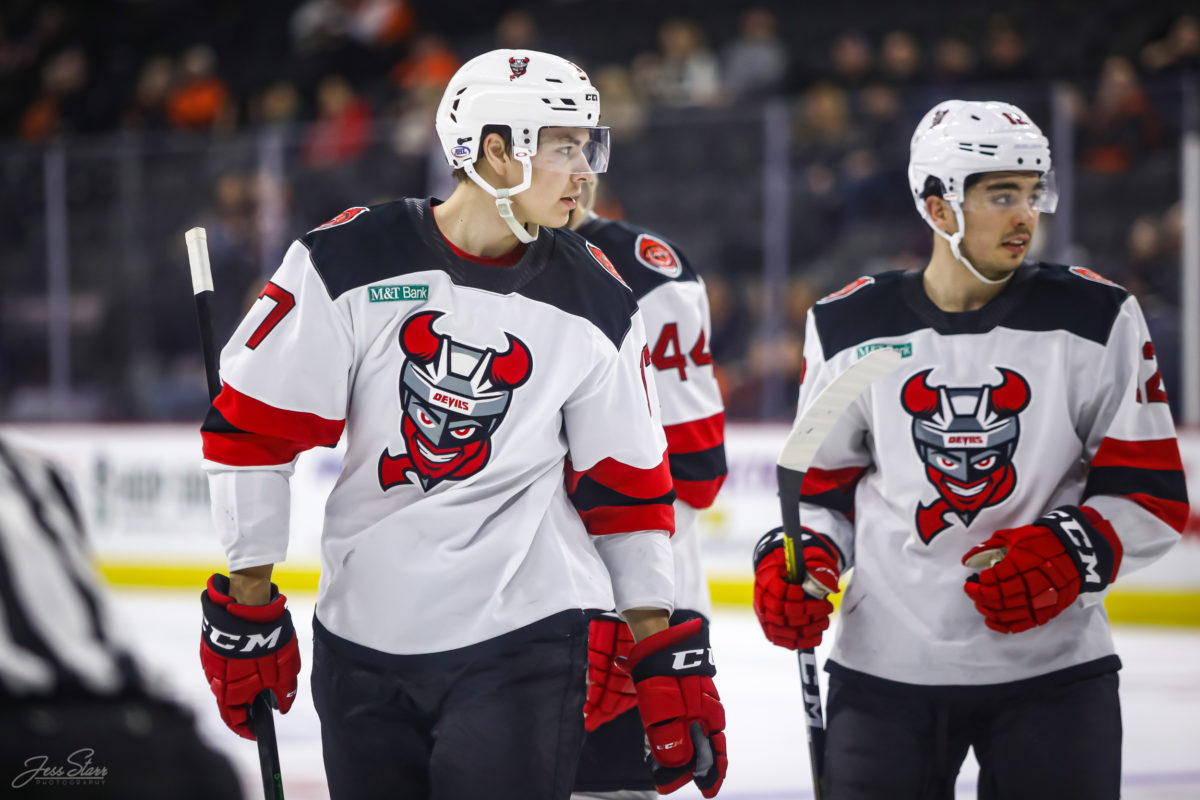 I'm skeptical Sharangovich will suddenly produce at such a rate in the NHL. But if he even gives the Devils 20-25 points in a third or fourth-line role, they'll gladly take that. And by the looks of it, he may be ready to play the part. 
Devils' Schedule Announced
The Devils' schedule became official yesterday afternoon. They'll open the season on Jan. 14 with a two-game series against the Boston Bruins at the Prudential Center in Newark, which will conclude on Jan. 16. They follow that up with standalone games against their local rivals, the New York Rangers (Jan. 19) and New York Islanders (Jan. 21). 
Related: Devils Prospects to Watch at the 2021 World Juniors
There weren't any surprises on the Devils' schedule, but there are a couple of notable dates. Taylor Hall, who the team traded in Dec. 2019, returns to New Jersey on Feb. 20 when the Buffalo Sabres visit the Devils. The Devils have a four-game series (2 home, 2 away) against the Rangers from Apr. 13-18. Depending on where the two teams are in the standings, that could have some significant playoff implications in the East Division. 
You can find the Devils' entire schedule here. 
That wraps up a mid-week roundup of Devils' news and rumors. If the first part of this week was any indication, there should be plenty more news abound. So keep it here at The Hockey Writers for the latest coverage. 
* * *
Advanced stats from Natural Stat Trick
---
---