It's time for another edition of New Jersey Devils news and rumors. In search of some goaltending depth, the Devils claimed Aaron Dell off of waivers from the Toronto Maple Leafs. We'll examine why he'll likely serve as Mackenzie Blackwood's backup moving forward.
Plus, assessing where things stand with Jesper Bratt and Sami Vatanen as they await work visas, as well as an update on Nico Hischier's health. Finally, a look at the latest news regarding Devils prospects and how they're faring in their respective seasons. 
Dell Gives Devils a Capable Backup
The Devils found themselves in a tough spot when Corey Crawford announced his retirement less than a week before the start of the regular season. They claimed Eric Comrie off of waivers from the Winnipeg Jets soon after Crawford's retirement, but Dell should be able to make more of an impact at the NHL level.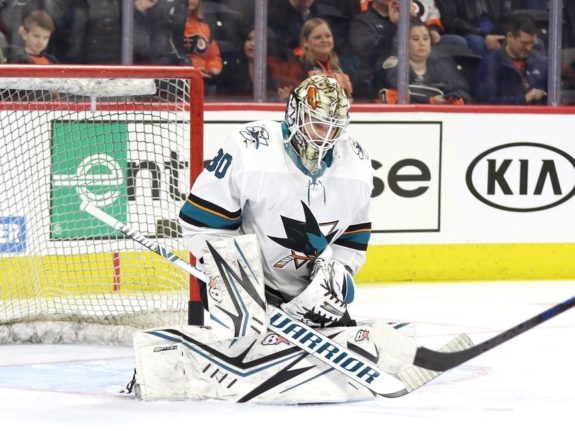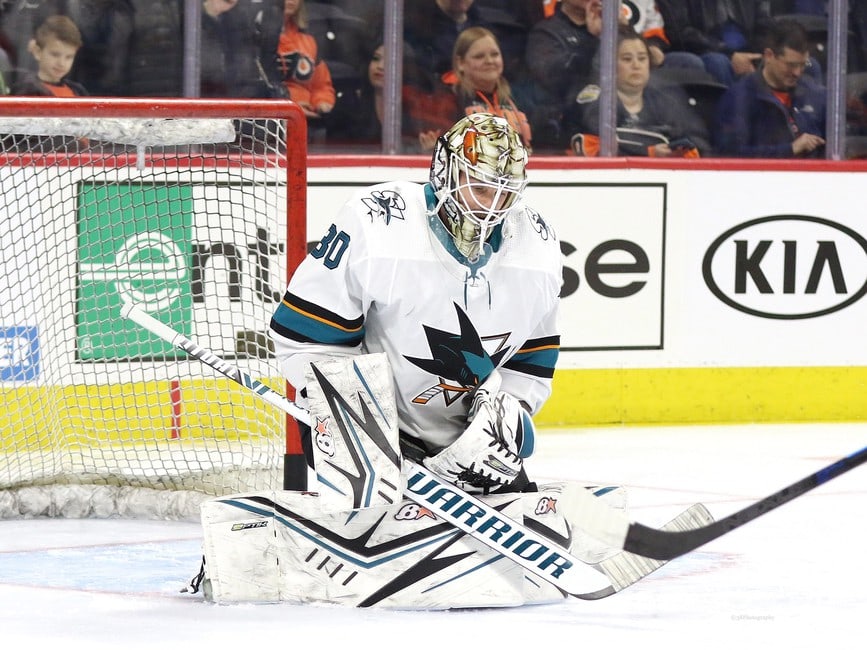 Aside from the 2018-19 season, Dell has finished with a save percentage (SV%) above .905 in three of his four NHL seasons. That 2018-19 season was easily the worst of his career, as he finished with a .886 SV% and goals saved above average (GSAA) of -14.75. Otherwise, his numbers are respectable. Here's a year-to-year breakdown of his stats: 
2016-17: .924 SV%, 9.12 GSAA
2017-18: .913 SV%, 0.93 GSAA
2018-19: .886 SV%, -14.75 GSAA
2019-20: .907 SV%, -2.99 GSAA
All things considered, that's a pretty good track record for Dell. The Sharks were awful in 2019-20, so he put up relatively decent numbers on one of the league's worst defensive teams. And for what it's worth, he has a GSAA of 8.25 (via Evolving Hockey), excluding his 2018-19 stats.  
Related: Devils Youth (and Rust) on Display in Season Opener
Because of the mandatory seven-day quarantine he has to go through due to the ongoing COVID-19 pandemic, it may be a week or so before Dell joins the Devils. But he should give them competent goaltending behind Blackwood, especially if they continue to stay sound defensively as they did against the Boston Bruins in their opening two games. 
Bratt, Vatanen Still Awaiting Visas; Hischier Yet to Begin Skating
The Devils signed Bratt to a new contract the Sunday before the regular season began, while Vatanen signed a few days before Bratt. Because they both came to terms late in the process, it could take a while to obtain work visas since the COVID-19 pandemic has yet to subside. And as of yesterday, there were no updates on either of their statuses. 
Once Bratt and Vatanen get their work visas, they'll have to go through a mandatory quarantine for seven days, like Dell, after arriving in New Jersey. But given how long it took Kasperi Kapanen to obtain his visa, the Devils could be waiting a while for Bratt and Vatanen. 
That's certainly not encouraging to hear if you're expecting Bratt and Vatanen to play any time soon. Their process may go faster than Kapanen's. But even if it does, the beginning of February seems like the earliest target for them joining the Devils. 
It's also worth noting that Hischier has yet to begin skating after suffering an injury while training in Switzerland in early December. Head coach Lindy Ruff told Devils reporter Amanda Stein the news he's gotten on Hischier is positive, but there's no timetable on his return. So like Bratt and Vatanen, it may be a little while before Hischier joins the lineup. 
Prospects Update
The last time I did this, most Devils' prospects were on loan playing in Europe and waiting for the NHL season to start. That's obviously not the case anymore. Still, there a few prospects who are getting playing time in the NCAA and various European leagues. Let's take a look at the most recent news and stats. 
Shakir Mukhamadullin had a mixed World Junior Championship for the Russians. But he did make some KHL history recently when he recorded his 10th point of the season, surpassing Dmitry Orlov and Zakhar Arzamastsev for most points recorded by a U-19 defenseman. There's still a long way to go in the KHL season, so Mukhamadullin will likely add to his totals before the season concludes.
Tyce Thompson had a breakout season in 2019-20, finishing with 44 points in 34 games for Providence College (NCAA). He hasn't quite scored at that pace in 2020-21, but he's just under a point-per-game, with 11 points in 12 games. 
Aarne Talvitie seems to be rebounding nicely after a tough sophomore season in 2019-20. He has 10 points (5 goals, 5 assists) through 14 games for Penn State. He had 19 points in 30 games in 2019-20, so he should surpass that comfortably if he keeps at his current pace.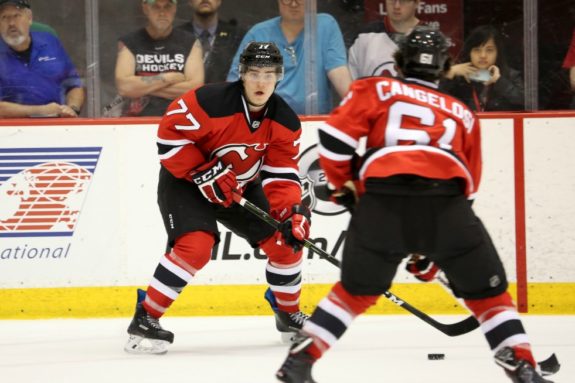 With the OHL season still on pause, Devils' prospect Graeme Clarke headed over to play in the Slovakian first league. It turns out that loan won't last long, as the Binghamton Devils have recalled him to join their AHL squad. Binghamton should have a pretty deep team this season, so it'll be interesting to see where Clarke fits in. 
Along with Clarke, it appears Fabian Zetterlund and Marian Studenic's loans to European clubs have come to an end, meaning they'll be available for Binghamton's season too. That should only add to the team's depth for the shortened 2020-21 AHL campaign. 
Related: Devils News & Notes: Observations From Opening Games
That wraps up this edition of Devils news and rumors. The 2020-21 season continues tonight with a showdown against the New York Rangers, followed by a two-game set with the New York Islanders to close out this week's games. Be sure to keep it here at The Hockey Writers for the latest coverage. 
---
---