The New York Rangers began their season with a disappointing 4-0 loss to the New York Islanders. However, the Blueshirts responded with an excellent performance in their second consecutive game against the Islanders and Pavel Buchnevich led the way. His play has stood out in the first two games of the season and that's a great sign for the Rangers.
Important Goals
While it was only one game, the Rangers' season opener was disheartening, as the team was sloppy and failed to play with energy or intensity. During a shortened season in a highly competitive division, the team desperately needed to respond with a much better performance against their rivals. The Islanders are an excellent defensive team that thrives when they are ahead, as they can clog up the neutral zone to prevent opponents from getting many scoring chances.
After trailing 2-0 a few minutes into their first game of the season, Buchnevich scored just over two minutes into the Rangers' second game to give them an early lead. He took a pass from Mika Zibanejad on a two-on-one opportunity, patiently waited and then snapped a wrist shot past rookie goalie Ilya Sorokin.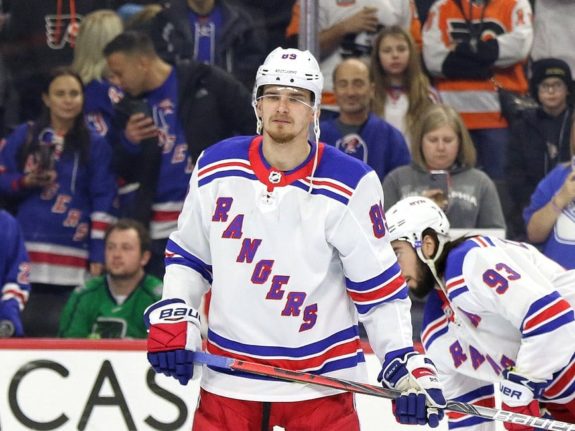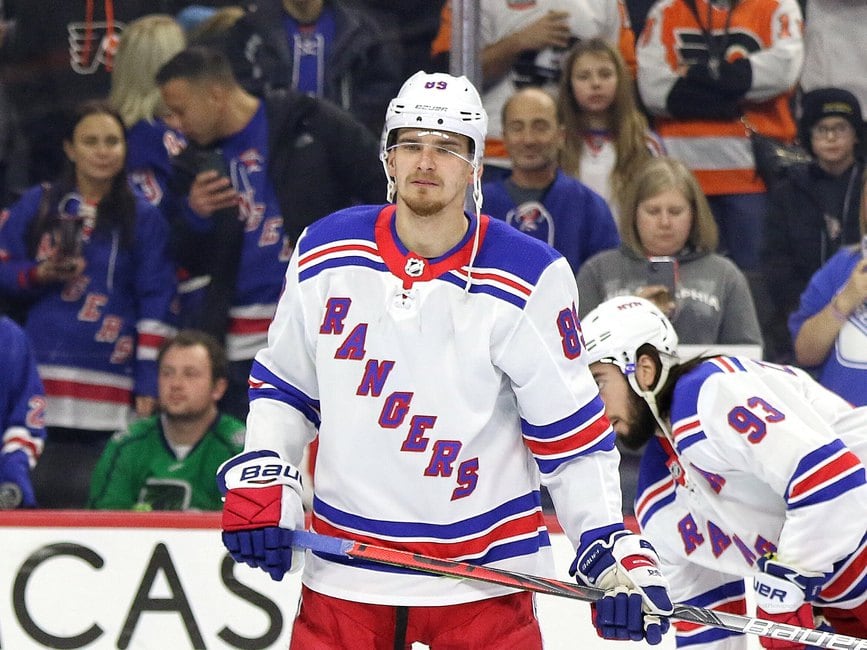 The first goal of the season seemed to settle the Rangers down as they played a much cleaner first period than they did in the season opener. Artemi Panarin scored to give the Rangers a 2-0 lead, but the Islanders seized back some momentum in the second period after a strong penalty kill.
---
Latest Rangers Content:
---
Once again, Buchnevich responded. This time he stole the puck and ripped a wrist shot from a bad angle just under the crossbar to give the Rangers a 3-0 lead. He also had an assist later in the game and the team won 5-0.
Defensive Play
Buchnevich began his NHL career in the 2016-17 season as a skilled player who wasn't strong defensively. Since then, he has steadily gotten physically stronger and improved defensively each season.
Rangers head coach David Quinn decided to use Buchnevich on the penalty kill this season and so far he has done a nice job in the role. He uses his long reach to effectively get in passing lanes and deflect shots. He has also been stronger on the puck and done a better job of winning one-on-one battles. Quinn is also using Chris Kreider on the penalty kill this season. Both he and Buchnevich can look to quickly turn defense into offense and score some shorthanded goals.
In addition to his play on the penalty kill, Buchnevich has done a nice job defensively at even strength. His chemistry with Zibanejad and Kreider has certainly helped them. The line may be the Rangers' best one defensively, in addition to being one of the team's two dynamic scoring lines.
Moving Forward
Buchnevich has steadily improved in each of his first four seasons with the Rangers and he is off to a great start as he looks to continue that trend this season. It's very early, but after some talk of top pick Alexis Lafreniere potentially replacing him on the top line, he has responded well. The chemistry he has established with his linemates should only grow as they continue playing together this season.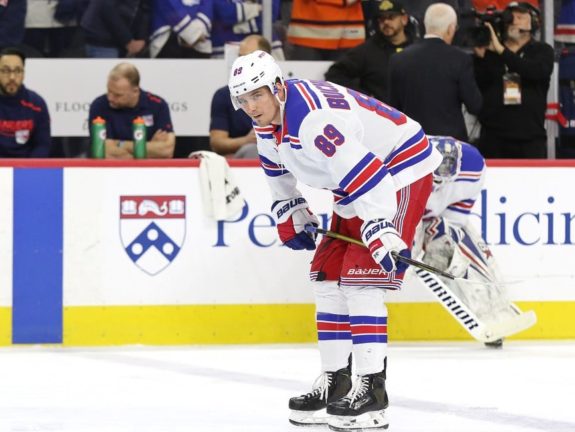 Last season, Buchnevich averaged a career high in ice time, playing 16:56 per game. In the first two games this season he has averaged 19:38 in ice time per game. He is developing into a player that the Rangers can rely on for his defensive play in addition to his scoring, and because of it he is earning more ice time.
Buchnevich's play defensively helps set a good example for this young team, with forwards like Lafreniere, Filip Chytil, Brett Howden and Kaapo Kakko, who are all 22 years old or younger. As for Buchnevich, he will look to continue to improve throughout this season. Consistency will be key for him, but he is off to a great start and that bodes well for the Rangers.
---
---