The New Jersey Devils have had goaltending question marks in the past. But entering the 2023 offseason, they sure seem to have more stability in net. Vitek Vanecek had a more than solid first season in New Jersey, finishing with a .911 save percentage in 52 regular-season appearances. Akira Schmid had a breakout effort, totaling a .921 SV% between 27 regular season and playoff games. 
Having an elite goaltender can make a difference come the playoffs, which is why some believe the Devils could pursue Connor Hellebuyck if he becomes available. He's one of the best goalies in the NHL, so it makes sense why pundits and fans would want the team to pursue him. But given how Vanecek, and specifically Schmid, performed this past season, Devils general manager Tom Fitzgerald's best option in net may be to run it back.
Schmid May Be the Real Deal
What a difference a year can make. Last summer, Fitzgerald had no choice but to go and pursue a goalie through some means. Mackenzie Blackwood and Jonathan Bernier missed most of the 2021-22 season with injuries, so standing pat was not an option. That's why the Devils acquired Vanecek from the Washington Capitals at the 2022 draft. 
Vanecek had a solid regular-season resumé at the time of the trade, posting a .908 SV% across 79 games. It wasn't a surprise to see him find success with the Devils, especially with a solid team in front of him. The bigger surprise was seeing Schmid make the progress he did from one season to the next. 
Because of injuries to Bernier and Blackwood, Schmid had to play in NHL games he wasn't ready for a year ago. The result was him posting an ugly .833 SV% in six games. Still, there were some encouraging signs in his play in the AHL, where he finished with a .911 SV% in 38 games with the Utica Comets. Considering he was playing in the USHL with the Sioux City Musketeers the season before, those were solid results for a 21-year-old in his first pro season.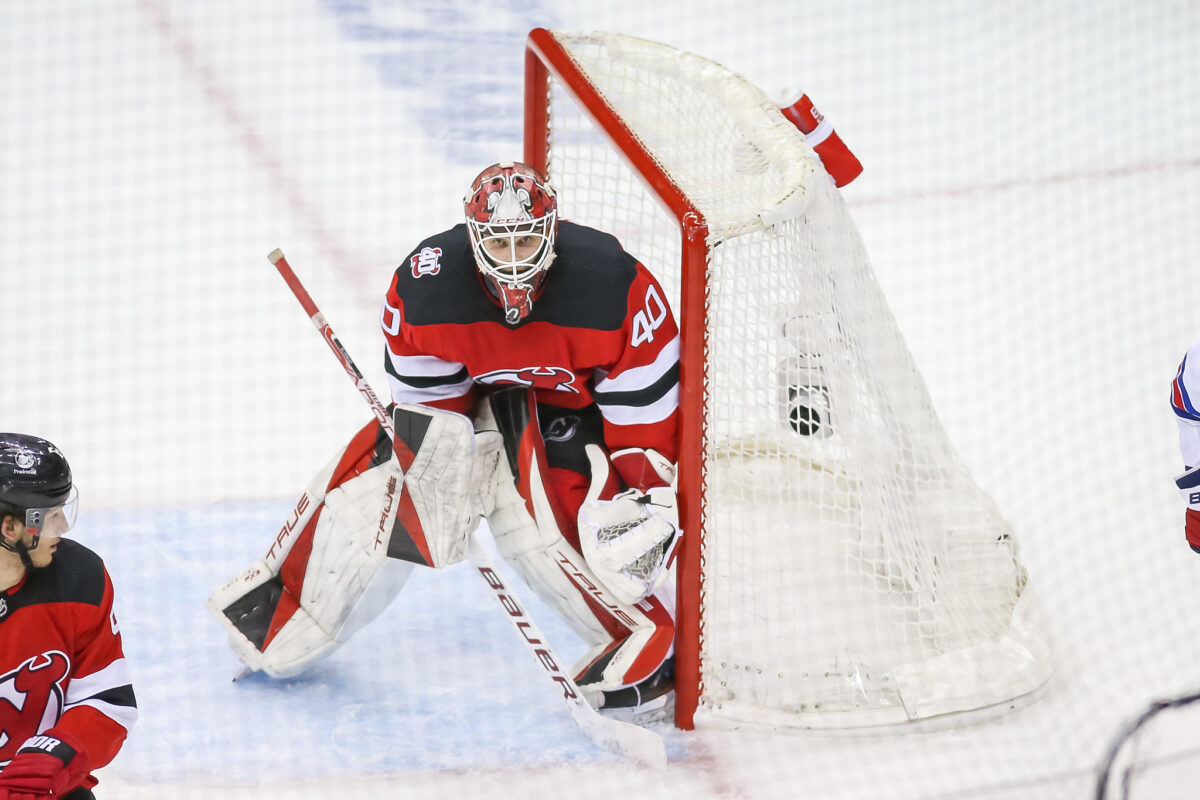 Even if you were a believer in Schmid before this season, to have expected the jump he made would've been nothing short of crazy. Though Vanecek had a bigger sample size than Schmid, which makes a difference, it's still hard to argue that Schmid wasn't the Devils' best goalie in 2022-23. 
Vanecek's numbers were solid, as he saved 5.1 goals above expected at all strengths during the regular season. But Schmid topped him, stopping 8.2 goals above expected. To add more context, Schmid saved about half a goal above expected per 60 minutes, whereas Vanecek saved 0.1. Schmid also finished with a slightly better high-danger SV% — .822 to Vanecek's .802. 
Related: Devils Could Target Bruins' Cap Problems in Trade
---
Latest News & Highlight
---
From an eye-test perspective, there's plenty to like about Schmid's makeup. There's barely any movement in his game, so he rarely puts himself out of position. He's quite athletic for a netminder who's 6-foot-5, 210 pounds, and he tracks the puck well. His glove hand needs some work, but that's easily correctable over time. 
If the Devils believe in Schmid, they can't block a path for him next season. They need to increase his workload and see if the 23-year-old can handle being a 1A. Based on his performance in the regular season and playoffs, there's certainly reason to believe he can be that guy. And having a reliable Vanecek as his partner during the regular season will help the Devils get to where they need to. The question is about the playoffs, but do you still need an elite goaltender to find success in the postseason?
Recent Playoffs Signaling Different Goaltending Trends?
The NHL has changed quite a bit in recent years. Offense and goal-scoring are increasing, and we've seen that have an effect in the playoffs too. Last season, the Colorado Avalanche won the Stanley Cup posting a team SV% of .901. Darcy Kuemper finished with an SV% of .902, while Pavel Francouz had a .906 SV%.  
This season, not many elite goalies made it far in the playoffs. Sure, Sergei Bobrovsky is in the Stanley Cup Final, but he hasn't been an elite goalie for some time. While he's on a heater in the postseason, he finished the regular season with a .901 SV%. He has a .907 SV% over the last three years, so he's been slightly above league average.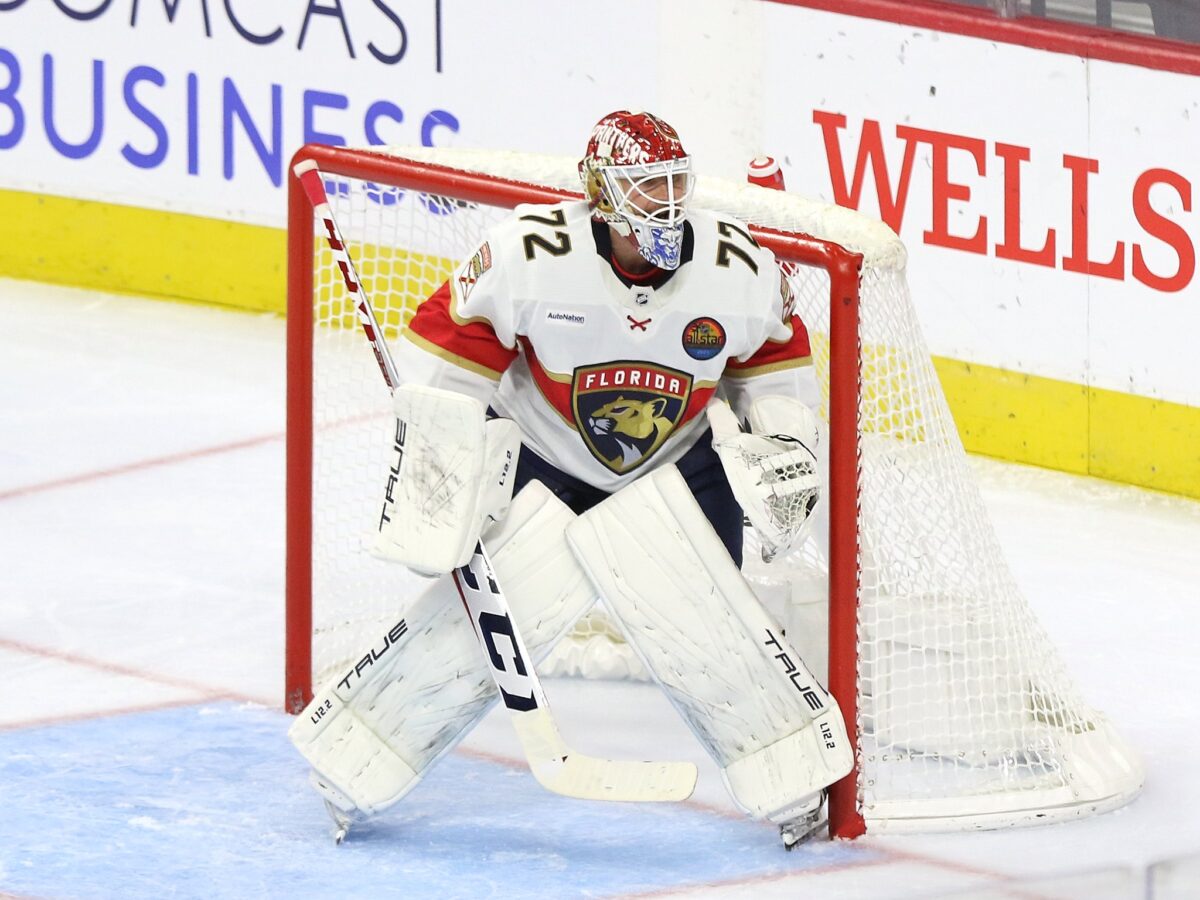 When looking at the final four goalies in this year's playoffs — Adin Hill, Jake Oettinger, Bobrovsky, and Frederik Andersen — only Oettinger could be considered elite. And yet, he finished the playoffs with an .895 SV%. Hellebuyck got bounced in the first round with an .886 SV%. Igor Shesterkin was dominant against the Devils, but they still found a way to get past the New York Rangers in seven games. 
The counter to the "you don't need an elite goalie in the playoffs argument anymore" is Andrei Vasilevksiy since the Tampa Bay Lightning made the Final three years in a row. But even he struggled this season in the Lightning's first-round loss to the Toronto Maple Leafs. Hill has a .937 SV% for the Vegas Golden Knights these playoffs. That's an elite number, but while he's a solid netminder, I don't think anyone would classify him in the upper echelon of NHL goalies. 
We probably need more than two seasons of playoff games to know if you don't need an elite goalie to win the Stanley Cup. But there are signs that could be changing. If you have a netminder, or even a tandem, solid enough to give you above-average goaltending, you might be able to make a run if you can score enough goals. 
Drawbacks of Pursuing Hellebuyck
Given the tandem the Devils have with Vanecek and Schmid and the recent trends of playoff goaltending, trading top assets for a goalie comes with some risks. Juuse Saros and Ilya Sorokin would make sense, but they won't be available this summer. Hellebuyck will be the target if the Jets decide to retool and put him on the trading block.
It surely won't be the popular opinion, but there may be more risks to trading for Hellebuyck than not. For starters, it'll take the Devils their best assets to acquire him — likely a first-round pick, a top prospect and moving Vanecek to the Jets to clear cap space. That's a lot to pay for a 30-year-old netminder one year away from unrestricted free agency. 
The one year left on his deal isn't as much of a stumbling block as it seems. The Devils would likely be able to re-sign Hellebuyck, but that's where the problem lies. A new contract wouldn't kick in until he turns 31 years old. Do the Devils want to bet their Cup window on a 31 to 36-year-old netminder or for however long they re-sign him? Plus, his cap hit will probably see a healthy raise from the current $6,166,666 number.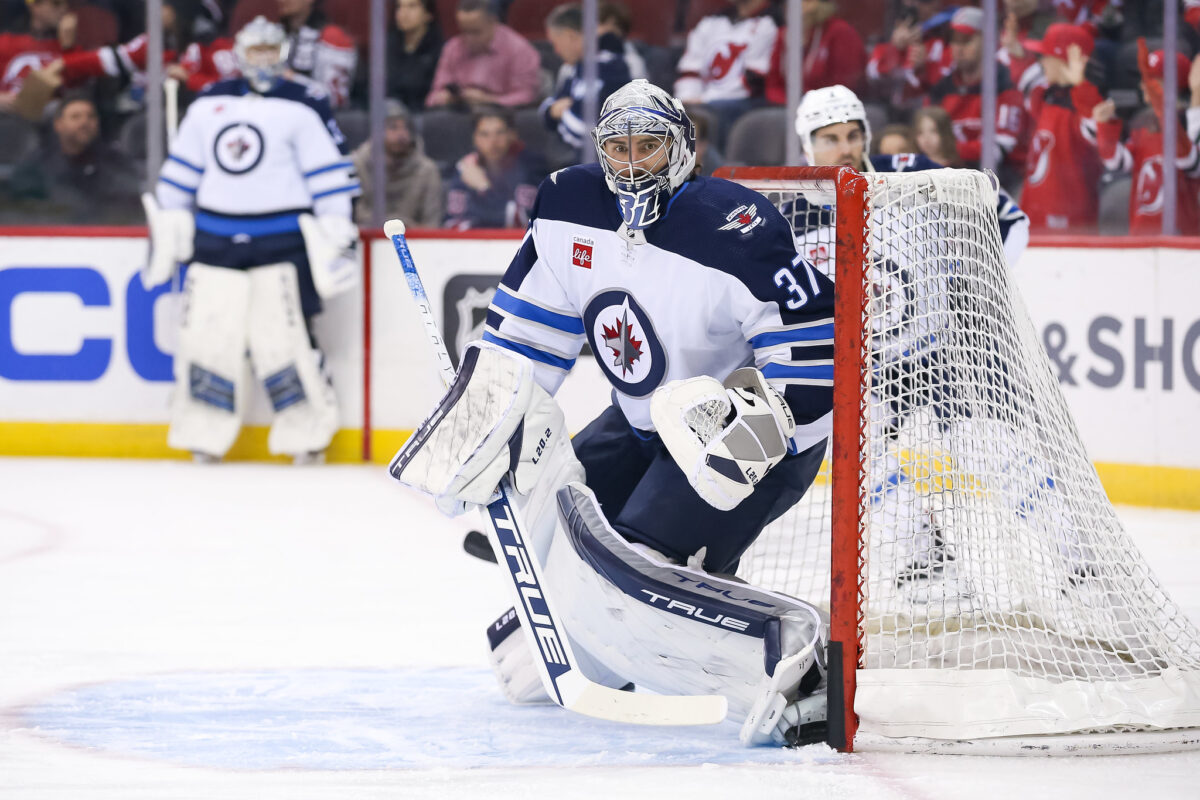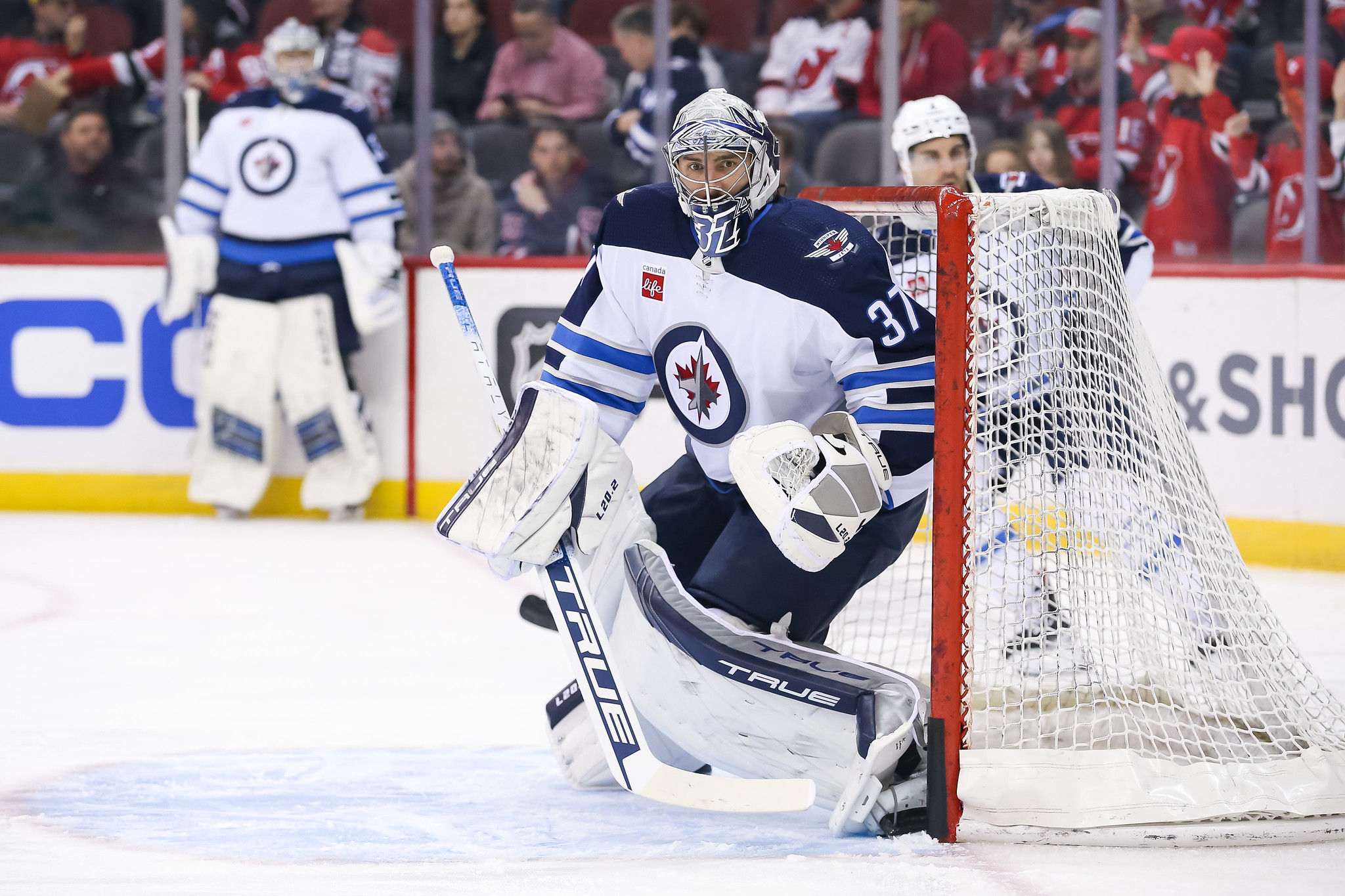 It's also no guarantee that Hellebuyck gets the Devils further in the playoffs. If anything, Jeremy Swayman makes more sense as a trade target since he's 24 years old and appears trending toward becoming elite. But I don't see a scenario where the Boston Bruins trade him for cap purposes this summer. 
If the Devils believe in Schmid, their best path to getting an elite goaltender is developing him to be that guy. They have Vanecek as a reliable netminder who can take on at least half the workload in net. And having Vanecek and Schmid at a combined cap hit of less than $5 million gives them room to re-sign Jesper Bratt, Timo Meier and make other additions. Given that and what it'd cost to acquire Hellebuyck, the Devils' most sensible path is to stay the course in net this offseason. 
* * *
Advanced stats from Money Puck, Natural Stat Trick