To say the New Jersey Devils needed a culture change/coaching change was obvious, but the way it was announced made it seem strange. Peter DeBoer was fired the day after Christmas (he knew he was on thin ice) and the following day GM Lou Lamoriello announced that he was once again going behind the bench. Lamoriello had two times previously taken over for a coach he gave walking papers to; but this time was different. Not only was the Hall-of-Famer going behind the bench, but he was also bringing two other Hall-of-Famers with him: Scott Stevens and Adam Oates, both former assistant coaches in New Jersey.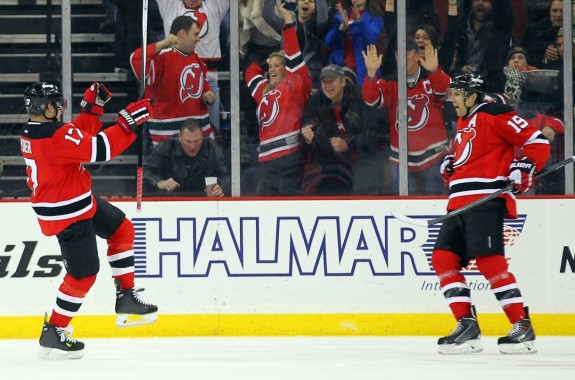 The announcement was unique, even unorthodox, as Stevens will handle the defense and Oates will handle the offense, but the situation isn't. Every NHL team has assistants that handle offense or power play and defense or penalty kill. The announcement made it almost like when an NFL team hires an offensive coordinator and a defensive coordinator. But for this group of underachieving Devils, this is likely the best move as they struggle to find their identity and their scoring touches. Lamoriello added that he's not sure how long he will stay behind the bench, but for the time being he will be there until he decides not to be.
The first game under the new bench bosses wasn't great, but it seemed the players were receptive to the change and it brought a new energy to the locker room for sure. In the second game the Devils fell behind the Pittsburgh Penguins 1-0 before rallying for a 3-1 win. "We felt like we battled hard last game (a 3-1 road loss to the New York Rangers) and obviously didn't get the result (we wanted)," explained Adam Henrique after the win over the Pens. "We had a lot of things going on, but the energy in the room here has been great, feeding off each other; everyone was involved in the game tonight. All four lines, the defensemen; it's huge, a big win for us and we have to keep that momentum going forward."
Highlights of the Devils 3-1 win over the Penguins:
Henrique and most of the team are already familiar with Oates & Stevens and the styles they like to implement. They also know that they all better be on their best behavior and be on top of their game with their boss Lamoriello behind the bench on a daily basis now. He went on to tell The Hockey Writers about how the players should be like sponges, absorbing all of the info they can, from two legends of the NHL who know a thing or two about what they are trying to teach and pass on to the team. "He's just such a smart, hockey guy; he has that hockey sense, he played the game, was one of the best players," said Henrique of Oates. "You listen to a guy like that; he's been a round a long time, seen a lot of things, obviously he had success in this league. There are a lot of little things throughout the game that he brings, points out to us — it's going to be a positive thing going forward."
In the win over Pittsburgh the Devils scored two goals from just outside of the crease, the first time since their December 4 win over Toronto that they tallied more than one of those in one game. It was also the first time in five games that they had scored three goals in one game. "I thought the physical part of the game for us, the battles — which I think was one of the things that we had to do a lot more of that we didn't do the other night (at MSG). I thought as the game went on everybody was participating," Lamoriello told THW after the game. "You win battles, you're able to get bounces and it was great to see. Travis (Zajac) was able to come out of it (and get a goal) he'd been struggling a little but I thought he played well. I don't know who didn't play well; our defense was great, (the) penalty kill I thought they did a great job. The coaching staff was great today with their preparation."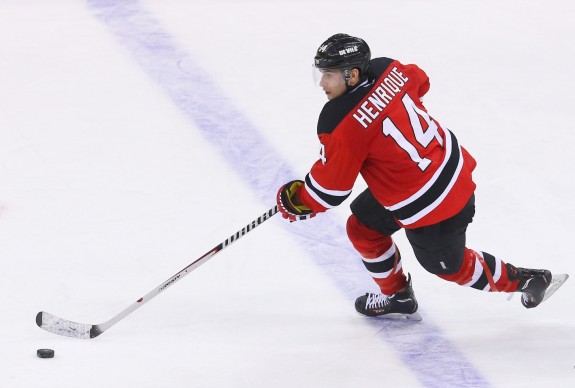 Henrique had the other down-low goal and as Scott Gomez pointed out when we inquired about it, his production and evolution as a player will be key to any future Devils' successes. "He's a special player. He's going to be the leader of this team and he just reminds me of a guy that can do it all," Gomez told us. "He's going to be a tremendous player, and you see signs of it now; he's a great kid, great teammate, and fun to be around. He's going to be special and a special Devil for a long time."
It's obvious to everyone that through the first 39 games of the season there have been many issues in New Jersey. First and foremost is health as only two players (Marek Zidlicky, Andy Greene) have played in every game. But as the 2015 portion of the season begins, the Devils have the blueprint to turn things around; all they have to do is watch the tape of the win vs. Pittsburgh. Obviously it's easier said than done, but it's right there in front of them.
Jordin Tootoo v Robert Bortuzzo, Round 1:
"When you play as a team it really, shows. Tonight I thought right from the first minute of the game we were all physically & mentally engaged; believing in each other," Jordin Tootoo (who had two fights against Robert Bortuzzo for retribution on a late hit on Jaromir Jagr earlier in December) said to THW. "When you do your job the guy next to you trusts you and that's what its all about."
Jordin Tootoo v Robert Bortuzzo, Round 2:
Dan Rice can be reached via Twitter: @DRdiabloTHW or via Email: drdiablo321@yahoo.com