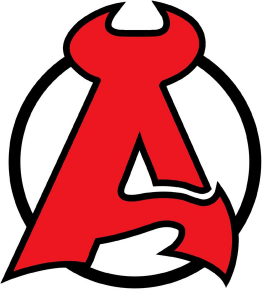 Thanksgiving is finally upon us and the Albany Devils and their fans have many reasons to be thankful. Entering this weekend the Devils have a record of 11-7-0-1 which places them second in the Northeast Division and fifth in the Eastern Conference. Coming off a thrilling 5-3 victory over their nemesis, the Adirondack Phantoms, the Devils will finish the second half of their home and home set with the Phantoms on Black Friday at the Times Union Center. Without further adieu, here are the top 5 reasons the Devils and their faithful fans are thankful this Thanksgiving:
5. Solid Goaltending
Without question, the goaltending tandem in Albany has been absolutely splendid thus far this season. Keith Kinkaid leads the way with seven victories in ten starts this campaign and has a GAA of 1.97. His save percentage is a solid .921, a full 0.02 more than his last two seasons. The Union College product has already matched last season's total with two shutouts and notched a six game winning streak sandwiching his call-up to New Jersey. He was also named the CCM/AHL player of the week for the period of November 11th-17th when he won all three of his starts. Kinkaid's renewed focus on the ice has paid immediate dividends for a team that lost both of their top defensemen to the parent club in New Jersey.
Scott Wedgewood has slipped of late but has put up admirable numbers for the Devils as well. He opened the season by allowing just one goal in each of his first two starts as Albany picked up victories over the Phantoms and Norfolk Admirals. He battled through a rough stretch as the top net minder after Kinkaid was recalled but won in his last start on Saturday night at Glens Falls.
4. The Hartford Wolf Pack
After dropping their season opener at Hartford 4-3, the Devils have put together a modest three-game winning streak over their rivals. The Devils held off a Wolf Pack rally after going up 4-1 at the Times Union Center on October 25th and won 4-3. Since then, the Devils have scored six unanswered goals and shutout the Pack 3-0 in each of their last two meetings. Joe Whitney has the most points for Albany in their four matchups with six including a pair of goals. Brandon Burlon is especially grateful for the Wolf Pack. He has three points on the season with two of them, a goal and an assist, coming against Hartford. Stefan Matteau also scored his first goal as an Albany Devil against the Pack.
3. November
After grinding through October mainly with their top trio of Joe Whitney, Scott Timmins, and Reid Boucher, the Devils have come together as a team this month to contribute. Matteau has six points in his last six games after only notching one goal in his first twelve. Tim Sestito is now on pace to pass his production last season after picking up two goals and six assists this month. He totaled only two goals throughout October and both goals came in one contest, a 4-1 victory against the Phantoms at Albany. Dan Kelly has a goal and four assists this month with a team leading +6. Mike Hoeffel came to life in November as well with a pair of goals and two assists this month. Overall, with the team warming up the Devils have won six of ten games with two more games remaining this month, both taking place at the Times Union Center.
Combining a November match-up against the Wolf Pack with Kinkaid in net, watch as Matteau and Boucher open the Devils scoring quickly followed by a sensational Kinkaid glove save:
2. Joe Whitney-Reid Boucher-Scott Timmins
Whitney has 20 points through the team's first 19 games, good for 13th in the entire American Hockey League. His 11 points through October were behind only the currently injured Timmins and his total of 12 points. Combined with Timmins and Boucher, the trio put up 30 points in October while no other forward had more than three for Albany before the November surge. Boucher has 8 goals and 8 assists for 16 points on the season, which is 6th among all rookies in the league. Despite losing his linemate to injury, Boucher also heated up in November with nine of his points coming this month. Each of the three players has a pair of power play goals to their credit and all have a positive +/- rating. Unfortunately, Timmins has missed the last seven games with an injury.
1. The City of Albany
Mayor Jennings just announced the coat drive, which began at an #ADevils game collected nearly $16,000 #thankyou pic.twitter.com/NFlgr7rVcd

— Albany Devils (@AlbanyDevils) November 20, 2013
Here are some photos from today's Food Drive pick up — http://t.co/MCEjcwDF6Z. Thank you fans for your generous donations!

— Albany Devils (@AlbanyDevils) November 25, 2013
On October 25th against Hartford, the Albany Devils took part in the city's Cash for Coats campaign. Fans attending the game were encouraged to donate money which would be used to buy winter clothes for children in need. During the Devils first three home games this month, they also held a Thanksgiving Food Drive courtesy of Price Chopper. As seen above, the Albany Devils, their fans, and the entire city of Albany came together to make Thanksgiving special for everyone this year.
Leo is in his second year with THW. He covers the 3-Time Stanley Cup Champion New Jersey Devils and the Albany Devils of the American Hockey League. You can follow Leo on Twitter, @LeoScaglioneJr.