After a grueling first-round series against the New York Rangers that went seven games, the New Jersey Devils have no time to relax. They face a quick turnaround with Game 1 of their Round 2 series against the Carolina Hurricanes taking place tonight, just 48 hours after a dominant 4-0 win over the Rangers in Game 7. The Hurricanes will come into the series well-rested, not having played since Friday, April 28, when they defeated the New York Islanders in Game 6.
This matchup will differ from what the Devils dealt with in the first round. The Hurricanes were one of the best five-on-five teams during the regular season and will pose some matchup problems. However, injuries for the Hurricanes could prove to be a difference-maker. Let's get into it and size up this Round 2 series between two of the best teams in the Eastern Conference. 
Devils & Hurricanes Evenly Matched at 5-on-5
The Devils had a significant advantage over the Rangers at five-on-five coming into their first-round series. That came to fruition, as they finished with a 58.13 expected goals percentage (xG%) across their seven games against New York. Unfortunately, things won't come as easy for the Devils at five-on-five this time.
The Hurricanes and the Devils were two of the best five-on-five teams in the regular season, as they nearly matched each other in every significant metric at that game state. New Jersey finished the regular season with a 56.53 xG%, ranked second to the Hurricanes, who had an impressive 59.85 xG%. When it came to generating quality chances, the Devils averaged 3.15 expected goals per 60 minutes, while the Hurricanes averaged 3.17; those rates ranked second and first in the league. 
The Hurricanes play with pace and can transition the puck up the ice quickly with a mobile and effective blue line led by Brent Burns, Brady Skjei and Jaccob Slavin. The difference compared to the Devils is the Hurricanes are a heavy dump-and-chase team that looks to create offense through the forecheck. New Jersey's weakness on defense is puck retrievals on dump-ins, which could be a problem since the Hurricanes' system is predicated on forechecking.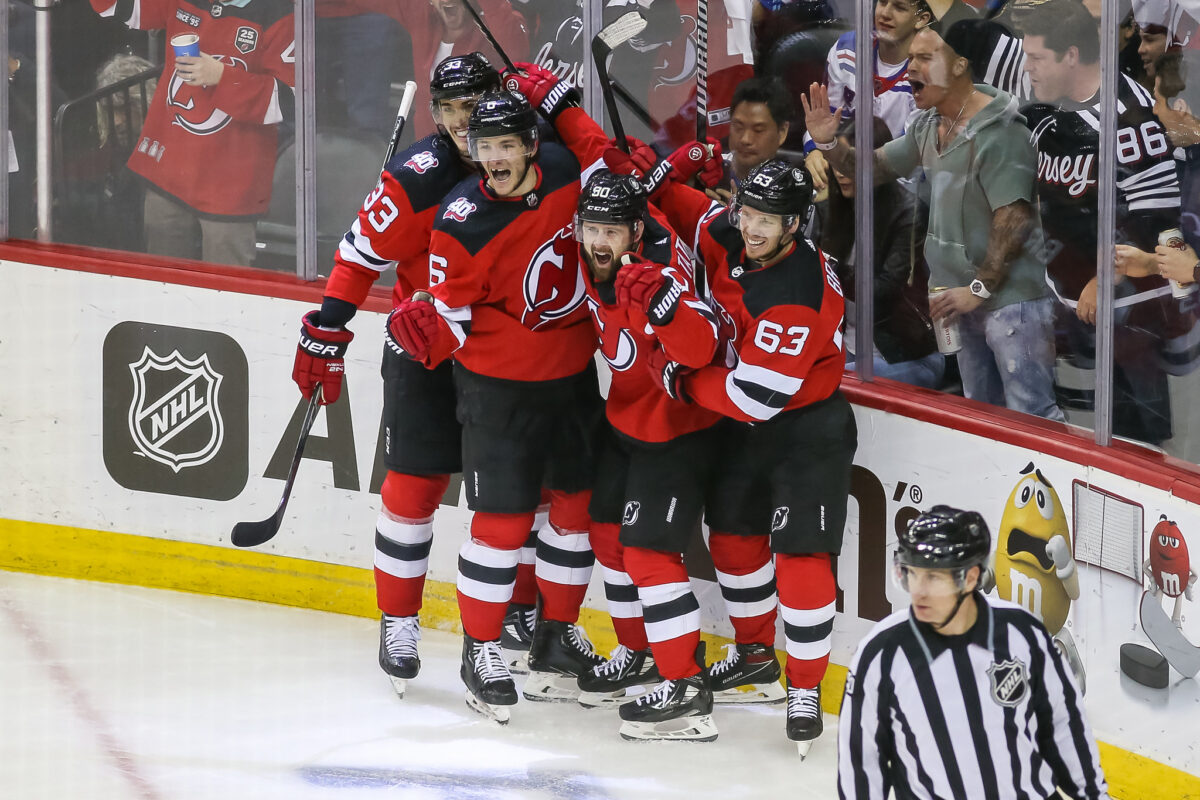 The Devils can forecheck and cycle themselves, but their strength offensively is off the rush. They'll get downhill quickly on an opponent with players like Jack Hughes, Jesper Bratt and Nico Hischier, who excel off the rush. It's two contrasting styles, so who has more success offensively will be interesting to see. It went either way in the team's four head-to-head matchups during the regular season. So there isn't a baseline like there was between the Devils and Rangers, which showed a clear advantage to New Jersey. 
What could make a difference offensively in this series is the Hurricanes will be without Teuvo Teravainen, Max Pacioretty and Andrei Svechnikov, who are all done for the 2022-23 season with injuries. Those are arguably three of their five best scorers, so while they might be able to generate shots and chances on the Devils, will they have the finishing ability to convert on them? 
And even then, it won't be easy for the Hurricanes to generate offense. The Devils ranked first in high-danger chances against per 60 minutes during the regular season. That carried over into their series against the Rangers, where they allowed 9.77 high-danger chances per 60, an improvement on their regular-season rate of 10.32, which ranked first in the NHL. If scoring opportunities are at a premium for a Hurricanes team missing top-end finishing talent, it could be difficult for them to find five-on-five scoring. 
Schmid Should Give Devils Goaltending Advantage
It's hard to say if the Devils have an advantage against the Hurricanes in net, but Akira Schmid's performance in Round 1 strongly suggests they should. After taking over for Vitek Vanecek in Game 3 of Round 1, Schmid won four of five starts, posting a .950 save percentage and stopping 4.5 goals above expected. The question is, will he be able to keep it up as the postseason progresses?
Schmid is as calm and collected as can be; his 31-save shutout in his first-ever Game 7 start says quite a bit. It also helps that he won't have to go against Svechnikov or Pacioretty in this series. As of practice yesterday, the Hurricanes' top line consists of Stefan Noesen, Sebastian Aho and Seth Jarvis. Aho had four goals in the team's series against the Islanders and had 36 during the regular season. He can finish, but Jarvis and Noesen had 27 tallies combined during the regular season. That should limit the top line's scoring upside and help Schmid.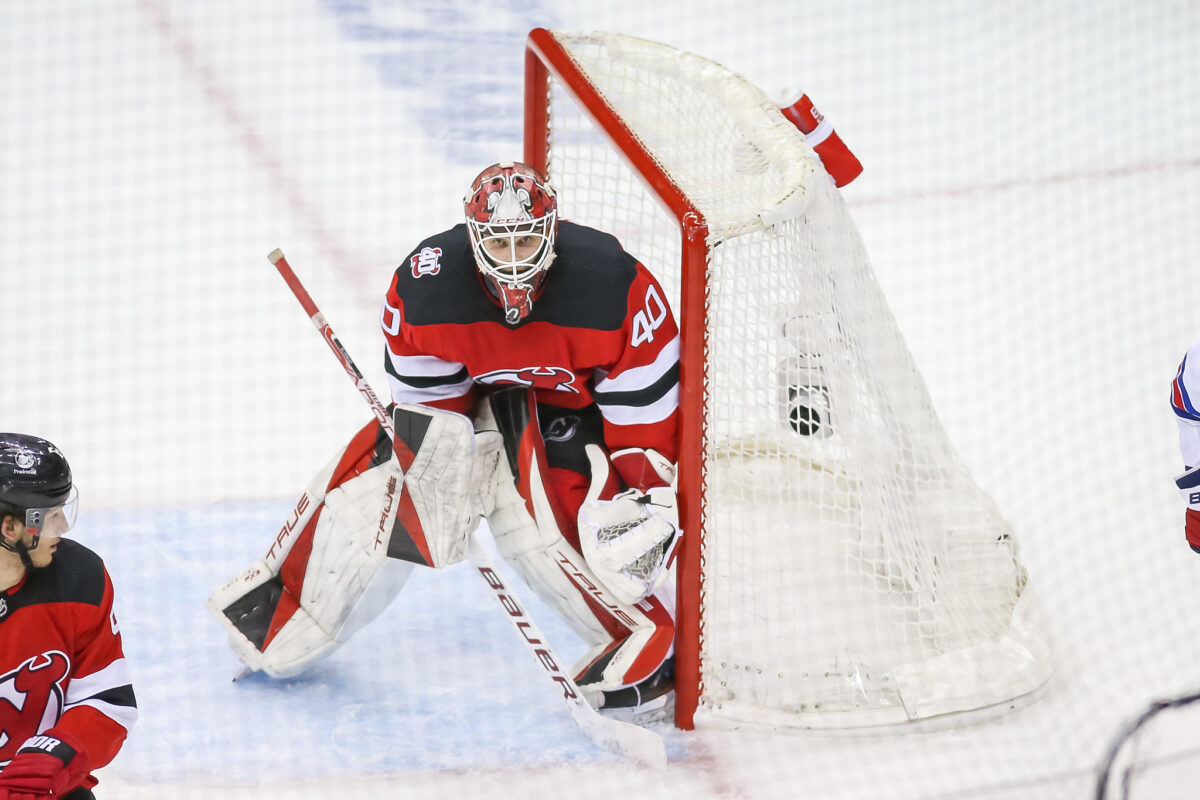 For Carolina, Frederik Andersen and Antti Raanta both appeared in the series against the Islanders. Andersen excelled in Game 6, stopping 33 of 34 shots to eliminate the Islanders, but what the Hurricanes get from him is a bit of an unknown. He had an inconsistent regular season hampered by injuries and finished with a .903 SV%. Hurricanes head coach Rod Brind'Amour hinted at possibly using a rotation against the Devils, meaning Raanta could see time too. He got most of the starts against the Islanders, finishing with a .906 SV% in five appearances. 
Those aren't otherworldly numbers from either goaltender and certainly are not close to what the Devils faced against Igor Shesterkin in Round 1. Andersen has more upside than Raanta, but the Devils probably have an edge here if Schmid continues to perform at the level he is. One thing is for sure: Devils shooters are likely relieved they'll have to face one of Andersen or Raanta instead of Shesterkin, who was outstanding for the Rangers. 
Top Penalty Kills May Be the Storyline
Carolina had one of the best penalty kills in the league for the second consecutive season, finishing second in the NHL with an 84.38 percent success rate. They were one of the best shot-suppressing teams when down a man, so the Devils will have to find ways to create chances against an aggressive penalty kill that doesn't allow much. 
Likewise, the Devils' penalty kill should have an advantage over the Hurricanes' power play. They finished with the fourth-best kill in the NHL during the regular season and really found their footing after Games 1 and 2 against the Rangers. They neutralized a Rangers' power play that was really their only source of offense due to their five-on-five struggles, and the Hurricanes' man advantage is significantly worse than the Rangers'. 
Related: 4 Takeaways From Devils' Game 7 Win vs. Rangers
---
Latest News & Highlight
---
Carolina finished the regular season ranked 20th on the power play, converting on 19.76 percent of its opportunities. It wasn't necessarily for the lack of chances; they finished 11th in expected goals generated per 60 minutes while up a man. Instead, a lack of finishing hurt them, as they had the seventh-lowest shooting percentage while up a man. 
That could be difficult to improve without Teravainen and Svechnikov in the postseason. Because both teams are so good on the penalty kill, it might be hard to come by goals on the power play. It may come down to who can score more at five-on-five, and the Devils might have the edge due to the Hurricanes' injuries. 
Players/Matchups to Watch
Hischier vs. Aho
In Round 1, Devils head coach Lindy Ruff hard-matched Hischier, a Selke Trophy finalist, against Mika Zibanejad's line. The results were outstanding, as the Devils had a 77.73 xG% when Hischier was on the ice against Zibanejad. Even though awards are voted on before the playoffs, his work against Zibanejad exemplified why he's a Selke finalist. 
Because the Hurricanes are missing so many key forwards, the matchup here is pretty simple: match Hischier against Aho's line when possible. Both forwards are similar two-way standouts, so I don't think Hischier will have his way as he did with Zibanejad, but it's still the way to go. If the Devils can contain the Hurricanes' primary scoring threat in Aho, they should have good odds of advancing to the Eastern Conference Final. 
Timo Meier
Meier took a vicious hit from Jacob Trouba in the third period of Game 7 against the Rangers, but he traveled with the team to Carolina, and seems to be OK. Meier didn't score a goal or record a point against the Rangers, but he still made a significant impact. He was a thorn in the side of Shesterkin, and I'm sure he'll be a thorn in the side of Raanta or Andersen.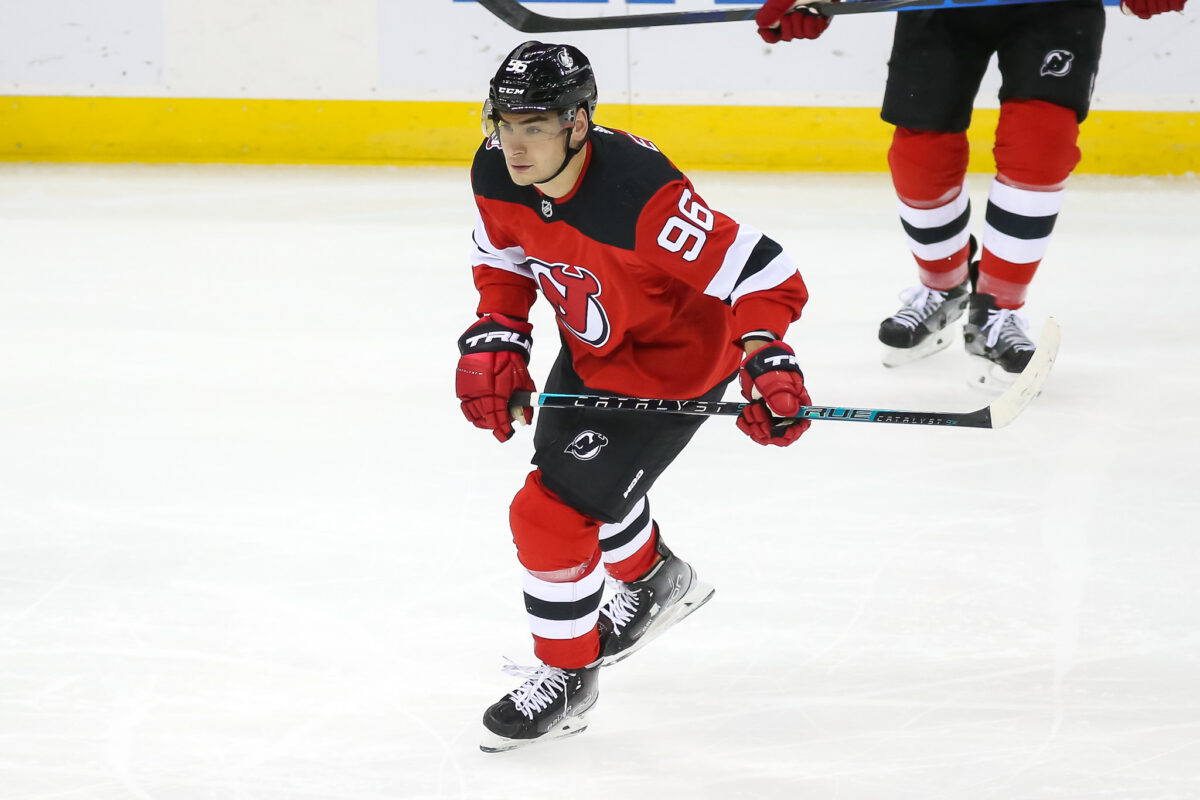 He may not have found the scoresheet in Round 1, but the chances were there. Meier finished with 27 shots on goal and 2.71 individual expected goals across seven games. He's due for a tally or two, and not having to face Shesterkin certainly favors him. Look for him to make more of an offensive impact against Carolina than he did against the Rangers. 
Dougie Hamilton
Dougie Hamilton revenge season? It'll be the first time Hamilton goes up against his former team in the playoffs since the Devils signed him as a free agent in July 2021. He had a more than solid first round against the Rangers, totaling three points in seven games, including a game-winning goal in overtime of Game 3. His five-on-five metrics were impressive, as he finished with a 62.68 xG%. 
Since John Marino will log the difficult defensive minutes, that should free up Hamilton to create offensively against the Hurricanes. It's one of those things you can't quantify, but I'm sure there's a bit of extra motivation for Hamilton after the Hurricanes opted not to re-sign him. Does that mean he'll finish with a point per game? Not necessarily, but I'm expecting a big series from him. 
Prediction
The Hurricanes were my preseason pick to win the East. But with the injuries that have piled up to three of their top six forwards, it's hard to see them having enough firepower to go toe-to-toe with the Devils. The finishing talent isn't there, and Devils' scorers like Meier, Hischier and Bratt are due to break out after having only one goal combined in Round 1. I like the Devils in six games, but I'm not expecting many blowouts, if any at all. It should be a competitive series until the end. 
* * *
Advanced stats from Natural Stat Trick, Money Puck