After 10 months away, the New Jersey Devils returned to the ice to begin the 2020-21 season. They hosted the Boston Bruins in a two-game set at the Prudential Center and came away with three out of a possible four points (1-0-1). And given the strength of their opponent, coming away with three of four points is just about as good as they could've done to start the season. 
There were some highs and lows in each game, with some players standing out over others, while some aspects of the Devils' play was better than others. Here's the good and the not so good from the first two games of the season. 
The Good
Jack Hughes
There's no doubt everyone was eagerly anticipating to see what improvement Hughes, the 2019 first overall pick, made during the long layoff. He got off to a slow start, just like every Devil, in the first period of their first game. Though that was to be expected, given he and most everyone else on the team went 10 months without playing competitive hockey.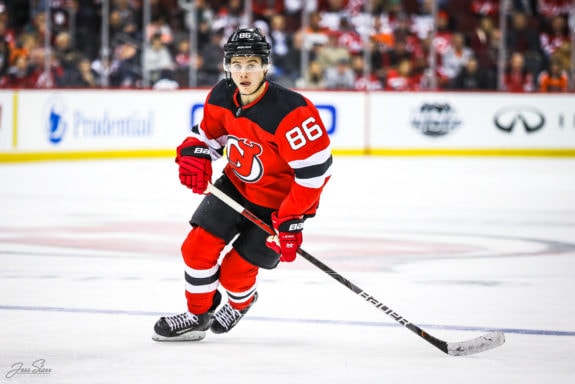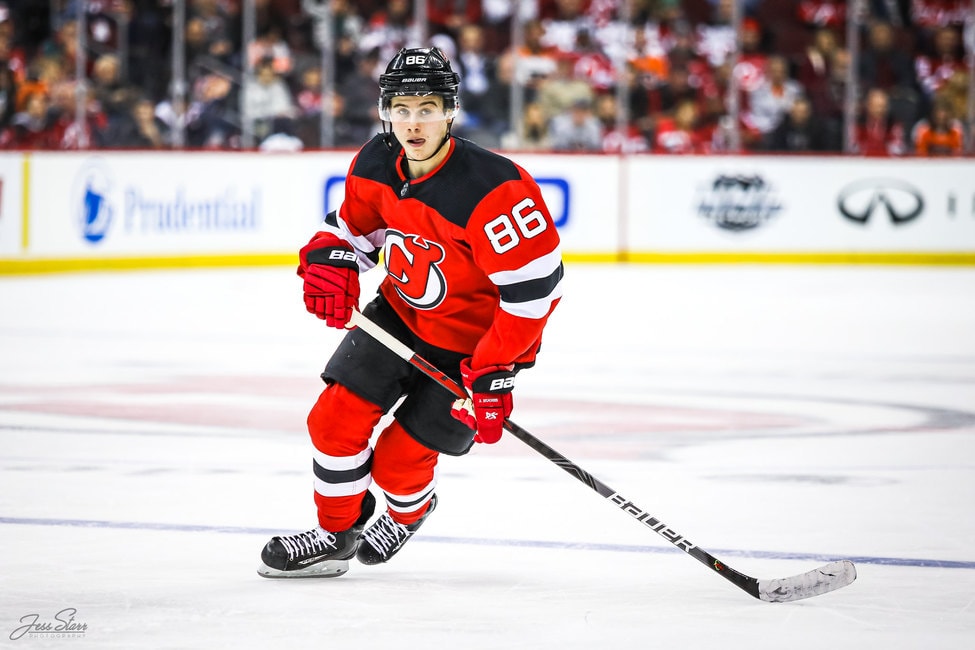 But once Hughes got his legs under him, the changes were noticeable. He picked up two assists in the third period in their first contest against the Bruins and had multiple chances during overtime. He was using his speed and creativity to generate scoring opportunities for himself and his teammates. 
Hughes followed that up with what was arguably the best game of his young pro career in the Devils' 2-1 OT win yesterday afternoon. He finished with an assist and could've had a multi-point game had he connected on a couple of other scoring chances. He had an expected goals share (xGF%) just over 52.7% at even strength and 50.5% through two games. That's the smallest of sample sizes, but everything points to a significant step forward for the 19-year-old center. 
Miles Wood
Wood takes some awful penalties. That's nothing new for him, and that was the case in the Devils' first game (the Bruins' two goals came off power plays from his penalties). With that said, he's been one of the Devils' best players through two games. He has two goals, including this beauty of a wrist shot on a breakaway. 
Wood shouldn't change the way he plays. He brings a fast, aggressive style of hockey the Devils could use in their lineup, but he needs to work on his discipline and cut down on the costly penalties. His xGF% of 65% ranks third-best on the team, while his five individual high-danger chances are most of any Devils' player. If he keeps that up and limits the penalties, he'll be a really effective depth scorer moving forward. 
Jesper Boqvist
Boqvist hasn't recorded a point yet, but it shouldn't take long if he keeps playing the way he is. He only has one shot on goal at even strength through two games. But he looks way more confident with the puck on his stick than he did last season. He may not be shooting the puck a ton, but he's setting up chances for his teammates; they just haven't converted on them yet. 
Related: Devils Youth (and Rust) on Display in Season Opener
After two games, Boqvist has an xGF% of just under 61%. Part of that comes from having Wood and Travis Zajac as his linemates, but he's playing well and isn't relying on his linemates to carry him. The only knock on Boqvist is the lack of shot generation, but that should come with time as he continues to get more comfortable with his role. 
Yegor Sharangovich
Sharangovich was the hottest Devils' prospect this offseason. The organization loaned him to the KHL in July, and he proceeded to go on a scoring tear, totaling 17 goals in 34 games with Dinamo Minsk. He looked good during Devils' training camp and earned a spot on their NHL roster, which wasn't much of a surprise considering his play in the KHL. 
It didn't take long for Sharangovich to make his presence felt in the NHL. He drew three penalties in his first few shifts in the Devils' first game against the Bruins. He then scored the first goal of his career with 1.7 seconds left in overtime in yesterday's contest to give the team their first win of the season. 
Sharangovich's speed was noticeable during the first two games. It was pretty apparent in some of his highlight-reel goals in the KHL too, and he has a lightning-quick release on his wrist shot. He's skated on the top line with Hughes and Kyle Palmieri, and it doesn't look like that's going to change any time soon if he keeps playing the way he is. 
Ryan Murray
Murray was the Devils' big-name acquisition this offseason to improve their defense. So far, he's looked the part. There's nothing flashy about his game, but he does a lot of things quite well. His positioning is sound, he's winning one-on-one battles along the boards, and he makes smart decisions with the puck on his stick. 
The question with him will be if his lower back can hold up. But as long as he stays healthy, he'll be a fixture on the top defense pair because he's more than capable of handling the minutes. 
Mackenzie Blackwood
Blackwood hasn't been good to start the season; he's been outstanding. The Devils looked like a team that hadn't played a game in 10 months in the first period of their first game, but he managed to keep their deficit at 1-0. Had he not played the way he did, the Devils probably don't come away with a point that night.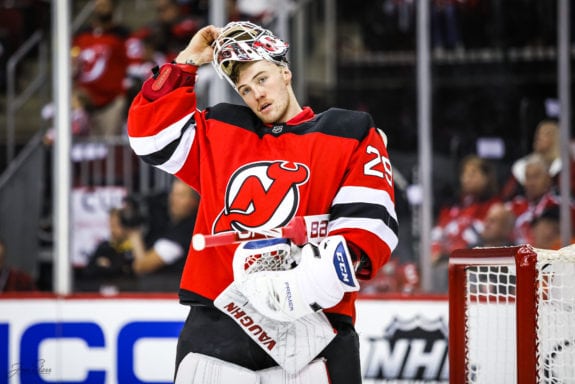 It's early, but Blackwood's stats really illustrate how good he's been. He's stopped 52/52 shots at even strength; that obviously won't last, but it still catches your eye. His goals saved above average (GSAA) of 3.26 ranks second-best among all goaltenders in the league, and he has a .954 save percentage (SV%). All of this will come down to earth as the season progresses, but the Devils are in good hands with him carrying the bulk of the workload. 
The Not So Good
Matt Tennyson
It was a bit of a surprise to see Tennyson in the lineup for both of the Devils' first two games. He struggled mightily in the NHL last season, and some of those struggles were prevalent during the first two games. The team spent a lot of time in the defensive zone when he was on the ice, and they were hemmed in on a few occasions. 
Tennyson's xGF% of 30% is the worst among all players on the team. The Devils have a perfectly capable blueliner in Will Butcher, who's been a healthy scratch in their first two games. It might mean Lindy Ruff has to tinker with his defense pairs, but he has to find a way to get Butcher in the lineup. He's a clear upgrade over Tennyson, and it's not close. 
Andreas Johnsson
The Devils acquired Johnsson from the Toronto Maple Leafs in an offseason trade. He's been far from terrible in the Devils' first two games, but he hasn't been all that noticeable either. His on-ice stats are pretty good — he has an xGF% just above 55% at even strength. But it's more about his individual shot and chance creation.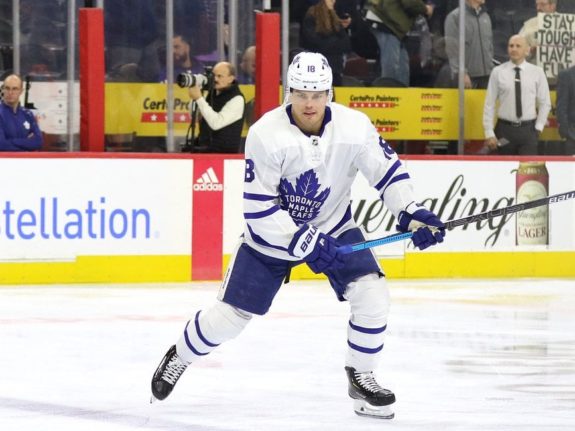 Johnsson only has two shot attempts at even strength, with just one being on goal. The upside is that those two shot attempts were high-danger chances, but the Devils still need more from him, especially with Nico Hischier and Jesper Bratt out for the foreseeable future. There isn't any reason to be concerned about Johnsson. The production will come down the road, but it may take a few games before he finds a groove with his new team. 
The Power Play
Here's a stat to get this section started: the Devils have been outscored 1-0 on the power play over eight opportunities. There is no way around it; their power play just hasn't been good enough. They aren't generating enough shots or quality chances, though it doesn't help they're missing Hischier and Bratt. 
Related: A New Era of Devils Hockey Begins
But fear not, those two will be back at some point. Plus, the Devils' power play was always going to need time to become a reliable weapon. They hired Mark Recchi this offseason to improve their man advantage, but there's only so much he can do right now since there were no preseason games. It should come along as they get more practice time and game action, and it should get a big boost once Sami Vatanen joins the team. 
Devils off on the Right Foot
The Devils got off to just the kind of start they needed, but it won't get any easier. They have a matchup with a high-powered New York Rangers team on Tuesday, followed by a two-game set with the New York Islanders — who were in the Eastern Conference Finals this summer — at the end of the week. Fortunately, the Devils have a strong base to build off, and they should be able to use some of the things they did well in their upcoming matchups this week with their local rivals. 
* * * 
Advanced stats from Natural Stat Trick; some stats have been updated to reflect corrections made at Natural Stat Trick
---
---