Thanks to Travis Zajac the New Jersey Devils live to see another day and another game,  a Game 7, on Thursday in Florida after the Undead Devils won 3-2 in overtime of Game 6 at the Prudential Center on Tuesday night. Zajac scored the winner 5:39 into sudden death overtime and also had an assist, saving the Devils from the embarrassment of blowing another lead."I just wanted to get a quick shot on net and I was lucky to beat Clemmer there," said Zajac to the throng of reporters surrounding his locker in the locker room. Clemmer would be Scott Clemmensen, who used to be Zajac's teammate in New Jersey a few years ago; he started Game 6 with Game 5 winner Jose Theodore sidelined with an undisclosed injury.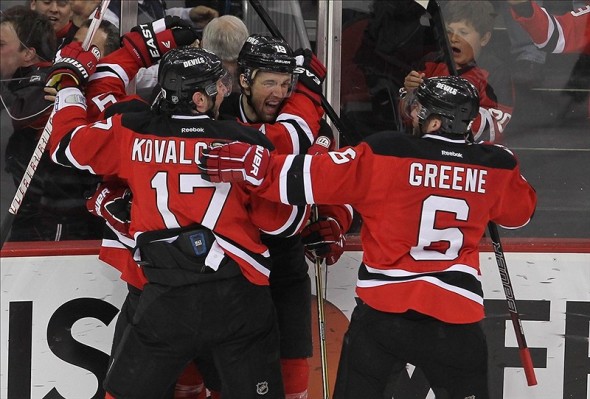 Florida found themselves down 2-0 just over four minutes into the second period but once again they battled back and tied the game with two quick goals despite being grossly out-shot for the entire game.
The winning play almost was a winning play for the Panthers, but a great, hustling back-check by Zach Parise led to a rush the other way that saw Ilya Kovalchuk attract two defenders towards him as he entered the offensive zone and he threaded a perfect pass to Zajac's stick-tape.  "It's a relief," said Parise afterwards. "It's a relief we got the win and were able to extend the series one more game."
Devils coach Pete DeBoer got exactly what he wanted when he formed the top line of Zajac-Parise-Kovalchuk at the end of the season. "Not many guys in the league can come across the blue line like that, draw two people to you and snap that pass in there; that was a great play by a great player," said DeBoer of Kovalchuk who is more famously known for scoring goals, not setting them up.
Kovalchuk described the play as if it were so simple, "I saw Travis open, I gave the puck to him and he made a great play." This was the second playoff overtime goal for Zajac, his first one was Game 3 in Carolina in the 2009 East quarterfinals. "We talked about it before the overtime," said Parise with a smile. "He scored the one in Carolina, he has the experience."
The experience that Zajac gave his team's loyal fans was probably the most memorable game in the Prudential Center's brief history, and he gave them a Game 7 in Florida, extending the Undead Devils season at least for two more days. "It's fun to play in overtime," said the grinning hero, "(now) we've just got to prepare for the next game."
"It's exciting that we're going to be part of a Game 7 again," said Martin Brodeur who needed only 14 saves to win Game 6. "It's a good thing for hockey players to be a part of and it's going to be a big challenge; especially on the road. We'll see what happens."
Dan Rice is in his 9th year of reporting for THW & has covered NJ Devils home games for 15+ years at various websites. He began his journey working for legendary broadcaster/writer Stan Fischler from 2002-04 & completed an internship at the ECHL; he also has been writing features for the NWHL (nwhl.zone) website since 2016.