The most important New Jersey Devils game since…? It had been quite some time since they had played in such a meaningful game this late into a season, but they stood up to the task against the Carolina Hurricanes. With the 3-0 shutout win, they moved into a tie for first place in the Metropolitan Division with the Hurricanes at 94 points. Here are four takeaways and some quick hits from the big win. 
Hughes & Bratt Shine
To win a game against a team as good as the Hurricanes, your star players need to step up. The Devils got stellar performances from Jack Hughes and Jesper Bratt, and they made their presence known almost immediately. Hughes opened up the scoring about seven minutes into the contest after pickpocketing Calvin De Haan in his own end and sliding the puck through Pyotr Kochetkov's five-hole for a 1-0 lead. 
Bratt followed about two minutes later, scoring a tally after a sweet pass from Hughes; he also shot the puck through Kochetkov's five-hole. Bratt would add the game's final goal in the second period after Kochektkov misplayed the puck behind his net. The two markers snapped a four-game goal drought for Bratt and moved him to 27 goals this season. Hughes' goal broke a six-game stretch without a tally, bringing his total to 37 in 62 games; he also added two assists. 
Just how dominant were Hughes and Bratt? Hughes' game score — an all-encompassing stat that measures a player's total value for a single game — of 3.66 was his fifth-best of the season. Bratt's game score of 3.05 was also his fifth-best of 2022-23. 
Hughes and Bratt weren't going to be left off the scoresheet forever, and they picked a perfect time to break out of their "slumps." With three games against the Tampa Bay Lightning this week, the Devils will need similar efforts from two of their best forwards. 
Vanecek Rebounds
Not only did Bratt and Hughes break out of a funk, but Vitek Vanecek had his best start in nearly three weeks. After having a .821 save percentage across his last five outings, Vanecek stopped all 32 Hurricanes shots and saved 2.69 goals above expected. It was the first time he finished with an SV% above .900 since Feb. 18 against the Pittsburgh Penguins in a 5-2 win. 
It was evident that Vanecek could be in for a bounce-back when he made a save on Stefan Noesen on a 2-on-1 about six minutes into the game. It became clear when he made a point-blank glove save on Sebastian Aho about five minutes into the second frame. Vanecek's side-to-side movement was solid; he had one east-to-west save on Jesper Fast in the third period that stood out. And even though he did give up some rebounds, it was rarely into high-danger areas, or he managed to cover them up.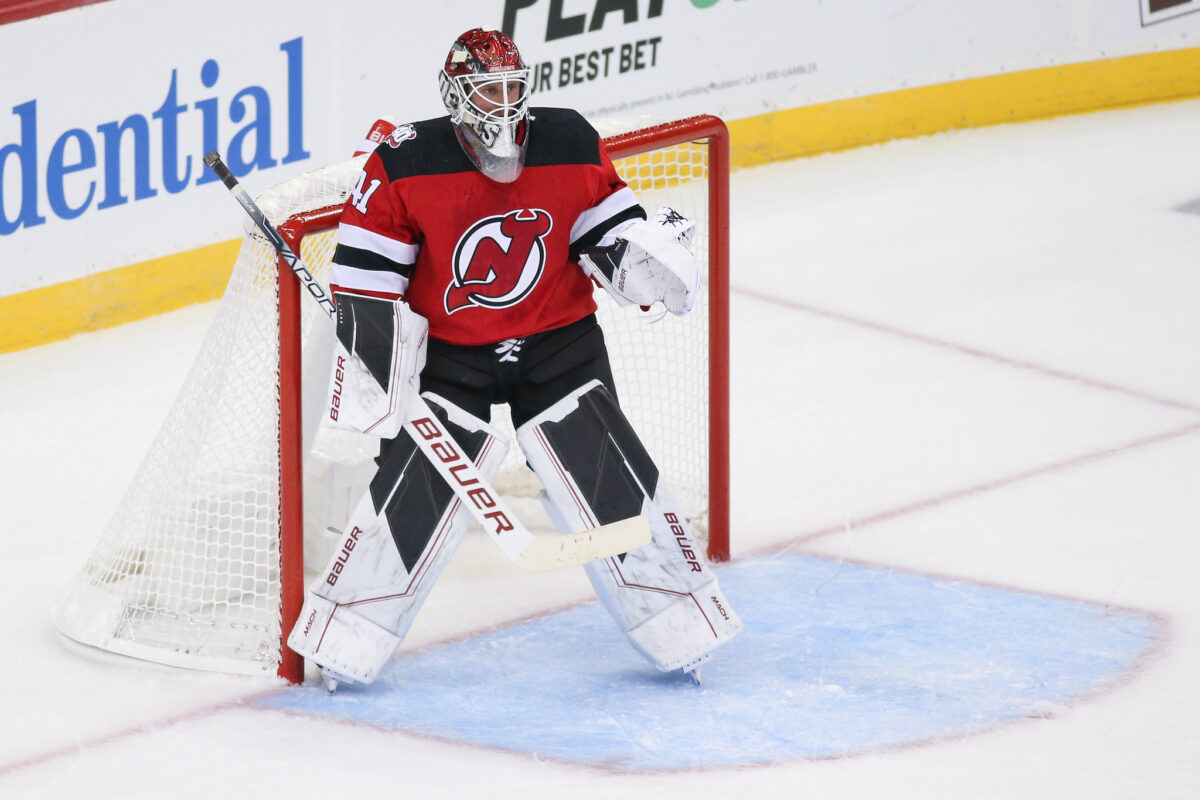 Every goalie goes through a bad stretch. It was better for Vanecek and the Devils for him to go through it in early March rather than mid-April. If this is a sign that he's back, the team will stay neck and neck with the Hurricanes in the standings. 
Siegenthaler & Hamilton Stood Out on Defense
Ryan Graves and John Marino have generally been the Devils' shutdown pair for most of 2022-23. But last night, Jonas Siegenthaler and Dougie Hamilton had monster games. Siegenthaler was particularly excellent, as he was consistently ending Hurricanes scoring threats. He finished the night with a 61.5 xG%, which led Devils defensemen, and was winning one-on-one battles and killing the few rush chances the Hurricanes generated. 
Related: Lightning Preparing to Play Familiar Face in Devils' Ondrej Palat
---
Latest News & Highlights
---
Hamilton may be more known for his offensive game, but he had a solid night defensively, finishing with a 57.31 xG% and no giveaways. It was one of the cleanest games he's played this season, and most of his time came against the Hurricanes' second line of Teuvo Teravainen, Jesperi Kotkaniemi and Martin Necas. When Siegenthaler and Hamilton play at that level against opponents' top sixes, they make the Devils that much more difficult to beat. 
Devils Penalty Kill Prevented Hurricanes From Coming Back
Special teams usually play a significant role in the outcome of a game. The Devils didn't score on the power play, but their penalty kill came up big. They killed off all three Hurricanes' power plays and did a good job limiting quality chances, as Carolina generated only 0.58 expected goals in six minutes of power-play time. 
The Devils forced the Hurricanes' power play to stay on the perimeter. And when they did get a good chance, Vanecek either made the save or they cleared the puck quickly and didn't allow the Hurricanes to get second opportunities. Their penalty kill has been a strength this season, and it showed why against the Hurricanes. 
Devils Quick Hits
The Devils have a good problem on their hands: they have depth. After playing in the previous two games, Brendan Smith was a healthy scratch in favor of Kevin Bahl. It's not because Smith played poorly; he didn't. But Bahl has been playing well as of late and deserves ice time too. With the Devils on the second half of a back-to-back, it made sense to get some fresh legs in. And Bahl had another good showing, proving he should continue to get playing time.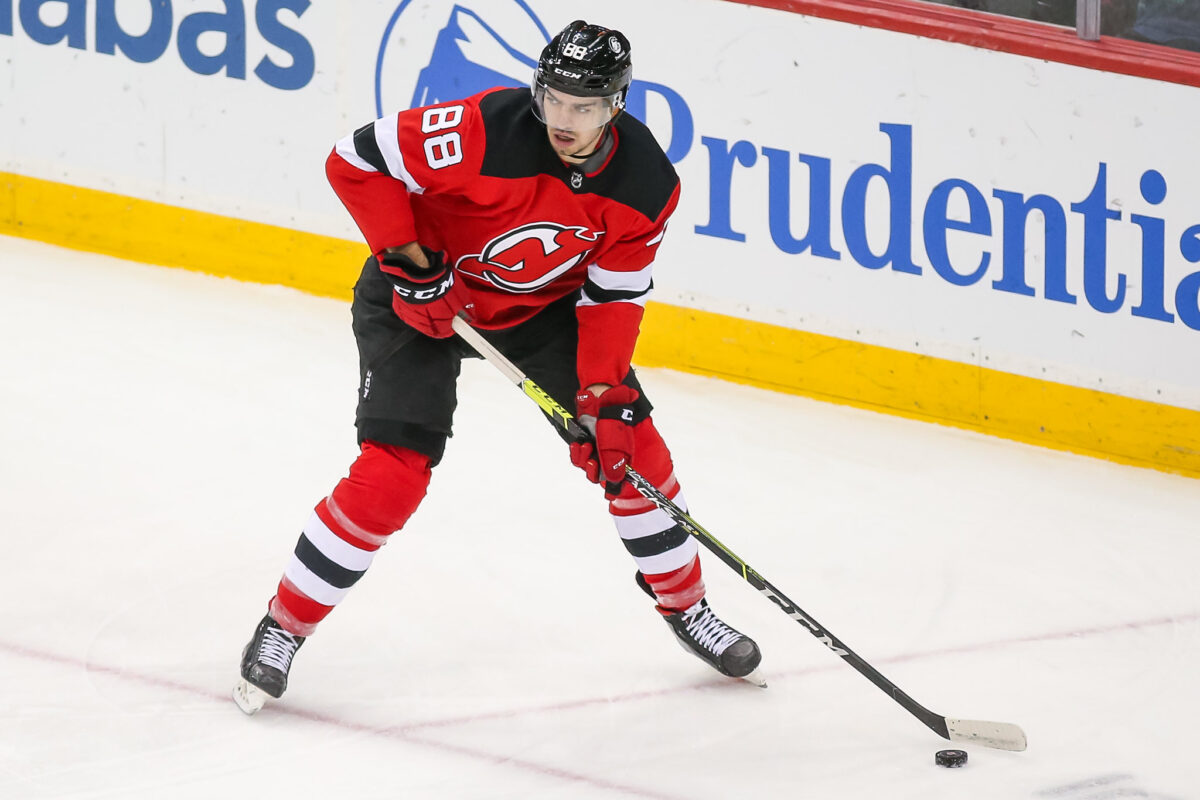 Sticking with the theme of depth, the BMW line of Miles Wood, Michael McLeod and Nathan Bastian had another solid outing. They didn't do anything special, but they did control play at five-on-five, finishing with a 63.5 xG%. Fourth lines don't always need to score, but they can't be a liability. If they can continue to play a heavy game and keep opponents hemmed in their own ends, that's a job well done; the occasional goal doesn't hurt, either. 
Head coach Lindy Ruff reunited Timo Meier with Hughes and Bratt, and the move seemed to pay off. That trio found a groove for a few shifts in the first period, and with Ruff still looking for the right fit for Meier, that combo deserves an extended run. Hughes and Bratt have always played well together and offer the Devils the best path to getting Meier more comfortable with the team's system and on the scoresheet. They finished with a 53.58 xG% as a unit yesterday and have impressed at five-on-five in a small sample since the Devils acquired Meier from the San Jose Sharks. 
The Hurricanes may have a game in hand on the Devils, but the race for first place in the Metropolitan Division is officially on; the two teams won't play each other again in the regular season. The Devils' magic number to clinch a playoff spot is also down to ten points. That should make for an exciting final month of the regular season. 
* * *
Advanced stats from Natural Stat Trick, Hockey Stat Cards