After what was initially a two-man race between Nashville's Pekka Rinne and Montreal's Carey Price, the latter is poised to pull away for one if not two major postseason awards. What Carey Price has done in the last two months of the 2014-2015 NHL season is one of the more remarkable goaltending stories of the past decade. While plenty of keepers over the years have put up goals against under 2.00, save percentages over .920 and a pocketful of shutouts, the combination of the three over a large body of work is extremely tough to argue against.
Price vs. Darkhorse Dubnyk
The feel-good story in the NHL has to be that of Devan Dubnyk. Long mired in the hockey gulag that is Edmonton, the former first-round pick is establishing a name as a top goaltender. Even as an Oiler, Dubnyk put up numbers that, given the porous defense in front of him, were rather respectable — often posting save percentages in the .920 range. His time under Arizona goalie coach Sean Burke seemed to revitalize the Dubnyk, and with a decent defense in front of him in Minnesota is driving that team headlong into playoff contention. However, the body of work might not be enough and, let's be honest, it's Price's turn. The Montreal goaltender has been pretty good over his career, and it's pollyanna in nature to assume the voting GMs in the NHL forgot his Olympic run and won't at least subconsciously factor that in. However, the only real criteria to win the trophy is for the consensus to be that he has been "adjudged to be the best at his position," which requires no real objectivity. Don't be surprised to see Devan Dubnyk get a couple votes for the Vezina and possibly the Hart if Minnesota makes it into the playoffs, but not seriously threaten Price for either.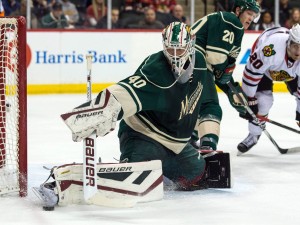 Rinne Now in Price's Rearview
Not too long ago, a compelling case could have been made that Pekka Rinne was as or more deserving as Price to at least win with the Vezina. Although examining those arguments out of context today makes for a good chuckle, in almost any other year Rinne walks away with the award. Rinne, like the Predators overall, fell back to Earth about a month ago, allowing the St. Louis Blues to continue their steady ascent to the top of the Central. The numbers gap is fairly wide today. Factoring out Rinne's mild injury a couple months ago, the major stats aren't that close. Price's 1.86 GAA, .938 Sa% and 40 wins as of this writing is at the top of all three categories. Rinne's are 2.09 GAA, .927 Sa% and holds 38 wins. To underscore the difference, Rinne's save percentage is fifth in the NHL. That tends to be, other than wins, the chief metric used when objectively evaluating goaltenders' individual performances. Unless Montreal nosedives in the last few games of the season or Rinne puts up five shutouts, this situation isn't likely to change.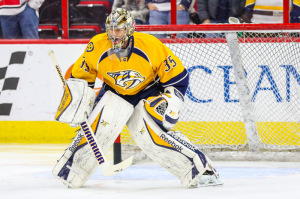 No Dominant Scorer to Challenge Price
Outside of comparing Price to other goaltenders, a major factor that may push him into the MVP's chair this year is the lack of a dominant offensive threat. Washington's Alex Ovechkin is really the only candidate in this regard. Aside from him, the second-leading scorer in the League is Tampa Bay's Steven Stamkos with 40 goals. Ovechkin currently sits third overall in points behind the Islander's John Tavares and Pittsburgh's Sidney Crosby, but Ovechkin's 47 goals are sexier and will probably pull more voting interest. However, don't ignore the fact that hockey writers vote on these things, and the feel-good story of Tavares leading his upstart Islanders team to the top of the League is maybe more compelling to them than Ovechkin once again threatening to score 50 goals. Regardless, Carey Price seems to have been anointed as this year's most valuable goaltender and player overall.
Freelance writer and public relations practitioner. 20+ years in goal and long-time Blues fan.