by Jas Faulkner, contributing editor
BEGIN TRANSMISSION:  terrestrial timestamp: 12/12/7.22
The topic everyone, I mean ev-ery-one brings up when they see me these days is the lockout.
Is there going to be a season?
Gary Bee can be hip if you know how to slap him and…   Really, I don't know.  My educated guess is there will either be a delay or we will see some eleventh hour theatrics from all of the involved parties with the expectation that fans will heave a sigh of relief and go buy tickets, subscriptions to Center Ice, and licensed merchandise.
Will THW continue if there is no NHL this year?
We have this thing called The Hockey Writers Combine. It's a spinoff site that covers NCAA, AHL, CHL, WHL, OHL, QMHL, ECHL, Juniors, and national teams.  These are the guys you'll want to get to know because in a year or two, they will be the ones wearing your favorite sweaters at an arena near you.  In the meantime, we'll be keeping an eye on all things hockey here at the Mother Ship.  Think of it this way: Do you ever get tired of talking about hockey?  Trust me, we'll find things to write about that you'll want to read.
No, really, if there's no NHL or if it's late I'll…
Live.  Have we already forgotten the 2004-05 season that wasn't?
Moving on…
Sunny Day, Chasing the Clouds Away!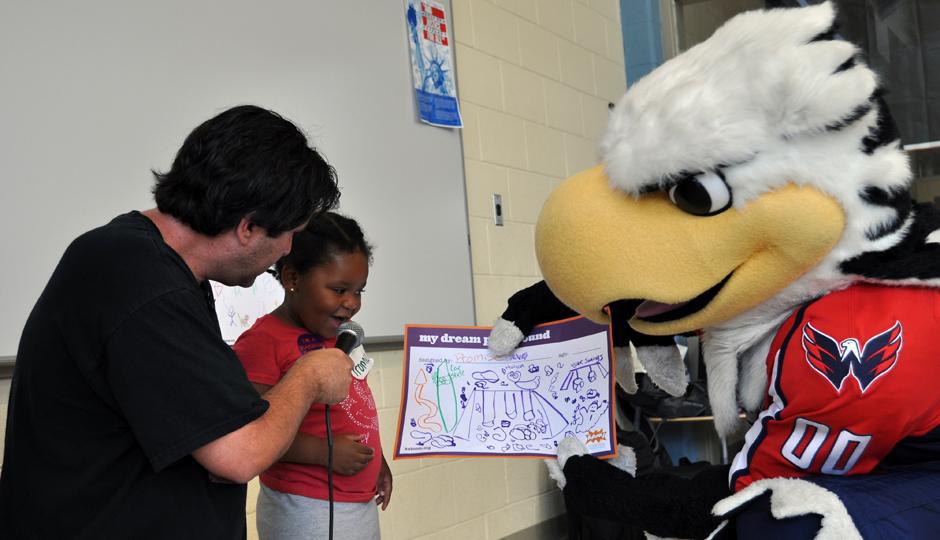 Ask any fan what most players do in the off-season and you'll usually get some variation of  "golf, fish, work out."  Some guys add travel to the mix, and of course the Kings have been dragging that big metal tchotchke around all summer.  Then there are the people who step up and use their powers for good.
Kaboom, an organisation who makes it their mission to get your kids off their tuchises  and outside to play, has been working with the Washington Capitals and the Philadelphia Flyers to make safe, fun places for children in  their cities.  What makes this program special is that they are not only advocates for youth, they listen to their target population.  (Did a little bit of social worker-speak sneak into my hockey writing?  I do believe it did.)
Before the CAD geeks click on their computers, Kaboom and representatives from the team communities ask local children to get low-tech and high concept.  At schools and community centres, they break out the crayons and paper and everyone draws up their dream playground.  While live dragons and rides in rocket ships might be just for fun on paper, the small fry set's  wishes for slides, monkey bars and  piles of sand for safe landings are all taken into account and the configurations echo those lovely and lovingly created designs.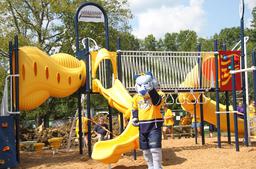 What happens next?  Nashville has already seen their playground partnership planning with Kaboom become a reality.  Volunteers, Predators staff including COO Sean Henry, ace D-guys Kevin Klein and Jonathan Blum, and Nashville mayor Karl Dean were all on hand to build a playground from the ground up in less than a day.
Meanwhile, back at the Mother Ship…
Some stories you won't want to miss:
Margann Laurissa  gives us an update on the Lokomitiv Yaroslavl one year after the tragic plane crash that united the global hockey community in an effort to help the people left behind.
While you were sleeping, THW's Robert Elbaz went to the official EA Sports NHL 13 drop in Montreal and chatted up Habs alternate cover model, P.K. Subban.
At Overtime, Ross Bonander takes a look at art that imitates life on the ice.
TRANSMISSION END.
//resume skywatch for bats around the Bettman Belfry//