To say Kris Russell has been a pleasant surprise for the Edmonton Oilers would be understating things. Russell hasn't just been good, it's arguable that he's been one of, if not, the best defenders on the Oilers blue line to start the 2016-17 season. He's been a reliable, experienced and steady presence, he's adding offense and he's chipped in on every major defensive statistic one would use to measure an effective defenseman. Still, with all Russell has done in six Oilers hockey games, there's been no real talk of Russell as an Oilers' long-term solution. One has to wonder, is Russell staying with the Oilers something both sides should consider?
Short-term Thinking
Russell's one-year contract suggests Edmonton didn't have long-term plans for him. He was coming off a split season with the Calgary Flames and Dallas Stars and hadn't really cemented himself as a "must-have defender". He sat through the summer and well into free agency until the Oilers offered him $3.1 million dollars on a one-year term. For a player that signed so late into the free agency period, Russell earned top-dollar as a short-term fix.
History shows these types of contracts can be hit or miss in the NHL. Sometimes these types of deals don't work out well for the team that offers them. In this case, adding Russell is working out better that both parties could have expected. Today, it would hard to find a knowledgeable hockey person who'd suggest Russell isn't earning every penny he' s being paid.
Why Short-Term?
Edmonton only offered Russell a one-year contract for a few reasons. First, he's not a top-pairing guy. His NHL career to date suggests he's a second-pair defenseman with a unique skill set. That skill set wasn't recognized by a number of NHL teams and even here in Edmonton, Russell had his detractors.
As fellow Hockey Writers contributor March Di Michele wrote in a piece on Russell back in August, the analytic crowd didn't really like what Russell brought to the table. She describes Russell's reputation among the statistics community as rocky at best. Coming out of his season with the Calgary Flames and Dallas Stars, she had this to say:
The analytics folk don't care much for Kris Russell. In fact, they didn't care much for that miraculous Flames team, that predictably came back down to earth, and have since replaced their head coach. In terms of fancy stats, Russell was bad in most categories. The Flames didn't have many shots, and they allowed a lot of shots while he was on the ice. They surrendered plenty of high-danger chances with him, despite much of his ice-time starting in the offensive zone. Russell's weaknesses were magnified last season, as was the case for the entire team.
Related – Oilers Signing Russell May Work Under 2 Conditions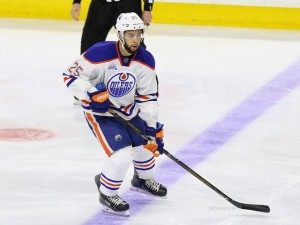 The second reason Edmonton went with one year was because the Oilers had a number of left-handed defensemen already in the system. Griffin Reinhart, Brandon Davidson, Darnell Nurse, Jordan Oesterle, Andrej Sekera and Oscar Klefbom were already in camp competing for jobs — only Klefbom and Sekera were cemented as NHL sure things.
Because the presence of Russell was adding one more contract to an overloaded lefty roster, investing a long-term contract into his deal meant potentially wasting the potential growth of another defenseman. One of the key jobs of an NHL franchise is to draft and develop prospects. A long-term contract for Russell was counter-productive to finding a way to integrate young talent into the roster. As it was, signing Russell meant temporarily pausing the advancement of one of the defensemen in camp. But, with a one-year deal, the Oilers didn't have to rule out the potential of a prospect who could have been worth a considerable look.
Long-Term Thinking
Russell has exceeded expectations. So much so, a few more games at his pace and the Edmonton Oilers will have to consider what playing without him might feel like. If you compare him as an Oiler defenseman, he's tied for the lead in points, he leads the group in plus/minus, he leads the blue line in takeaways and he's second only to his defensive partner Andrej Sekera in time on ice per game.
He's doing all this while leading the team and the near the top of the NHL standings in blocked shots. With 21 blocked shots, he clearly hasn't lost the skill that he was criticized for in the other seasons — the same skill set he was so frequently blasted by the analytics crowd and one thought to be a detriment to his success an all-around defender.
At this point, and in contrast to how he entered the Oilers organization, it can be argued Russell is making it so that Edmonton should move a prospect to make room for Russell and not the other way around. It's the type of situation an NHL player on a one-year contract doesn't always achieve but would hope for.
Edmonton has its top-three locked up long-term. Should they make it a top-four?