The Toronto Maple Leafs always seem to make surprising decisions when it comes to waivers and this Monday was no different. The Leafs started the day by putting Milan Michalek on waivers and finished it by claiming Ben Smith off waivers.
https://twitter.com/FriedgeHNIC/status/790584926240399360
This was a puzzling day of waivers for the Leafs. They have given the impression of taking some time before making any changes to the team. It seems strange to make a roster change like this when the Leafs are only five games into the 2016-17 NHL season. So what does it mean for Michalek and Smith?
The End for Milan Michalek?
As of this writing, Michalek has yet to be claimed off waivers and the question remains — why would anyone claim him? Michalek is 31-years old and struggling to stay in the NHL. He doesn't have the speed he used to due to injuries and age but has found a way to contribute some offense, though that small amount of offense is not worth the $4 million price for his contract.
Michalek has managed to put up two points in five games this season while on a line with Nazem Kadri and Leo Komarov. In those five games, Michalek has averaged 14:16 minutes a game, which is the fourth lowest on the Leafs, with the lowest being the fourth line.
His role on the Leafs is also ambiguous as Michalek isn't good enough to play on the Leafs' power play unit and doesn't have the playing style to be on the penalty kill unit. His role could be as a veteran presence for the younger players, but the Leafs have shown that they are willing to forgo veterans over more talented young players. That was clearly shown when the Leafs waived and sent down Colin Greening and Brooks Laich.
Milan Michalek not on the ice at Leafs practice … looks like Brown will take his spot on the Kadri line

— Mark Masters (@markhmasters) October 24, 2016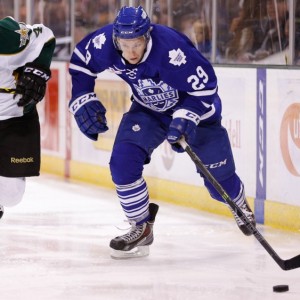 This move to waive Michalek seems to be about giving Connor Brown and more skilled linemates more ice-time. Brown has been playing the type of hockey that coach Mike Babcock loves: hardworking and constantly battling for the puck. Add to that Brown's skill is being wasted on the fourth line playing beside Peter Holland and Matt Martin.
With Brown replacing Michalek on the line with Kadri and Komarov it gives the Leafs a hardworking line that now has some offensive capabilities.
Michalek is on the last year of his contract for $4 million a year and is unlikely to find a place in the NHL because of the move to a faster style of hockey.
The Return of Ben Smith
You're not the only one with a sense of deja vu as Smith is brought back to the Leafs. Smith was acquired as part of the James Reimer trade with the San Jose Sharks and was signed by the Colorado Avalanche this summer. Smith had six points in 16 games with the Leafs last season as well as six points in five games with the Toronto Marlies.
Ben Smith will play for Leafs tomorrow v Lightning

— Mark Masters (@markhmasters) October 24, 2016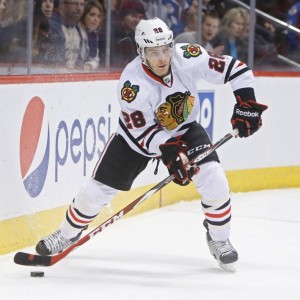 Claiming Smith off waivers is a bit confusing since the Leafs still have Seth Griffith, who has yet to play a game since being claimed off waivers by the Leafs. Then there is Josh Leivo, who is currently on injured reserve and doesn't have a clear return date. Either Griffith or Michalek could fill Brown's spot on the fourth line until Leivo's return, then decisions could be made about who plays where and who is sent down to the AHL.
A reason why the Leafs might want Smith is that he already knows the system because of playing with the Leafs last year. That need for players to learn the team's systems before coming into the lineup looks to be the reason why we haven't seen Griffith play this season.
It might also be that Babcock doesn't want skilled players like Brown and Griffith on the fourth line where their talent would be wasted. This is how bringing Smith in starts to find a way of making sense. He knows what to expect coming back onto the team and can fill the fourth line role well enough, which will allow Brown and Griffith to play in spots higher up in the lineup.
---
Complete Leafs Coverage From THW
---
Smith should be able to compliment Martin on the fourth line with forechecking and playing a physical game. Smith is also on a one-year deal worth $675,000, which won't impact the Leafs salary cap situation.
These waiver moves should improve the Leafs offense with Brown replacing Michalek and Smith is a serviceable player who can fill the fourth line role.
Update: According to Chris Johnston, Michalek has cleared waivers and Smith will be wearing Michalek's number with the Leafs. This confirms that Michalek is assuredly finished with the Leafs.