It's certainly been an eventful first offseason for new Bruins' GM Don Sweeney. He was put in an unenviable position due to a lack of salary cap space, a team that disappointed in 2014-15, and players due for big raises.
Coming into the offseason, the Bruins had about $62M committed to nine forwards, four defensemen, and one goaltender. That left them with about $12M in salary cap space to add, at a minimum, three more forwards, two defensemen, and a goalie.
Presently, it appears the Bruins' cap woes have been fixed, for this year at least. They have $66.6M committed to twelve forwards, seven defensemen, and one goalie. Add an extra forward or two, promote Malcolm Subban, and you likely have a full, cap compliant roster.
The manner in which Sweeney went about getting cap compliant was quite controversial, however. He made some savvy moves like the Lucic deal and subsequent deal of Martin Jones, but made a couple of head-scratchers that were much more memorable. Notably, the trade of Dougie Hamilton and giving up a 3rd round pick for Zac Rinaldo.
The Comment
On the radio today, Sweeney justified his offseason moves with the following:
https://twitter.com/bruins_stats/status/620967970978799616
Are we sure Sweeney isn't the next coming of Tore Purdy, because that's some hard-hitting #fancystats. There are plenty of holes that needed to be poked in this logic, so let's take them on one-by-one.
Goals aren't the only way to judge a player's value. There's a lot more that goes on on the ice than just being the person that puts the puck in the net. By this logic, this swap would have been a loss for the Bruins had they acquired, say, Henrik Sedin instead of Matt Beleskey because Sedin only had 18 goals compared to Beleskey's 22 last season.
Next, if you look at each player's entire offensive production, there is a much different picture. Here's their totals of combined goals and primary assists last year:

Clearly not the same. Then, there's the even more obvious fact that Dougie Hamilton is a defenseman and shouldn't be in an apples-to-apples comparison with forwards.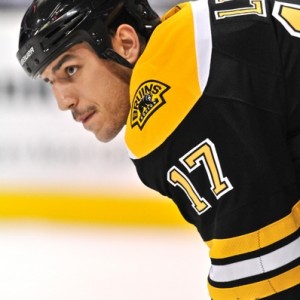 Sweeney's comparison is also made with the assumption that last season was a perfect indication of each player's contribution per year. There are a myriad of reasons why this is highly unlikely to be the case going forward.
For Lucic, 2014-15 was his lowest point producing performance since 2009. At 27 years old, he still has plenty left in the tank and will likely return to the 50+ point power forward we know. Hamilton is a budding star on the rise who is only scratching the surface of what his potential (a stud #1) may be. For Smith, that's probably pretty indicative of what to expect from him in the future, a 40-50 point middle six winger.
There are a number of red flags that indicate Beleskey's 2014-15 season cannot be easily replicated. His is 22 goals and 32 points last season represent 39 and 29%, respectively, of his career production. Last season was his sixth in the NHL. Other than last season, he broke double digits in goals once, and 20 points once.
He also shot 15.2% last year after having a career shooting percentage of 8.1% in the five years prior. It's possible that he had a breakout season at 26 years old, but it seems unlikely.
Hayes is a less extreme case. He'll likely be a consistent 30-40 point player in the future, but it is worth nothing that last season was by far his best, and accounted for over half of his career production.
As mentioned before, there's a lot more that goes on on the ice rather than scoring goals. There's physicality, two-way play, leadership, and a host of other intangibles. If you completely ignore the offensive part of the game, it is without question that Lucic, Hamilton, and Smith would have a much larger impact on the game than Beleskey and Hayes.
No matter what way you slice it, Sweeney's comments make no sense. It's completely fine to sing the praises of your offseason moves, but doing it in a manner like this is nonsensical.
Hockey Twitter's Reaction
Unsurprisingly, the Twitterverse had a field day with the comments. Here are a few of the best reactions:
https://twitter.com/NHLRumorUpdate/status/620996959239680000
Bozak + Lupul = 70 points. Bergeron = 55 points.
Somebody get Shanahan on the phone to Don Sweeney. https://t.co/dD9tn1mD8a

— Darryl Finch (@hailgrabovski) July 14, 2015
Don Sweeney has his own supercool advanced stats that are so advanced you don't even know about them his girlfriend in Canada designed them.

— A$AP Hockey (@SuicidePass) July 14, 2015
Looks like Bruins GM Don Sweeney has been taking advantage of the NHL's advanced stats pages (ht @DanCagen) https://t.co/GD0ZBj7zSp

— Michael Lopez (@StatsbyLopez) July 14, 2015