In a year laden with controversy, Dougie Hamilton has silenced the rumors and is performing to his potential with the Calgary Flames. One year removed from setting career high's in goals and points, Hamilton is on pace to smash his previous marker of 43 points in 82 games (2015-16), currently holding 32 points in 51.
Perhaps the most startling trend throughout this stretch is that his play away from the puck is maturing and he is becoming a veritable force on the back-end. Holding a 97.7 PDO (On-Ice Save percentage + On-Ice Shot Percentage), Hamilton is showing that his offensive ability is not compromising his defensive play as evidence by his 6.4 oiSH%.
When evaluating Hamilton, his possession numbers are what you want to see in a fifth-year pro, as he starts in the defensive zone 53.5% of the time, but holds a Corsi-For percentage of 54.1% (CF%). Owning the innate ability to turn defensive possession into offensive chances.
Comfortable With Mark Giordano
In years past, the TJ Brodie and Giordano pairing was inseparable, with the slick-skating Brodie complementing the two-way style of Giordano nicely. Both are experiencing slow years offensively as head coach Glen Gulutzan has instilled a radically different system when it comes to defensive involvement in offense.
However, Hamilton is thriving. Heralded as an offensive defenceman, he is coming into his own alongside the 33-year-old Giordano on the Flames' top pairing.
As the year wears on, it's apparent that Gulutzan holds an affinity in pairing left-handed defenceman with right-handed ones, in hopes of creating a balance on each duo. This is the main motivation behind Brodie playing with Dennis Wideman; as well as Jyrki Jokipakka, Brett Kulak, Tyler Wotherspoon with Deryk Engelland.
Hamilton is able to execute his game because of the substantial defensive prowess of his partner, Giordano. This match made in heaven comes with a caveat, in the form of a slumping Brodie alongside the right-handed Wideman.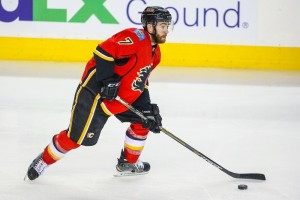 Brodie is on pace for a statistically slow season, with 17 points in 52 games accompanied with a dismal -22. Though take into account that plus-minus is not the best at qualitatively examining a defenseman. Brodie's productive slump could be substantiated with his 94.6 PDO.  While this can be attributed to bad luck, possessing a 6.3 oiSH% brings the hope that this season is an aberration.
While Brodie has shown a stark ability in playing his off-side on defense, forcing left-handers to play with right-handers could be affecting the 26-year-old more than we would have anticipated.
Let the Good Times Roll
Coming off of the long-awaited All-Star break, the Flames are in a playoff spot at 53 points in 52 games. Teams around the Flames have games in hand, meaning Calgary will have to revitalize the magic from November to remain in the hunt. St. Louis at 53 points, 49 games; Los Angeles 52 points, 49 games; Vancouver 52 points, 50 games; Dallas 50 points, 50 games; and Winnipeg 50 points, 52 games, gives the Flames little room to falter as there are teams close in points with games in hand.
Resting on one's laurels would spell doom for the Flames. To influence a positive trend, Hamilton, Giordano, Brodie and co. will have to be catalysts in the Flames maintaining their position in the playoff race.
The All-Star break has come and gone and now it's time for the rubber to meet the road. The Flames must decide whether or not their season has loftier aspirations beyond 82 games.