Hold on to your ginger ale, Detroit Red Wings fans. An upgrade on defense could be possible before the season ends.
In Elliotte Friedman's 30 Thoughts column, the journalist discusses the possibility of Calgary moving defenseman Dougie Hamilton and lists Detroit as a potential destination.
13. That brings us to Dougie Hamilton. Nick Kypreos mentioned the rumours last weekend. Hamilton's name has been in and out of NHL whispering circles since the draft, but Calgary GM Brad Treliving has always denied them. What no one can dispute is Hamilton's minutes per game: 17:07 as a rookie, then 19:06, a career-high 21:20 in his third year, 19:46 and 18:26 so far in season five — fifth among Flames blueliners. He's been above 20 minutes once since Oct. 20. His last three games saw him play 16:24, 14:39 and 15:56. If you trade him now, you might be selling low, but I think there are teams who believe they can make a better player out of him yet. He's 23. Wonder if Detroit, having struck out so far on Cam Fowler and Jacob Trouba, would have interest.
After acquiring Hamilton from Boston for a first-round pick and two second round picks, the Flames had high hopes for the young blueliner. He put up decent numbers in his first season with Calgary—12 goals and 43 points—but has struggled this season and is losing ice time to Dennis Wideman and Deryk Engelland.
Detroit has had a below-average season and may need to make a few bold moves to remain in—or join—the playoff hunt. Their defense has been mediocre at best and does not currently boast a franchise defenseman. GM Ken Holland would definitely be interested if a premier, right-handed defenseman was available on the trade market.
Could there be a deal to be had between these two franchises looking to improve?
Red Wings-Flames Trade Proposal
George Malik of Kukla's Korner stated that the Flames would want a defenseman plus a prospect in return for Hamilton, who is scheduled to make $5.75 million over the next four seasons. Detroit does not have a lot of cap space, but could offer a deal that would help the Flames get rid of not one, but two failed experiments. Here is a deal that I would propose:
Detroit Acquires:

Dougie Hamilton

Brian Elliott*

2018 5th Round Pick

↔

Calgary Acquires:

Jimmy Howard

Alexey Marchenko

Tyler Bertuzzi

2019 2nd Round Pick

2018 Conditional 3rd Round Pick**
Note: This is a proposal from me and NOT something that the teams have discussed and shared with the public.
*Calgary retains 50% of Brian Elliott's 2016-17 cap hit.
**Conditional 3rd round pick goes to Calgary if Brian Elliott re-signs with Detroit.
In Hamilton, the Red Wings receive a potential top-pairing defenseman signed to a reasonable contract for the next four seasons. Hamilton is only 23, so Detroit would have him patrolling the blue line during his prime. He has been known to join the rush and play in all situations, including top-pairing minutes back in Boston alongside Zdeno Chara.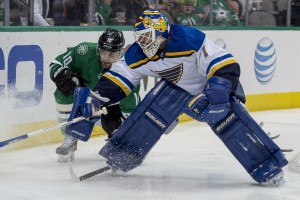 By exchanging Howard for Elliott, the Red Wings lose their long-term commitment to a backup goalie. This is not a knock on Howard, especially given his play this season. He is just signed to a starter's contract through this season, plus the next two. Elliott, on the other hand, is only signed through this season.
Elliott has also performed well in a part-time role previously—he and St. Louis's Jake Allen combined to lead the Blues to within one win of their first Stanley Cup Final appearance since 1970 last season. He would complement Mrazek well—Elliott would serve as a mentor to the young goalie as he works to round out his game.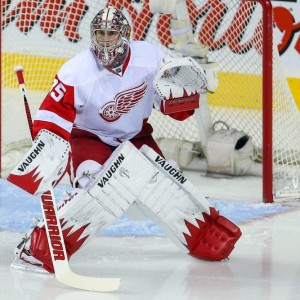 As for Calgary, they would receive a starting goalie who has proven capable of performing well behind a defensively weak team. Howard has given Detroit a chance to win in every game he's played in this season, save the Montreal game (the Red Wings did not show up and left him out to dry).
Howard also fits Calgary's goaltending timeline better. Next season, up-and-coming prospect Jon Gillies would serve as Howard's backup before taking the starting role over the following year, with the New York-native there as a 1B option. Mason McDonald would be coming along just as Howard would be scheduled to hit free agency.
Additionally, Calgary would receive defenseman Alexey Marchenko and left wing Tyler Bertuzzi in the deal. Marchenko is a responsible blueliner who can join the rush if needed. However, his strong point is in his own end and moving the puck up ice.
Bertuzzi is a prospect on the rise in the Detroit system. He's developed into a gritty, scoring winger with middle-six potential, ranking ninth on the Red Wings' Top 25 Prospects 25-and-Under list. Bertuzzi would likely join Calgary's lineup full-time for the 2017-18 season and hopefully have a better and longer tenure with the Flames than his uncle.
Offseason Deal?
Calgary could opt to wait until the offseason to pull the trigger on a deal like this, though. They may want to see where Tampa Bay's starting goalie and pending unrestricted free agent, Ben Bishop, lands. Marc-Andre Fleury could be another option if Pittsburgh tries to move him. Otherwise, Ryan Miller and Steve Mason represent what's left of the starting goalie market if Calgary looks at free agents other than Bishop.
Should the Detroit Red Wings trade two quality prospects and a high draft pick for a player like Dougie Hamilton? Comment below with your opinion.