In July, Minnesota State Mankato announced that it had formally applied to become a member of the National Collegiate Hockey Conference. In August, Arizona State announced that it had officially applied to join the NCHC. It looked like the NCHC was moving towards a 10-team conference.
The NCHC didn't sit on those applications very long and in September, announced they wouldn't be adding any teams in the near future.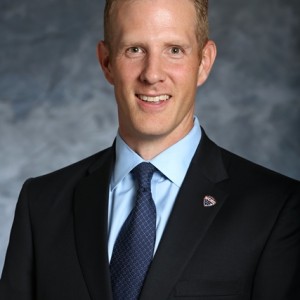 "After careful consideration and a thorough vetting process, the National Collegiate Hockey Conference's Board of Directors announced the Conference will not move forward with membership expansion at this time, NCHC Commissioner Josh Fenton said a release. "We will continue to be attentive to the college hockey landscape and any future changes that may come. However, our focus right now is guided by what we can do to strengthen our current membership into the future."
The league cited needing to concentrate on their current membership before moving forward.
"We need to keep getting better," Colorado College Athletic Director Ken Ralph told the Colorado Spring Gazette. "We have been doing incredibly well financially and all eight schools remain committed to college hockey; a core principle from when the league was founded."
Nonetheless, the NCHC stunned many college hockey fans with the move. One of the sticking points appeared to be ASU's current arena situation. Matt Wellens of the Duluth News Tribune  suggested that ASU's arena situation was one of the reasons their membership bid was denied.
"And none of that will happen until the Sun Devils find a suitable rink to call home," Wellens said in an August article. "Playing part-time at the Arizona Coyotes' Gila River Arena isn't good enough."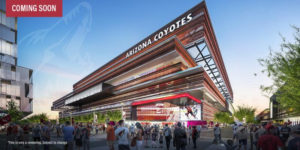 Coyotes Announce New Arena
On Monday, the Coyotes announced that they have entered into an agreement to build a new arena on the Arizona State Campus. For those that are wondering, the location of the new arena will be the northwest corner of McClintock Drive and Rio Salado Parkway on Karsten Golf Course in Tempe, Arizona.
The details were explained in a press release.
Preliminary plans call for a main arena of 16,000-plus seats with an adjacent, 4,000-seat arena where Arizona State's Division I hockey program would play its games. Coyotes Majority Owner, Chairman, and Governor Andrew Barroway said the facility would be "first rate. We don't think we will compromise in any way."

Other ASU programs such as wrestling and gymnastics could use the smaller facility, which would also be used for youth hockey and other community events. The hope is that construction could be completed in time for the 2019-20 NHL season
Looking at this week's announcement by the Coyotes, it would appear that ASU may have solved their arena problems. However, it doesn't appear that the new arena will be ready to go before the 2019-20 season. That gives the league ample time to revisit the issue and not make a hasty decision they may regret later. Monday on social media, many college hockey fans were asking if the NCHC will revisit expansion? I guess we'll find out in the future, but this should improve the Sun Devils' standing.