With the conclusion of the 2022-23 season, the Anaheim Ducks are picking up the pieces of the worst year in franchise history. Their 23-47-12 record was the worst in the league, as their playoff drought has extended to five years. On June 28, the Ducks will have the second overall pick in the NHL Draft, adding a blue-chip prospect to an already-packed talent pool. Before we get to the draft, let's take a look at some of the players already on the roster with some season grades. Our first look will be at Trevor Zegras.
Related: Re-signing Zegras Tops Ducks' List of Offseason Priorities
Zegras remains one of the bright spots for a Ducks team that continues to be a work in progress. The ninth overall pick in the 2019 NHL Entry Draft, he instantly became Anaheim's top prospect. Last year, he finished second in voting for the Calder Trophy, awarded to the league's top rookie. His upbeat personality and tendency to score highlight-reel goals landed him a share of the NHL 23 cover.
Zegras' Scoring Increase Without the Viral Goals
First and foremost, Zegras is a playmaker, so he'll largely be judged on his ability to score and create scoring opportunities for his teammates. In that regard, he performed quite well. His 42 assists contributed to a team-leading 65 points, an improvement over his 61 points a year ago. The four-point jump in production is modest, but his ceiling was limited by just how ineffective the Ducks were this year. Their 2.51 goals per game were the second-lowest in the league, so it shouldn't be surprising that Zegras didn't turn into a point-per-game player just yet.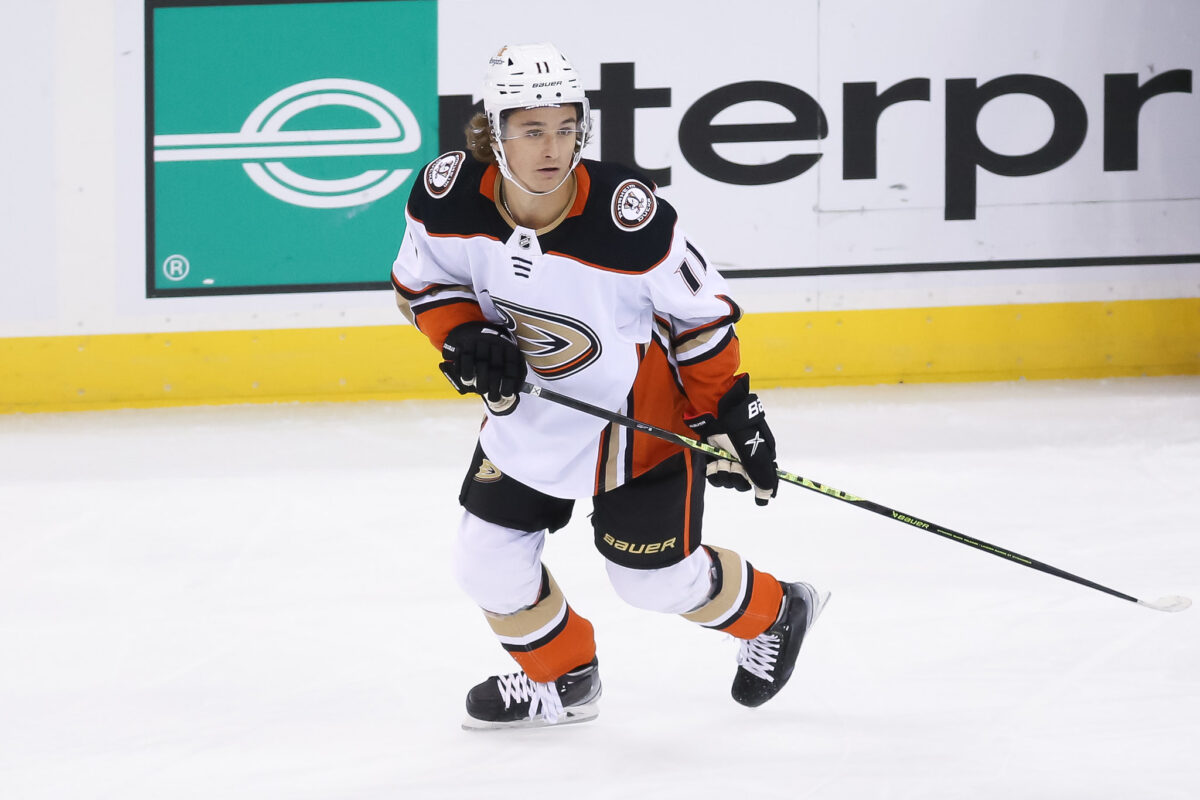 What was missing from Zegras' 2022-23 campaign were the highlight-reel goals that led to an NHL commercial referring to him as a "human glitch." These kinds of scoring plays shouldn't define his career, but their existence does make Anaheim a much more entertaining team to watch. Once again, this feels like an issue with game flow. The Ducks were often chasing games, and attempting to pull off a Michigan while trailing by multiple goals could draw the ire of opponents and his coaching staff. Zegras did successfully score a lacrosse-style goal against the Minnesota Wild in November, but it was wiped away due to an offside penalty. His best goal of the season that counted was a stellar between-the-legs goal against the Seattle Kraken in March.
Zegras Moving to the Wing Is Inevitable
When drafted in 2019, Zegras was undoubtedly the top center prospect in the Ducks' organization. But Anaheim continued to dedicate two more first-round picks to centers — Mason McTavish and Nathan Gaucher — and a third likely coming this summer with Adam Fantilli. As a result, the organization can be deep down the middle for years to come. The Ducks could theoretically run a four-center lineup of McTavish, Zegras, Fantilli, and Gaucher, but the lineup would be better suited with the first three options playing on the first two lines. As a result, one of them will have to move to the wing.
---
Latest News & Highlights
---
Zegras and McTavish were both eased into the NHL by playing on the wing for a handful of games before pivoting to the more demanding center position. While Zegras took some steps into being a true number-one center, including leading all Ducks' forwards in ice time, he had been the one more likely to get moved to the wing during former head coach Dallas Eakins' lineup shuffles. McTavish's larger frame makes him the more traditional choice, and Zegras' perceived defensive issues work against him at such a vital position. He can continue to be a dynamic playmaker from the wing and would likely act as the center on the top power-play unit.
A Troubling Trend of Penalties
Zegras isn't shy at expressing his emotions, and his ability to control them has an impact on games. The best example of this was the Ducks' season finale against the Los Angeles Kings. With about five minutes left in the third period, he cut the Kings' lead to 4-3 with his 23rd goal of the year. Less than a minute later, he got into a shoving match with Phillip Danault. They were assessed coincidental minors, but Zegras managed to get a game misconduct tacked on, ending his season early. This wasn't an isolated incident, as his 88 penalty minutes led the Ducks, and his 29 minor penalties were tied for the 11th-most in the entire league.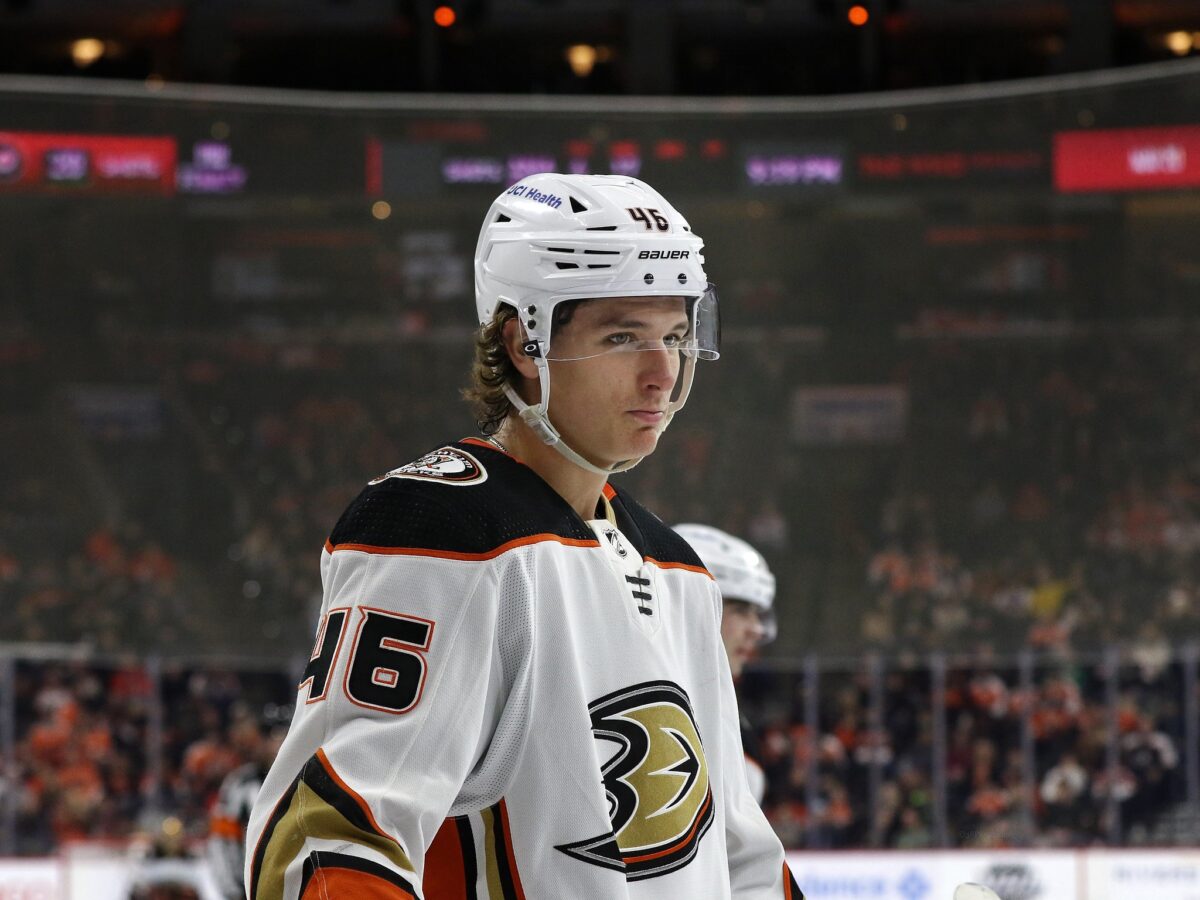 Zegras' emotion is part of what makes him an exciting player. It's part of what makes him a marketable star in a league full of players who speak in cliches. Anaheim's next head coach will have to find the balance between positively fostering that emotion while weeding out the bad tendencies that leave his team shorthanded.
Trevor Zegras' 2022-23 campaign was a modest improvement on his rookie season, and his ceiling remains sky-high. Discipline continues to be an issue, minimizing his positive impact on the ice. But look for an additional bump in production in year three, even if he's moved to the wing.
Grade: B+
Statistics courtesy of Hockey-Reference.
---
---