Everything was going according to plan for the Anaheim Ducks during Monday night's draft lottery. From Calgary landing pick 16 to San Jose settling for pick four, NHL deputy commissioner Bill Daly had no surprises as he flipped cards revealing the team logos in the order we've seen for weeks in the lead-up to this event. Going into what the NHL thought was a commercial break, Anaheim was only two normal card reveals away from winning the top pick and first rights to generational prospect Connor Bedard.
Related: Ducks 2023 Offseason Primer
What happened next was anything but the normal that the Ducks were looking for. Ahead of the aforementioned break, Daly stopped flipping cards after revealing San Jose at fourth overall. However, ESPN's lead into the commercial revealed the Columbus Blue Jackets as the third pick in what appeared to be a miscommunication between the NHL and their rightsholders. After the broadcast resumed Daly revealed what everyone listening with the volume on their televisions had known for a few minutes — the first-overall pick was down to Anaheim and the Chicago Blackhawks. He finally flipped the card of the first lottery winner, and the Blackhawks were the winner of the Bedard sweepstakes. The Ducks will pick second.
After the worst season the franchise has ever played through, falling to second initially feels like a punch in the gut. The Ducks have never had a first-overall pick and have now finished runners-up in the lotteries for Sidney Crosby and Bedard. The "what-ifs" that fantasized about reuniting Bedard with his World Junior Championship teammate Mason McTavish and saw him on a power play with Trevor Zegras all came to a sudden end on Monday night. When all the suspense was gone, Daly flipped the final card revealing an upside-down Ducks' logo. It was a fitting visual to wrap up a brutal few moments of television.
Losing out on Bedard no doubt stings. He's the kind of talent that only shows up once or twice in a decade. But he was far from the only big name in this draft. Adam Fantilli has long been considered the second-best prospect in this draft class, and he'll likely be on the draft stage wearing a Ducks' uniform in June.
Adam Fantilli Scouting Report
Fantilli checks a lot of boxes that make up a franchise center. At 6-foot-2, he profiles to be a power forward, especially as he gets older and adds muscle mass. Ducks' fans may hear "power forward" and shudder remembering a top-10 pick being used on Nick Ritchie, but Fantilli's set of skills set him up for more success in the modern game. He is considered one of the best, if not the best, skaters in this draft class. Highlight reels include him at full speed skating past defenders and winning races power forwards don't normally win. His edgework, acceleration, and high motor round out a package that makes him a tantalizing prospect that can play at both ends of the ice.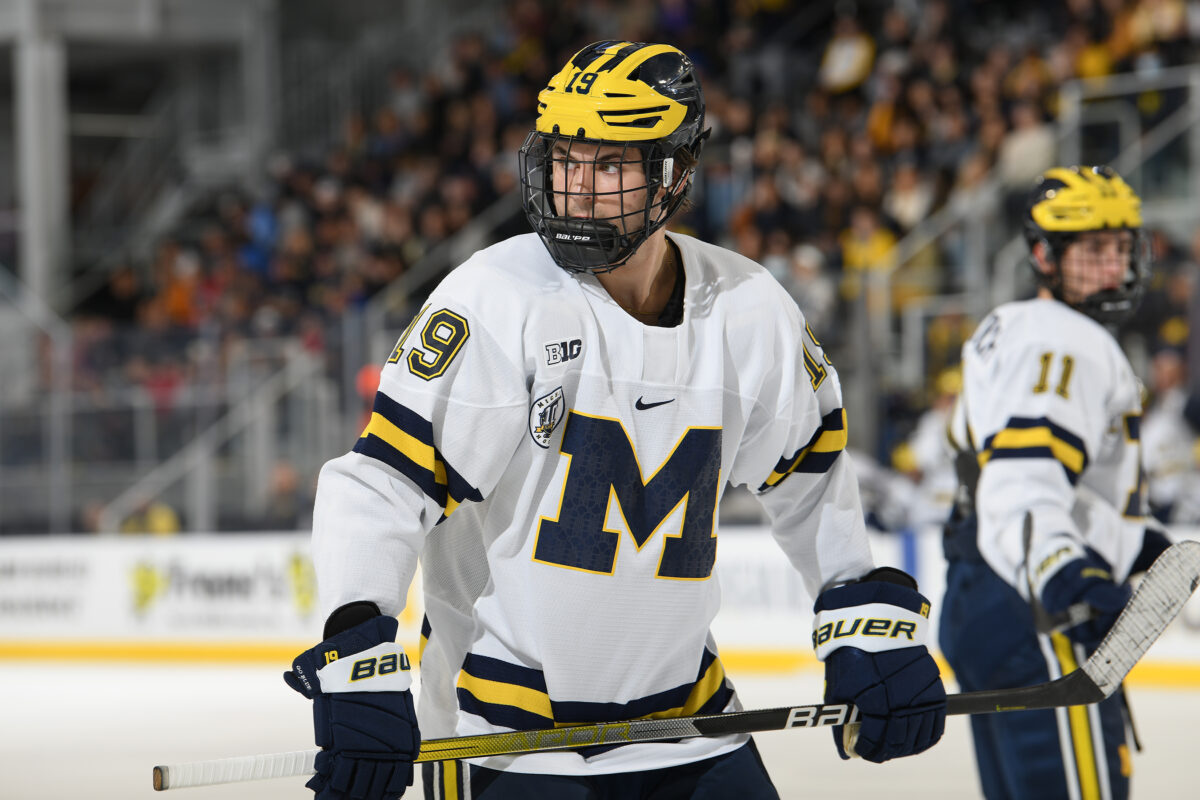 In addition to his skating, he also possesses high-end puck handling and shooting strength, including a fairly quick one-timer. His game isn't without flaws, and he's prone to the defensive lapses expected out of teenage forwards. He can also work to improve the accuracy of his shot. These shortcomings are largely nitpicking, as Fantilli would be the Ducks' most high-end prospect since Paul Kariya was drafted in 1993.
A Historic Freshman Year at Michigan
Fantilli was never going to dethrone Bedard as the number one pick in this year's draft, but he did nearly everything to try. His freshman year at the University of Michigan was one for the record books. He led the nation with 65 points, the most in college hockey since Kyle Connor scored 71 points in 2015-16. His 1.81 points per game are the most ever for a freshman, besting Eichel's 1.78 in 2015. In April, he was named the Hobey Baker Award winner as the country's top men's hockey player. He's the third freshman to ever win the award, joining Kariya (1993) and Jack Eichel (2015).
---
Latest News & Highlights
---
Want even more context to Fantilli's dominant year? In a Feb. 10 game against Michigan State, he was assessed a fighting major and given a game misconduct. Fighting has been legislated out of college hockey and includes an automatic one-game suspension as a result. Even the Hobey Baker Award has a caveat that the winner possesses outstanding character, but Fantilli was so much better than anyone else that it was hardly seen as a blemish on his resume.
Fantilli is a First-Overall Pick in Most Drafts
If it were any other year, there's no guarantee that a player of Fantilli's caliber is available with the second overall pick. According to Dom Luszczyszyn's Game Score Value Added (GVSA) metric, which takes an individual's production and play-driving and boils it down to a clean number, Fantilli's 2.1 GSVA is tied with Jack Eichel for the fourth-highest in the last 13 draft classes. Only Connor McDavid, Connor Bedard, and Patrick Kane had a higher GSVA in their pre-draft seasons (from "Jack Eichel, With the NHL Draft Lottery in the Background, Gives Hope to the 'Unlucky'", The Athletic, May 9, 2023).
Fantilli's production and skillset would warrant a first-overall selection in any year that doesn't include a generational talent, but that's exactly the kind of class he's in. While losing out on Bedard stings, Fantilli can become the Ducks' most anticipated prospect in their history if they select him this June. He's clearly more than a consolation prize, and Anaheim's future would be brighter with him in the organization.