The Anaheim Ducks finished strong in their first week of 2023, rattling off an impressive shutout win against Central Division leader Dallas Stars and a thrilling, high-scoring overtime victory over Pacific Division foe San Jose Sharks. The win streak follows a rather forgettable and inauspicious performance against the Philadelphia Flyers to begin week.
All things considered, they should be happy with those results. The Ducks went 2-1 by getting solid performances throughout their lineup and carried some momentum into a massive test against the NHL-leading Boston Bruins, who boast the NHL's best record. It's a test they failed. But let's be honest, most teams have. The Bruins drubbing aside, here's a look at some of the good that came from the Ducks' first seven days of 2023.
John Gibson Is Still That Guy
A few days ago, I argued that John Gibson looked tired and sometimes defeated and that a healthy Anthony Stolarz meant a well-deserved break for him after facing over 100 shots in the three previous games. Well, Dallas Eakins made him the starter for a fourth straight game, and boy, did he deliver, stopping all 35 shots in the victory over the Stars. He continues to be the Ducks' most important player, and it's more apparent than ever that if he plays well, the team will have a chance to win, no matter who's on the ice in front of him. That's what stud franchise goaltenders do. It's a shame that he hasn't received more Vezina Trophy consideration over the years because he deserves it.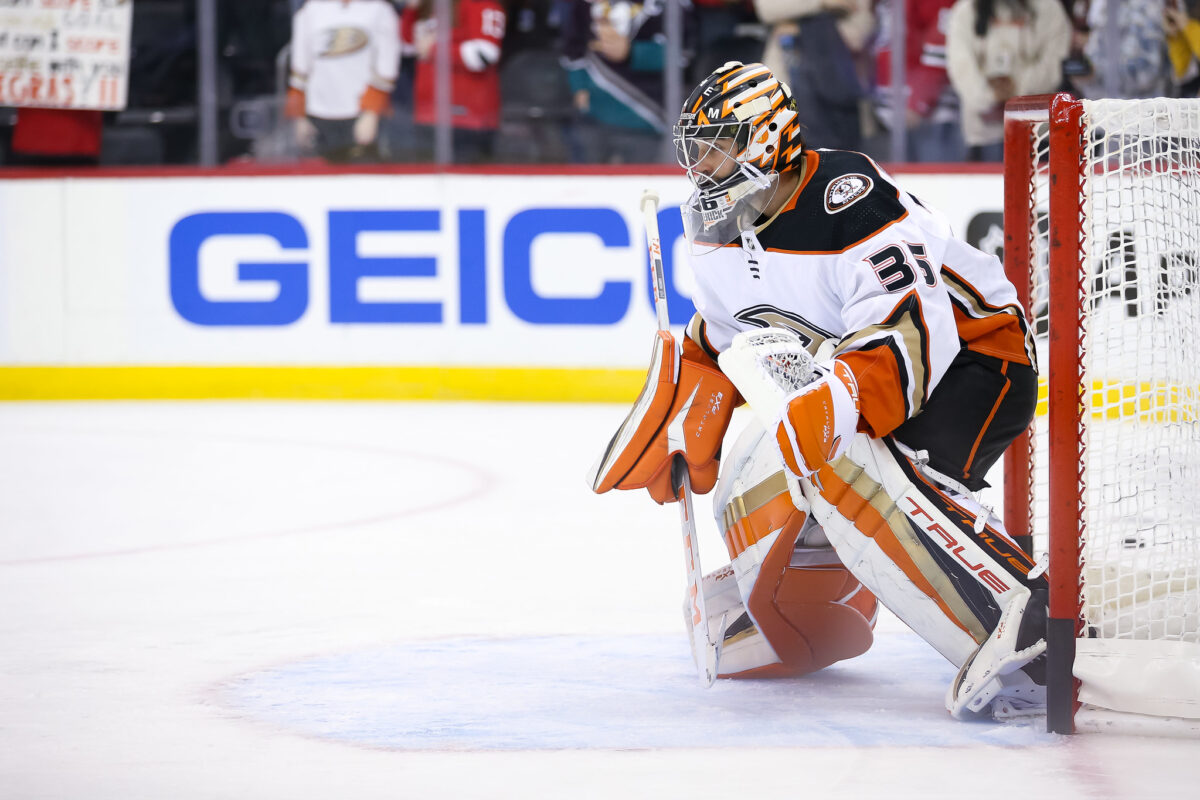 Although they shouldn't, it seems likely that the coaching staff will continue to lean on Gibson as the season progresses, which he must be used to by now. They did give him a breather and started Stolarz against the Sharks; he struggled early but made stops when it counted, allowing the Ducks to come back, force overtime, and get the game-winner.
Ducks' Power Play Can Be Something Special
Lately, the Ducks have experimented with Trevor Zegras, Mason McTavish, Troy Terry, and Adam Henrique as their top power-play unit, with Cam Fowler as the lone defenseman to round it out. It works because each player is in a position to utilize their talent. Fowler has vision and patrols the blue line; Henrique is a savvy veteran who positions himself to find openings to receive the puck in the bumper spot; Terry is near the goal line where he can distribute or attack the net, and McTavish and Zegras operate the wings, where they both shoot and distribute. They both have scored and assisted from there this season, including this gorgeous play against the Stars.
🚨 Mac-T!

Z serves up the sauce and Mase hammers it home on the power play! We lead 2-0. pic.twitter.com/DlFvdzoxgM

— Anaheim Ducks (@AnaheimDucks) January 5, 2023
Still, the power play scored only once last week. Despite failing to convert on more chances, the unit showed off its highlight-reel ability and big-play potential. Against the Stars and Sharks, both groups were moving the puck quickly and crisply, displaying creativity, interchanging positions, and shooting early and often.
Related: Anaheim Ducks Would Be Wise to Decrease Gibson's Workload
---
Latest News & Highlights
---
Their hesitancy to do many of those things in recent seasons has hurt the man advantage and made it stale, predictable, difficult to watch, and one of the league's worst. However, these new groups should have everyone eager to watch. With the freedom to utilize their individual strengths and creativity, we should be hard-pressed to find this power play stale. Just look at how they moved the puck against the Sharks, and you'll see what this group is capable of.
Young Guys Connecting with the Vets
We saw the chemistry between young players and veterans a lot in the win over the Sharks. Some examples:
John Klingberg's first appearance on the scoresheet was a cross-ice pass to Zegras, who scored top-shelf in the first period to cut the lead in half.
McTavish connected with free-agent acquisition Ryan Strome to tie the game at two. McTavish lowered his shoulder, protected the puck, and sent it to Strome, who positioned himself in front of the net for a backhanded tip-in.
Jakob Silfverberg had the primary assist on the first of McTavish's two goals, scoring from the slot after Silfverberg's setup.
On Klingberg's overtime winner, McTavish set up the final pass by getting the puck to Troy Terry, who had the primary assist. There was plenty of chemistry on that one, which brought a packed Honda Center to its feet as the Ducks completed their season series against their northern California rivals with a win.
Their lone highlight against the Bruins was a tic-tac-toe play between Strome, Frank Vatrano, and Zegras that resulted in the latter's wicked one-timer to beat the Boston netminder.
The line juggling of Anaheim's top-six forward group gives the team different looks offensively and could be the spark they needed, given their struggles to consistently get shots on goal and bury opportunities. We'll see if it's a sign of things to come or a flash in the pan.
Of course, we can lament David Pastrnak and the Bruins' thrashing last night. However, nobody expected the Ducks to beat Boston, and they did do some good things in the two games before that they can be happy about and really build on. Everyone needs a short memory in this league, and now it's on to the next one.
Jordan is an Orange County native who has lived 30 minutes from Honda Center (or Arrowhead Pond of Anaheim as he used to know it) for his whole life. Growing up around the Ducks facilitated his love and passion for hockey. You are just as likely to find playing shinny at a local rink as you are at an arena watching NHL games. Otherwise, he is spending with his family, traveling with his fiance, or on the road training for a marathon.