With the 6th Pick in the 2020 NHL Draft, the Anaheim Ducks Have Selected Jamie Drysdale from the Erie Otters of the OHL
About Jamie Drysdale
Prior to a late-season surge from American Jake Sanderson, Drysdale was the consensus best defender available for the 2020 Draft. He's a complete package, playing big minutes for the Erie Otters, leading the power play, and driving the offense from the blue line. He's incredibly quick on his skates and a very adaptable player, changing gears instantly and making decisions in the blink of an eye.
While not expected to be an elite talent like Cale Makar or Quinn Hughes, he easily projects to be a top-pairing defender in the NHL and has modeled his game after another game-breaking offensive defender, Morgan Rielly.
THW Prospect Profile Excerpt
"Jamie Drysdale has had a season he won't soon forget. It started for him at the Hlinka-Gretzky Cup where he helped Team Canada win a silver medal before bowing out to Yaroslav Askarov and Team Russia in the final.
Then it was time to get ready for the new Erie Otters' season. It was a season full of higher expectations after two straight seasons out of the OHL playoffs. But injuries have hampered the Otters all season and it eventually caught up to Drysdale in Saginaw. He took a high hit from Blade Jenkins and had to miss time. He has returned and before the hockey world came to a stop, he helped the Otters maintain a playoff spot.
Related: 2020 NHL Draft Guide
But in-between all of this, Drysdale has gone through a crazy schedule. He appeared in both games of the Canada/Russia series. He played a key role in helping Team Canada to a gold medal at the World Juniors thanks to injury while showing he belonged in the process. He also performed in the CHL/NHL Top Prospects Game. Think of the miles he's put in this season all to get ready for the most important day of his life. When we asked him if he was tired after returning from the World Juniors, he admitted that 'I would be lying if I said I wasn't.'
That is probably the most impressive part about watching Drysdale's season firsthand. You could tell he was tired. But he was still the best player on the ice on many nights anyway. He didn't let that become an excuse at all during the season. He produced almost a point per game this season with nine goals and 47 points in 49 games all while playing 25-30 minutes a night on occasion.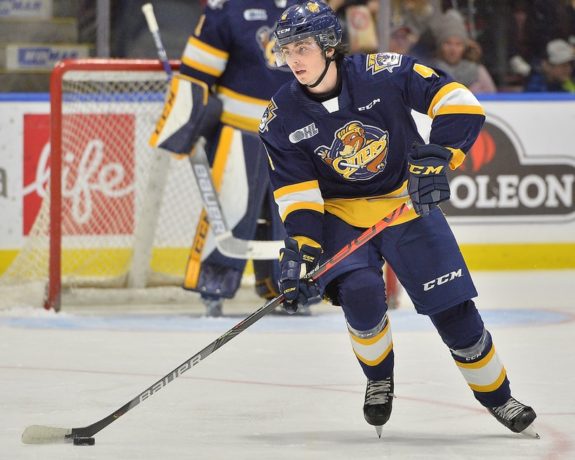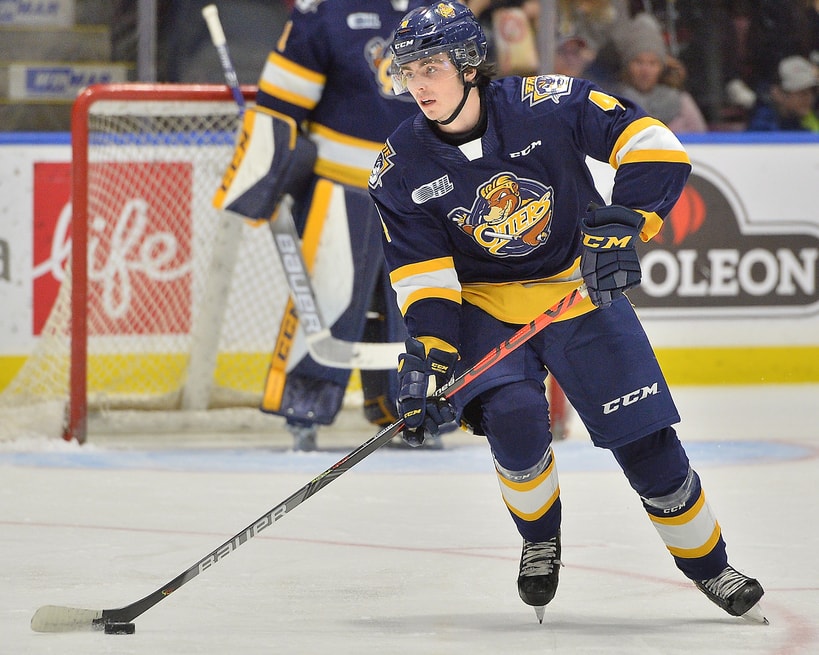 What stands out about Drysdale? First thing that jumps out is his speed. He can recover from almost any situation by getting back on defense if the puck goes the other way. He doesn't have the size yet, but he uses his hands and stick to disrupt his opponents. The number of turnovers he created by stick checking was absurd.
When he wasn't frustrating opponents, he was creating offense from any zone. Whether it was the first pass out or his acceleration into the opponent's zone, Drysdale always has offense on his mind. He's not afraid to shoot when given the chance. But he can make plays even when there's not much room to work with. He made the Otters dangerous on the rush.
It's hard to find faults in Drysdale's game as it's a bit nitpicky. But in seeing enough of him this season, two things do stand out. He can miss the net in bunches especially on the power play. This has led to odd-man rushes the other way. He needs to get his shot on net more to create havoc around the net. He also needs to choose his battles more carefully. He tends to be aggressive and sometimes it costs him. Opponents at the next level will feast on that aggressiveness. When he's in control and makes the right reads, he's usually the best player on the ice.
In the end, the good far outweigh the bad. Whoever lands Drysdale will not only get an elite player, but they'll get a great leader and someone of very high character. He is one of the genuinely nice guys in the entire OHL. He brings the total package on and off the ice."
Full player profile can be found here
How This Affects the Ducks' Plans
The Ducks have some of the NHL's best forward prospects, from Trevor Zegras to Brayden Tracey. However, they are severely lacking on defense; beyond Cam Fowler, no one has a high offensive upside, and he hasn't hit 40 points since 2010-11. They sorely miss Shea Theodore and Sami Vatanen, and aside from Jackson Lacombe, there is no one who can fill their shoes in their system.
Adding Drysdale to their organization finally gives them a top-pairing defender with a high offensive upside. He's very well-rounded and one of the best backward skaters available in the draft. As an undersized defenseman, he may need some time to develop, but he greatly boosts the Ducks' defense corp and adds to an already stacked prospect pool.
---
---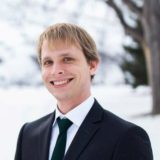 An elementary teacher by day and an avid hockey fan, Dayton joined The Hockey Writers in 2019 and currently covers the Ottawa Senators, World Juniors, and NHL Entry Draft.