With COVID-19 still raging, Anaheim Ducks general manager Bob Murray might have to go outside his comfort zone when it comes to roster decisions after training camp. The news that the Ontario Hockey League (OHL) has outlawed checking for the upcoming season to minimize the risk of players giving each other the virus is unfortunate for all NHL teams.
The Ducks — who drafted OHLers Jamie Drysdale and Jacob Perreault in the first round of the 2020 Draft — will be greatly impacted by this lack of contact hockey. No team wants their top prospects playing a watered-down version of the sport, which will be the case if the OHL plays this year. With few other options for their OHLers, Murray and the Ducks may be forced to add them to their NHL roster earlier than normal.
Ontario Hockey League Outlaws Checking
At the end of October, the OHL announced that it planned to play a shortened 2020-21 season without bodychecking. It's easy to understand why top NHL prospects would flee the OHL since checking isn't allowed. Hockey is a contact sport and making it to the world's best league requires an ability to induce and avoid contact with the best. Not being able to check for a full season seems like a non-starter.
That is, if the OHL even has a season, which some say still isn't for sure. The league isn't slated to start play until February, and in pandemic time, that is ages.
Finally, the OHL has three American teams, and the border could remain closed for the foreseeable future. While the NHL could split its divisions by country — there are seven Canadian teams in the NHL — that doesn't seem like an option in the OHL. If Drysdale's Erie Otters, located in Pennsylvania, were forced to play only American OHL teams, they'd be playing against the same two teams for the entire season. That's not good for a player's development, either.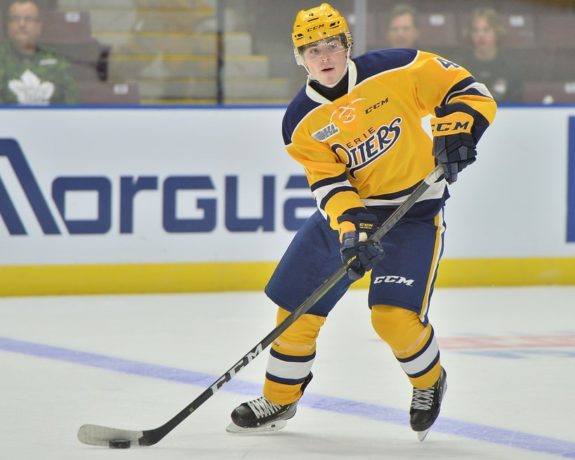 All of this goes to show the OHL will not be the same this season if it plays at all. So, what should the Ducks do with 2020 first-rounders Drysdale and Perreault?
Europe Might Be an Option
Many NHL teams have loaned their European prospects to European professional teams in leagues that have already started playing. Ducks goalie prospect Lukas Dostal, who was supposed to start in the AHL this season, instead ended up back with Ilves of Liiga, in Finland.
Fellow goalie prospect Roman Durny, who has spent the last two seasons in the U.S., went back to his native Slovakia to play. Meanwhile, Swedish defense prospect Axel Andersson went back to play for Sodertalje SK of the Allsvenskan league in his native country.
Even Canadian Hunter Drew, who spent last season between the ECHL's Tulsa Oilers and the AHL's San Diego Gulls, found a temporary place to play in Slovakia.
Many teams are taking this route with their prospects, including the Edmonton Oilers, who've sent Canadian-born prospects Evan Bouchard, Ryan McLeod, Raphael Lavoie and Olivier Rodrigue to play in Europe. Theoretically, that's great, but there are several distinctions to be made. First of all, none of those Oilers prospects are 2020 selections. The Oilers' only 2020 selection from the OHL, Ty Tullio, is still without a place to play as well.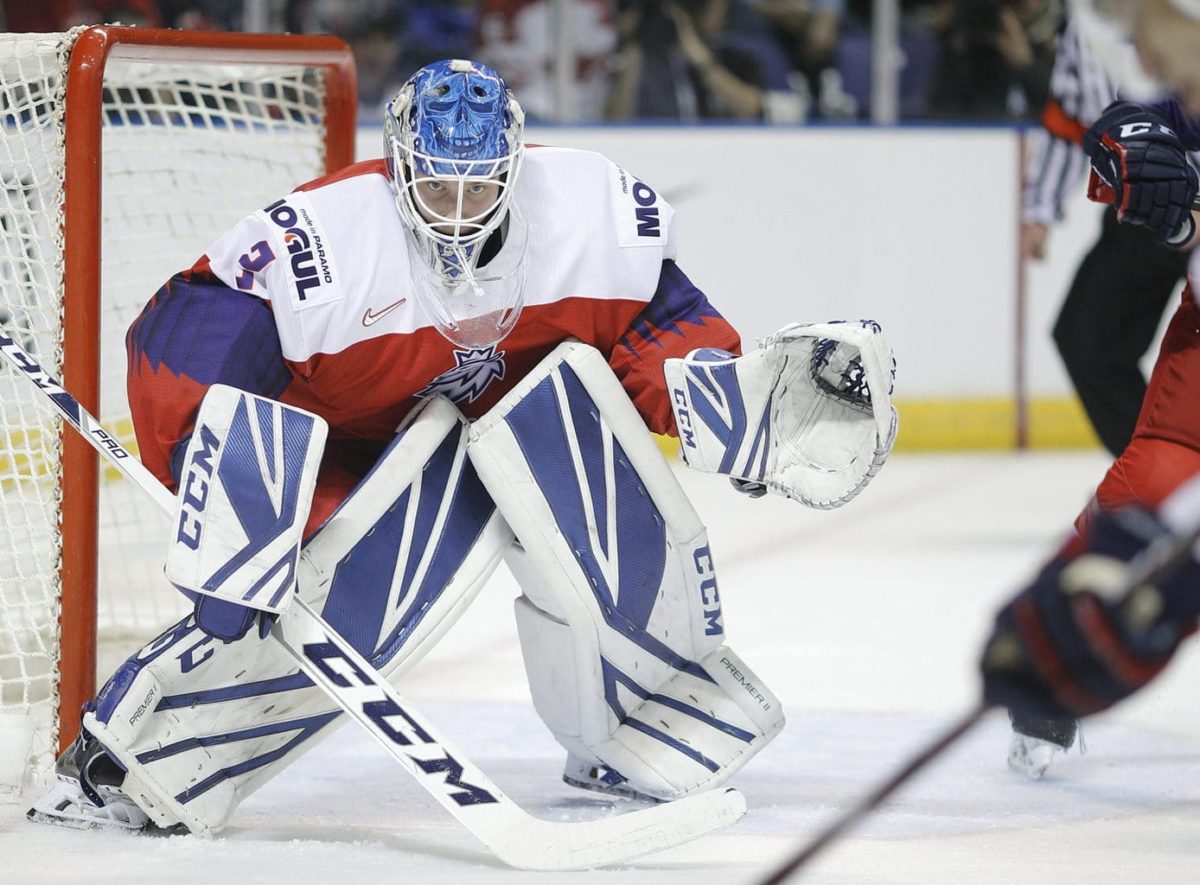 Furthermore, it seems that now that most European leagues are underway, with set rosters, it will be harder and harder as time goes by to find places for Drysdale and Perreault that aren't the OHL or NHL. 
Drysdale Has Some Hockey on His Schedule
Though both players aren't likely to play in European professional leagues, Drysdale, at least, does have some hockey on his schedule.  
Barring an injury or illness, Drysdale will be playing in the World Junior Championship for Team Canada. As of now, the tournament is on, and Drysdale was one of Canada's best defensemen last year. This means he will be playing competitive hockey from mid-December to early January, as long as the tournament isn't canceled within the next month.
That is not an option for Perreault, who was not invited to Canada's camp. Even for Drysdale, it's only a few weeks of competitive hockey, which still puts him at a developmental disadvantage if he can't play anywhere else.
AHL and College Hockey Not an Option
Drysdale and Perreault can't transfer to an American college team, either, because the NCAA considers major-junior leagues pro, making Drysdale and Perreault professionals and not amateurs.
Additionally, Perreault and Drysdale are still 18 years old, meaning they can't be assigned to the AHL when it returns (tentatively on Feb. 5). The NHL and major-junior leagues have an agreement that if an NHL team drafts a player out of the Quebec Major Junior Hockey League, Western Hockey League or OHL, and doesn't put them on the NHL roster, those players must return to their major-junior team until they are in their 20-year-old season.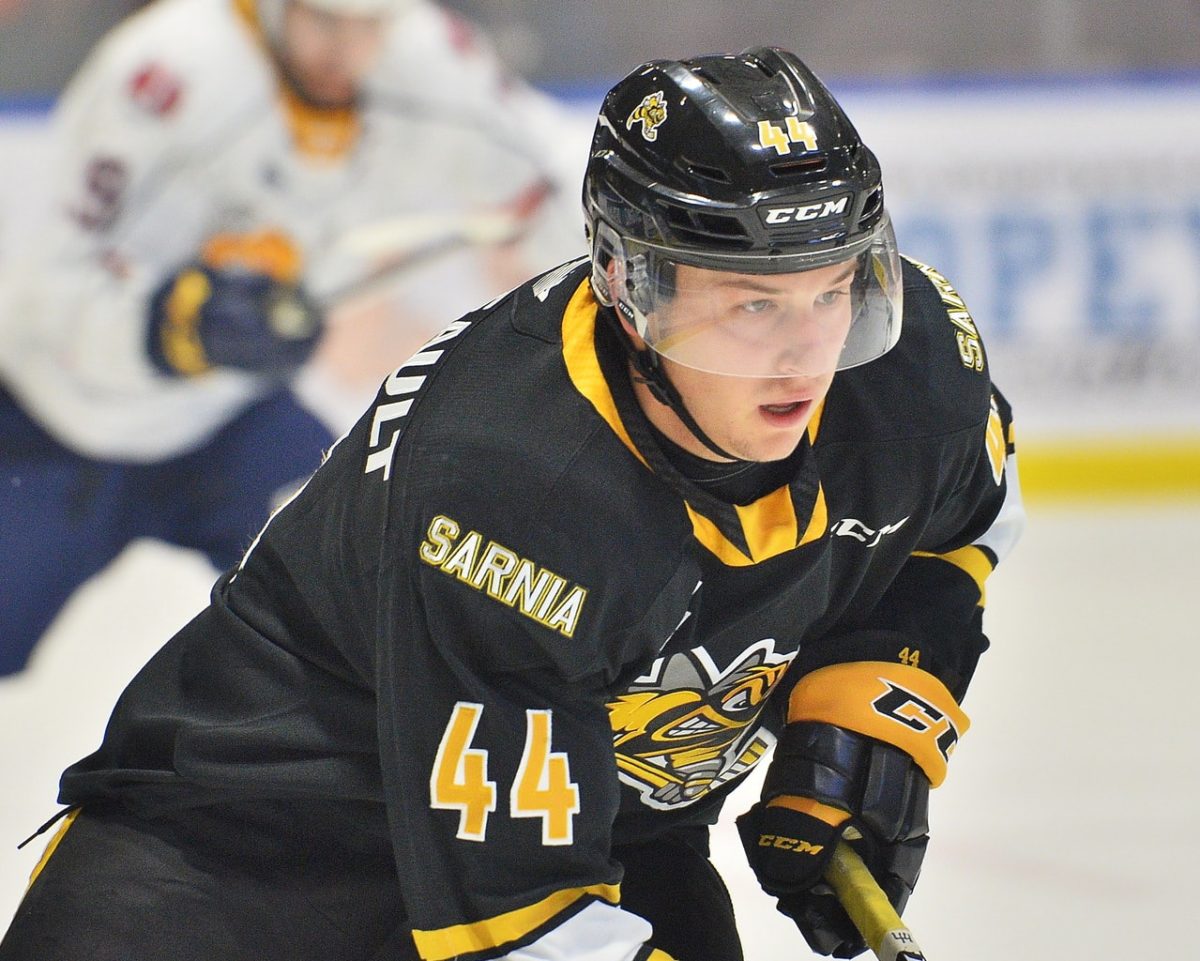 Unless this rule is amended to accommodate a COVID-19 world, the Ducks seemingly have no other choice but to return Drysdale and Perreault to the OHL or add them to the NHL roster when training camp concludes.
Drysdale Could Follow in Fowler's Footsteps
Though the Ducks and Murray do have a reputation for keeping their players in developmental leagues for as long as needed, it doesn't mean they don't make exceptions, especially for players drafted in the first round.
Cam Fowler, a player that many have already compared to Drysdale, is the perfect example. Fowler spent one season with the OHL's Windsor Spitfires before the Ducks drafted him No. 12 overall in 2010. Less than four months later, he made his NHL debut and never played another game in major-junior.
Drysdale has already played two OHL seasons and possesses the skating ability and all-around skill to make a quick transition to the NHL, where, like Fowler, he could find himself soon.
Perreault Is Biggest Question Mark
The position the Ducks are in with Perreault is maybe even more difficult. As mentioned above, he could play in Europe, but it will be harder to find him a spot as the days pass. Not playing in the world juniors makes that problem even worse.
The only option the Ducks may have, other than just being ok with him playing in a non-contact OHL, is to put him on the NHL roster. That is especially true if the Ducks start the season with injuries or players exposed to COVID-19 who are forced to quarantine.
It's happened before. At the start of the 2018-19 season, 2018 first-round pick Isac Lundestrom joined the Ducks two games into the season and played 15 games for them, spanning from early October to early November. The Ducks selected Lundestrom No. 23 overall, not that much higher than they picked Perreault in 2020 at No. 27.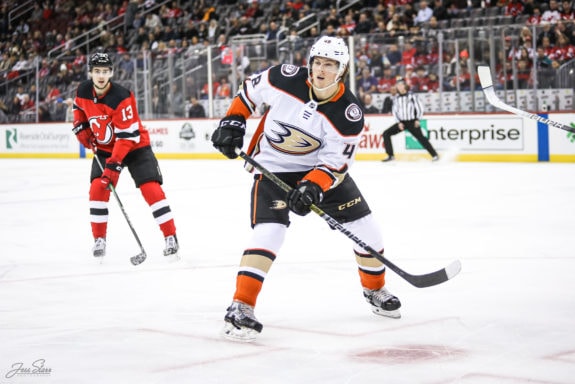 Perreault also has a skill that the Ducks desperately need — his shot. Could the Ducks give Perreault a roster spot and deploy him at the trigger position on the power play to utilize his best skill as early as possible? Possibly.
Ducks' Roster Jam
The main issue is roster space. Drysdale is a top-10 pick who could one day be a franchise centerpiece. He fills a role the Ducks still have open, but Perreault isn't really in that situation. 
Yes, they do need a scorer with a lethal shot, but they don't have a lot of space at right wing. He could easily beat out Andrew Agozzino, but Rickard Rakell isn't going to sit in favor of Perreault. They still need Troy Terry to develop at the NHL level, and Sonny Milano only just arrived and needs a chance to show what he can do.
That leaves fourth-line winger Carter Rowney. Rowney has played well in his role on the Ducks' checking line and has good chemistry with linemates Derek Grant and Nicolas Deslauriers. Not to mention, some general managers don't like putting a player who could one day be a top-six forward in a checking-line role to start their NHL development.
In an ordinary season, I would say the odds don't look good for Perreault to start in the NHL, but this isn't normal. Staying in the OHL could cause him to regress in his development. So, maybe a checking-line role for 2020-21 wouldn't be the worst thing in the world compared to languishing in a non-contact OHL.
The Ducks are in a challenging position with many of their prospects, and Drysdale and Perreault might be their biggest concerns. Without checking allowed in the OHL and European leagues already underway, the Ducks might have no other option than to add both players to the NHL roster come January.
---
---