The Anaheim Ducks are looking to turn the page after the worst season in their franchise's history. Their 23-47-12 record was the worst in the NHL, and losing the first overall pick to the Chicago Blackhawks through the lottery process only adds salt to the wound. Despite losing out on the Connor Bedard sweepstakes, the Ducks are set up to have an excellent draft. In addition to their own selections in the first two rounds, last year's trade deadline has given them two additional second-round picks to restock the prospect cupboards.
Related: Ducks Shouldn't View Fantilli as a Consolation Prize
For this first mock draft, we're going to use the Future Considerations draft tool, which will be making the selections for the 31 other teams. With the defensive prospect pool fairly well spoken for, as well as adding a center with their first selection this year, my focus in the second round will be on the wings. Skilled wingers tend to crop up yearly during the trade deadline, but this is Anaheim's worst position group, and the stifled development of Jacob Perreault and Brayden Tracey warrants refreshing the pool.
2. Adam Fantilli, C, University of Michigan (NCAA)
In nearly any other draft this past decade, Adam Fantilli would be selected first overall. The 6-foot-2-inch center has all the tools to be a franchise center, and he would be Anaheim's best prospect since drafting Paul Kariya in 1993. Check out THW's prospect profile on Fantilli for a better look at his game.
The only thing preventing this from being a slam-dunk selection is that Anaheim has invested a fair amount of draft capital on the center position in recent years. Trevor Zegras, Mason McTavish and Nathan Gaucher have all been selected in the first round, and the team's rebuilding window could wait out Matvei Michkov's contractual obligations in the Kontinental Hockey League. However, I think Fantilli's talent is too great to ignore, and he makes the Ducks better immediately.
33. Charlie Stramel, RW/C, University of Wisconsin (NCAA)
I'm not convinced he makes it out of the first round, but Charlie Stramel was available for the Ducks to select in two separate mock drafts. The only player somewhat resembling a power forward on Anaheim's roster is Max Jones, so Stramel's 6-foot-3-inch, 215-pound frame would be a welcome addition.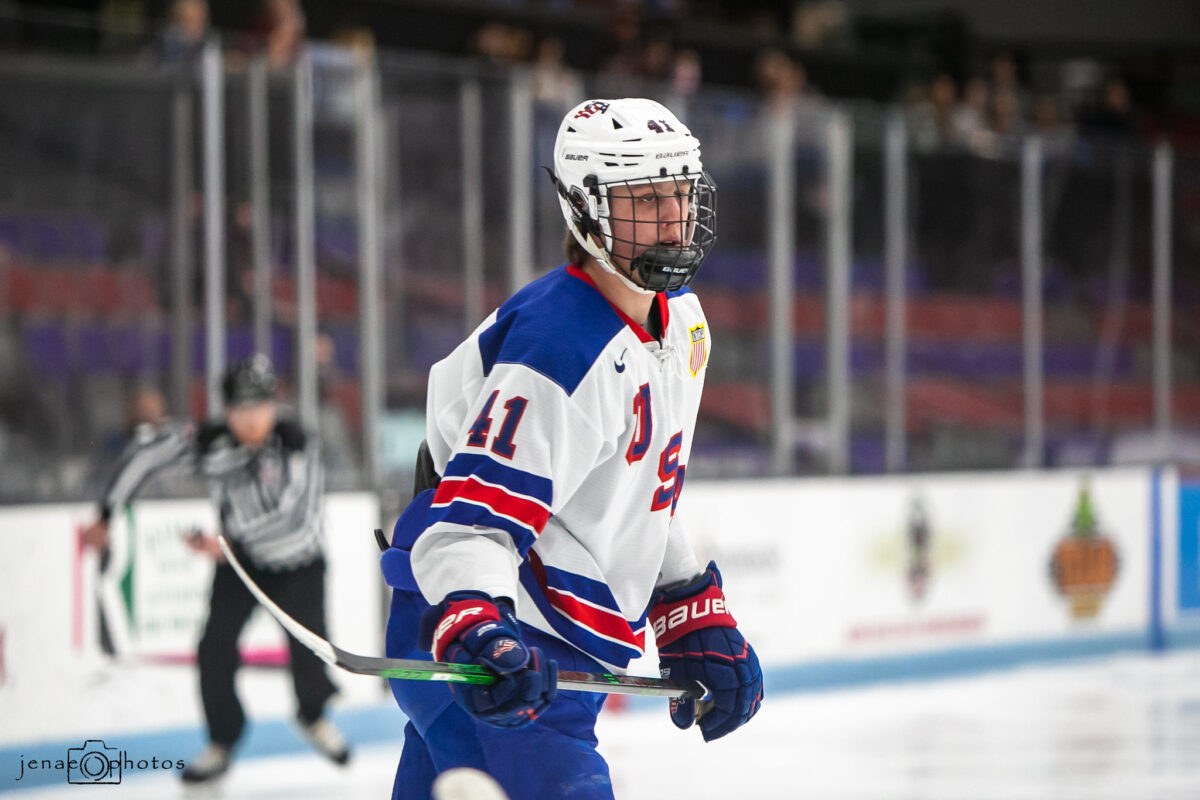 Stramel is a fascinating player in this draft because of his skill set in comparison to the other high-end talent. This class is defined by the smaller, speedy types with high offensive upside, but he is a textbook power forward with limited scoring potential. The lack of scoring may generate red flags, but ideally, the Ducks will get sufficient scoring from the playmakers in their top six. Stramel will make any line he's on harder to play against, and he could have a future as a penalty-killer in Anaheim.
59. Alex Ciernik, RW/LW, Södertälje SK (HockeyAllsvenskan)
After selecting two larger forwards, I decided to use the first of Anaheim's back-to-back picks at the tail end of the second round on Alex Ciernik. The 5-foot-10-inch Slovak winger is probably a few years away from NHL action, but he is considered one of the best skaters in this draft class.
---
Latest News & Highlights
---
Ciernik gained some valuable experience by playing in Allsvenskan, but he missed significant time due to injury. He projects to be a middle-6 winger with a scoring upside, and Anaheim has been missing depth scoring for years. For a full look at Ciernik, here is THW's prospect profile.
60. Aydar Suniev, LW, Penticton Vees (BCHL)
Depending on where you look, drafting Aydar Suniev 60th overall would be either 15 spots too late — he's ranked 36th on Craig Button's list — or 40 too early — McKeen's Hockey has him outside of the top 100. FC's draft tool didn't have a ranking for him, but I went off the board to select him because I'm a believer in his talent. There's no denying that talent is there, as he scored 90 points in 50 games for the Penticton Vees of the British Columbia Hockey League.
THW's prospect profile on Suniev praises several other aspects of his game, including his forechecking, intelligence, and motor. His biggest roadblock to the NHL will be his skating. His skating mechanics are described as "poor," and need to be addressed if he wants to crack an NHL roster. Poor skating mechanics have hindered promising careers before, but it's not a death sentence. Mark Stone is a prominent example of a player who bunked the "bad skater" tag and has become one of the best two-way players in the sport, but Ducks' fans have another example. Corey Perry's biggest weakness was his skating, but he had an incredibly productive career as a league-average skater.
Final Thoughts
By selecting forwards with each of Anaheim's first four picks in the 2023 Draft, we're hoping to shore up the diminishing prospect pool, especially at the wing. Fantilli is a tremendous choice at second overall, and he would instantly be the Ducks' best prospect. Stramel, Ciernik, and Suniev all provide different skill sets and fill unique niches that the Ducks' desperately need to build a competitive roster in the coming years.