It's rather rare that a player disappears as abruptly as Anthony Duclair of the Arizona Coyotes. Considered a dynamic performer with speed, puck awareness and the physical tools to finish plays, Duclair represented a core composite of the quintessential hockey player.
Though the New York Rangers gave up on him in a deal to Arizona for defenseman Keith Yandle, Duclair skated into the desert with the expectation to use solid offensive skills and help turn around a morbid Coyotes offense.
Teamed with former first-round pick Max Domi at center last season, Duclair, a left-handed shot playing the right wing, rose near the top of NHL rookies and his 20-goal season was the second-most by a Coyotes rookie in franchise history. His speed created numerous scoring possibilities and Duclair eased into the culture of the Coyotes' dressing room.
Then, a total meltdown.
Monitoring the slow start experienced by the Coyotes this season, Duclair's offensive contribution suddenly and unexpectedly stopped. Coach Dave Tippett tried several linemates and Duclair appeared stuck in cement. While Domi experienced a similar slow start, Duclair experienced more of a drought. With only three goals in his first 41 games, the Coyotes decided Duclair was a luxury the organization could not keep on the NHL roster.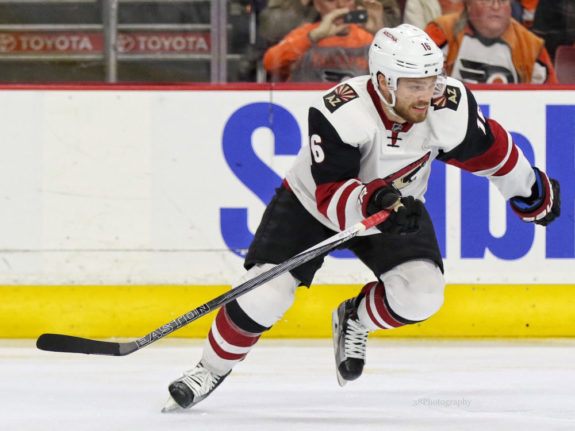 Sent to the Minors
Banished to AHL Tucson on Jan. 18, Duclair fared no better. In 16 games with the Roadrunners, Duclair picked up one goal and assisted on seven others.
Still, this is not about punishment nor reward. With the trade of Martin Hanzal to Minnesota just before the trade deadline, that opened a roster spot, and the Coyotes are anxious to see if Duclair can provide a rebirth.
"He's one of the best skaters in the world, and we're happy to have him back," Domi told The Hockey Writers after Sunday's 2-1 loss to the Carolina Hurricanes in Gila River Arena. "He looks great and he's ready to transition back to success."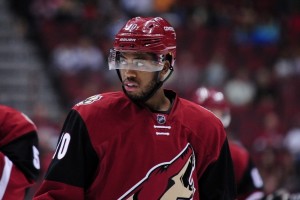 After skating 8:51 in first game back March 3 at Carolina, Duclair's playing time was about the same for his second game. Against the Canes Sunday night, Duclair was credited with 8:46 of ice time and assisted on Peter Holland's goal early in the second period. That was the Coyotes' lone tally of the game and the second time in their last four contests in which they managed only one goal. The assist on Holland's tally represented Duclair's first scratch on the scoreboard since he recorded two assists Jan. 6 at Anaheim.
Despite his return, Duclair has yet to distinguish himself, and the Coyotes are waiting for that moment.
"(Duclair) was a little better than in the first game," Tippett told The Hockey Writers after Sunday's game. "He had lots of try but not much happening now."
For now, Tippett placed Duclair as a fourth-line right wing that had Holland at center and Lawson Crouse on the left wing. At this point, Domi is skating at left wing with Christian Dvorak at center and Radim Vrbata on the right side. Until Duclair shows flashes of last season as well as a glimpse into the future, there's a better than even bet he remains on the fourth line.