The Calgary Flames have had a roller coaster ride of a season, with more ups and downs than anyone can keep track of.  Throughout the season, the Flames have been all over the standings, seemingly following every winning streak with a losing streak and every losing streak with a winning streak.
Part of this erratic season can be attributed to Calgary's goaltending tandem of Brian Elliott and Chad Johnson. For much of the season, Elliott and Johnson have let down the Flames, but recently they've turned things around and could even be considered a decent pair as of late. However, the question that's raised now becomes: Will Calgary's recent goaltending be sustainable for the playoffs?
The Season
Coming into Calgary, there were high expectations for Elliott. With St. Louis, he had the best save percentage of any goalie who played a full season last year in the NHL at .930 with an incredible 2.07 goals-against average to go along with it. So naturally, after the mess that was the Flames' crease last season, when Calgary went out and traded for Elliott it was an obvious upgrade.
However, Elliott disappointed and did it in a major way. By mid-November, he was already considered a bust and Johnson, who was deemed as nothing more than a backup coming in to the year, quickly replaced him as starter. Elliott started just five games in November, then four in December, compared to Johnson's 19 starts during those same months.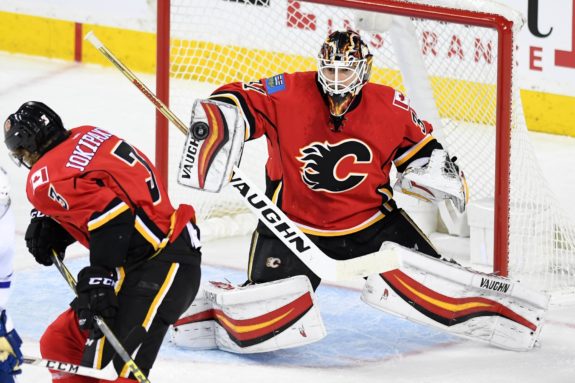 Johnson was rock solid as a starter through November and much of January, posting a .939 save pecentage with a 12-3 record between Nov. 3 and Dec. 10. He was playing well enough that there was even talk that he'd found a permanent home in Calgary.
By January, however, the Flames started to struggle — Johnson started to struggle — meaning Elliott got his chance to regain the starting job.But Elliott didn't jump at the opportunity and there was even a good period of time in which goaltending was so poor that coach Glen Gulutzan implemented a "win and you're in" route with the Flames duo.
But into February, Elliott has stepped up and all but solidified himself as the starter he should've been coming into the season, going 10-1-1 in his last 12 starts. The only problem with this is that it's hard to be sure whether Elliott is back to playing at the level we all know he's able to or if this is just a stretch of good goaltending that Calgary has seen come and go too many times this season.
Playoff Experience
When it comes to playoff experience in net, the Flames have to turn to Elliott. He's played 37 games and though his career stats aren't the most flattering, last season he did help take St. Louis to the Western Conference Final and had a .921 save percentage through 18 starts. Elliott was solid in the first two rounds of last year's playoffs but he did choke in the third round against the San Jose Sharks, prompting Jake Allen to enter the series.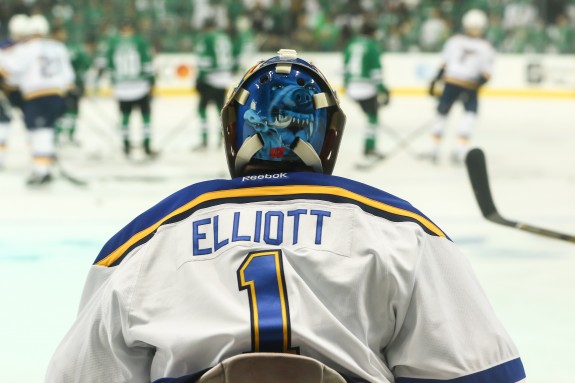 Johnson, on the other hand, has no experience in the playoffs and hasn't played a playoff game since 2013 with the American Hockey League's Portland Pirates. If Johnson does need to step in, it'll be a toss-up as to whether or not he'll be able to win important games for Calgary.
No matter who Calgary faces in the playoffs, whether it's the Minnesota Wild, San Jose or someone else, they're almost certainly going to be an underdog. To have a shot at making it past the first round, the Flames are going to need something they haven't had all season — consistent goaltending.
Though there have been many problems this year in Calgary, the biggest area of concern has still been the Flames' consistency in the crease. Elliott has been playing like a star recently and Johnson has shown flashes of brilliance, but all signs still point to Calgary's goaltending falling through again, this time when it matters most. Even if Calgary is on their best run of the season right now, a "this time's going to be different" mindset when it comes to the Flames' goaltending should be approached with caution.