DULUTH — Women's college hockey saw a weekend full of surprising results that shook up the national rankings. Among the weekend's unexpected results, the no. 2 Gophers tied North Dakota in two straight games, Princeton upset Colgate, St. Cloud shutout Bemidji State, and then there were ties between Cornell and Quinnipiac, Vermont and Northeastern, and Boston College and Northeastern.
But the weekend's biggest match was arguably the no. 1 Wisconsin Badgers trekking to the iron range for a series against the no. 3 ranked Duluth Bulldogs.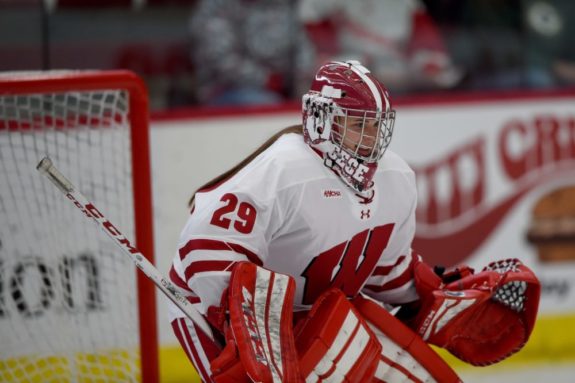 Game 1
The big news entering Friday's play was an upper-body injury to Badger goaltender Ann-Renee Desbiens who had played every second of the season to that point. Desbiens did not travel with the team and the Badgers felt that absence Friday.
The star of that contest would be in the opposing net. Duluth goaltender Maddie Rooney helped the Bulldogs emerge from a lopsided first period with a 0-0 tie, despite a 20-3 shot advantage for Wisconsin. "Maddie was fantastic again all weekend," said Duluth coach Maura Crowell on Saturday. "I think we feel good about Maddie every weekend."
After that Badger surge, Duluth was done being pushed around and went almost shot for shot with the Badgers over the next two periods, beating freshman Badger netminder Nicole Cece four times en route to a 4-1 win. It was Wisconsin's first regulation loss of the season.
"Our big change was moving our most offensive player (Lara Stalder) back [to defense]," Crowell said. "We moved her back because we knew what kind of offense we were going to be facing and we thought that having her back there would give more offense from the back end. It certainly helped Friday night."
#WCHA Co-Defensive Player of the Week, Maddie Rooney: NCAA-high 88 saves, WCHA-best .946 sv %; 45 stops in No. 3 @UMDWHockey W over No. 1 UW pic.twitter.com/vVUSOr2QO5

— WCHA Women's Hockey (@WCHA_WHockey) November 22, 2016
Game 2
Coaches often say that you learn more from a loss than a win and that going through a loss can be good for a team who hasn't yet lost a contest. Saturday, the Badgers showed that seeing some adversity was beneficial for them. Duluth controlled large swaths of play in the first period, testing Cece repeatedly. But in the second, the Badgers tipped the scales in their favor.
They owned a 20-2 shot advantage in the second. Yet, Duluth managed to stick with Wisconsin nonetheless, exiting the period with just a 2-1 deficit.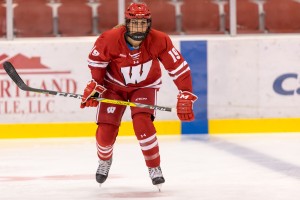 But, as Crowell said postgame, "the wheels fell off the bus a little bit" in the third period. A power play and a shorthanded goal from Annie Pankowski in the third extended the Badger lead to 4-1 where it would sit when the dust settled. "[Pankowski is] a really good player," Crowell said. "She's big. She's powerful. She can skate. She's smart. She's got it all."
Pankowski finished the game with a natural hat trick. The 2016 Patty Kazmaier Award finalist and this week's WCHA Offensive Player of the Week has struggled offensively. However, her play away from the puck and her leadership continues to make her such a force that she made the U.S. national team for the 2016 Four Nations Cup this fall. Nonetheless, her offense has lagged following a season where she posted 22 goals and 58 points in 40 games. She entered the weekend with no goals and even after the hat trick she's sitting at less than a point per game pace.
For the Badgers, the win was big, not just to prove they could handle the adversity of a loss, but to prove they can win without Desbiens, arguably the best goaltender in college hockey right now. Those are some important lessons for the Badgers who, despite the loss, remain the top-ranked team in the nation in both the USCHO poll and the USA Today/USA Hockey poll. However, this was the first week since Oct. 10 where they didn't get 100 percent of the first-place votes in both polls.
We have to congratulate #Badgers @NikkiCecee, who earned her first collegiate victory tonight!#OnWisconsin pic.twitter.com/yWvbI9Zhub

— Wisconsin Hockey (@BadgerWHockey) November 20, 2016
Oddly enough, Duluth beat the number one team in the nation only to see their ranking fall. In part, the win may be given an asterisk by some voters because of the absence of Desbiens. In the USCHO poll, they fell from third to fourth and they're now tied for third in the USA Today/USA Hockey poll.
St. Lawrence is the team climbing past Duluth and it makes some sense. To date, they haven't lost a game in regulation. This week they beat Yale on Friday, Brown on Saturday and Penn State on Monday without allowing a single goal. In fact, they haven't allowed a goal in four games and they've only allowed one goal in the last six games. Despite staying below Minnesota in the polls, they're the only team besides Wisconsin to grab first-place votes.
"It's nice to take down number one this weekend," Crowell said Saturday. "That certainly gives us a lot of confidence. I think we have a lot of confidence, but sometimes we forget how good we are. When you get the win like that last night it certainly seals the deal for you. Moving forward, I think we know the target is on our back a little bit too, going against Harvard, St. Cloud and then Mankato the rest of the semester."