Anders Lee, where are you?
Where's the 25-goal scorer from two years ago? As a matter of fact, where's the hard-working grinder that scored 15 goals last season and was a force on the power play? With just a goal in his first 17 games, Lee, like Andrew Ladd, Nikolay Kulemin and Jason Chimera, is broken. They aren't generating shots, can't drive possession and are simply invisible.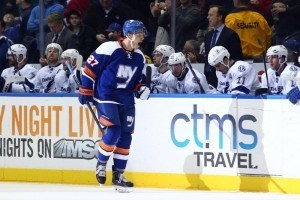 But in the case of Lee, who doesn't have Chimera's speed, Kulemin's defensive ability or Ladd's shot, it could be even harder for him to break out of his current funk. The bottom line is Lee has to do something, or else he'll be one of the first Islanders to be traded, or even worse, be sent down to the American Hockey League until he gets his game back.
Not Shooting Enough
The interesting thing about Lee is that since his rookie season in 2013-14, where he scored nine goals in 22 games, his shot totals have gone down considerably. With 68 shots in those 22 games, he was at a three shots per game clip, which is at a Patric Hornqvist type level. The big difference is Hornqvist is a consistent 20-goal scorer in the NHL, Lee is not. While Lee did score 25 goals in 2014-15, he did so on 197 shots in 76 games, which is much closer to two shots a game than three. Last season, Lee scored 15 goals and his shot total went down to 183, despite playing in 80 games. This season, Lee has only 28 shots on goal through 17 games. Whether it's a lack of skating or luck, Lee is not nearly as involved as he needs to be. With a host of youngsters the likes of Michael Dal Colle and Joshua Ho-Sang in Bridgeport, Lee could find himself the odd man out.
How to Get the Old Lee Back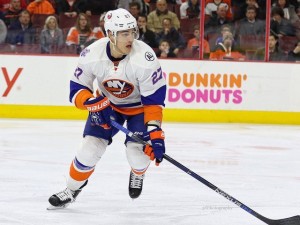 At 6'3″, 228-pounds, Lee needs to get back in front of the net. Like former Islanders 30-goal scorer, Matt Moulson, Lee can make a living cleaning up garbage in front. Although he has a quick release and a good shot, he's the guy that needs a few garbage goals to get his confidence going. The Islanders solid power play hasn't helped his production either, but when was the last time you've heard Lee's name mentioned with the man-advantage? Missing the playoffs last season after he was hit in the leg by a Johnny
Boychuk slap shot against the Rangers late in the season, could Lee have some hesitation to getting into the dirty areas that he did before? If that is the case, then Lee's season, much like the Islanders', could be over already.
Lee, Like the Islanders, Is Stuck in Limbo
Playing most of this season with the Islanders second-leading scorer Brock Nelson, who has 12 points in 17 games, Lee has no excuses to not have at least a handful of tallies so far. With two more years left on a contract and $9 million still owed to him, he's got a lot of ground to make if he wants to spend the rest of his career in Brooklyn. As for this season, however, Lee, like the Islanders, is stuck in a funk that appears to be never-ending.