The goaltender position is almost as much mental as it is physical. If ever there was a position in which intangible qualities like confidence and a clear mindset come into play, it's for those masked individuals between the pipes. When you're expected to react in milliseconds — facing the best shooters in the world at the NHL level — you can't hesitate. You can't second guess yourself.
When you start doing that, it normally leads to a disastrous outcome.
Marc-Andre Fleury is in the midst of a transition that many professional athletes face at some point in their careers. He's the cagey veteran with at a young up-and-comer on his heels, ready to completely take the reins of the Pittsburgh Penguins. He sat on the bench and watched as the team that belonged to him for so long won a Stanley Cup with another goalie in the crease. No matter how professional, or how understanding an individual is, that isn't an easy thing to digest. With Fleury's less-than-stellar performances as of late, one has to wonder if it's beginning to weigh on him.
Fleury has handled this matter with a grace that only he could. He remains upbeat, and he still willingly acts as a mentor to Matt Murray while ensuring there's no distraction in the locker room. Teammates and fans adore him for a reason, and it isn't solely due to his impressive on-ice resume.
That said, in what will be a tough pill to swallow for all parties involved, maybe a change of scenery is exactly what the 32-year old netminder needs right now.
Strike While the Irons Hot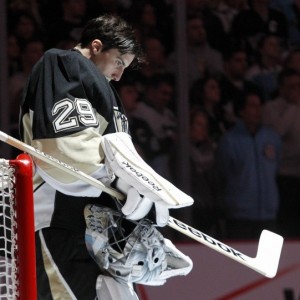 This season has already seen plenty of goaltender injuries and issues around the league. Pittsburgh is no stranger to that fact, as they were in need of backup help and claimed Mike Condon off waivers a few weeks ago, only to swing a deal to send him to Ottawa once Murray returned to action. We've seen long-term injuries to multiple goaltenders while others simply haven't panned out as their respective teams originally assumed.
In other words, there's likely some immediate demand for a guy like Fleury.
Elliotte Friedman of Sportsnet — in his always popular and informative '30 Thoughts' — recently mentioned a comment from an unidentified NHL general manager that sheds some light on how others are viewing the goalie situation in Pittsburgh. According to Friedman, one GM who "may" look at a goalie told him, "I'm not doing anything until I know what Pittsburgh's doing with Marc-Andre Fleury."
Fleury, as well as the Tampa Bay Lightning's Ben Bishop, will remain atop most lists around the league for teams in search of goaltending help. He's signed to a cap-friendly deal when you consider his experience and the current salary demands for top-flight goalies and could put a bubble team over the top and into contention.
His recent trend, though, won't do Pittsburgh any favors on the market if it continues.
Downward Spiral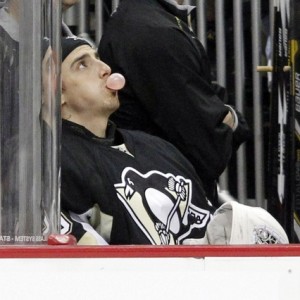 Fleury was magnificent to start the year in the absence of Murray — who missed the first few weeks with a broken hand — but has since cooled off drastically. Whether or not you believe in raw save percentage and goals against average data, Fleury's metrics paint a daunting picture of his performance so far.
Fleury is now 6-4-3 with a lowly .907 save percentage and 3.18 goals-against average. Teams around the league know what he's capable of but if those numbers keep up, will he still carry the same value as he does right now?
Looking at more specific data via Corsica.Hockey, Fleury currently boasts the sixth worst high-danger save percentage in the league among goalies with at least 250 minutes played with a 75.95-percent. While he still tends to make the pretty, highlight-reel saves in close, he's getting beat quite often on prime chances.
His struggles in that area are worrisome. Especially playing behind a high-event team like Pittsburgh.
The root of Fleury's decreased performance can be debated, but his current situation in Pittsburgh is likely a major reason for it. A new team, where he's undeniably 'the guy', would do wonders for any goaltenders confidence level and Fleury isn't exempt from that. The Penguins are remaining patient and letting the process play out, but maybe it's time to consider a move.
If recent choices around who starts are any indication, this is Murray's crease anyway.