Dylan Strome had a hectic 2014-15 hockey season.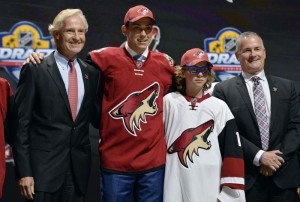 In his draft-eligible year, he spent a chunk of the summer in the Czech Republic for the Ivan Hlinka Memorial Tournament (capturing a gold medal). Then the OHL season began in earnest, where he and Connor McDavid led the Erie Otters on a lengthy playoff run that was unfortunately cut short in the final round by the Oshawa Generals, who went on to win the Memorial Cup. His year ended with the media whirlwind that is the NHL Entry Draft, where Strome went third overall to the Arizona Coyotes. The next phase of his hockey life began following the draft, as he returned to Calgary for another Hockey Canada event – summer development camp for 2016's World Junior team.
The first individual selected after the draft's two generational talents, McDavid and Jack Eichel, Strome spent his season working hard to ensure he wouldn't be forgotten in the wake of those players.
"I think people said it was a deep draft, so I was just going to do whatever I could to put my best foot forward and play every game like it was my last," said Strome. "I think this year it worked out pretty well. It was tough sometimes, you know they [McDavid and Eichel] get a lot of credit, but there's a lot of good players in this draft that could play next year or could be good players in the future, so I'm just trying to be one of those players."
For what it's worth, the first four selections from the 2014 Draft – Aaron Ekblad, Sam Reinhart, Leon Draisaitl and Sam Bennett – all spent good chunks of the 2014-15 season in the NHL, so the idea that Strome could make the jump as an 18-year-old is hardly out of left field. He's got NHL size already and carries himself with a lot of maturity on and off the ice. The Arizona Coyotes also have only a dozen forwards penciled in for NHL jobs next season, so the opportunity exists for Strome to make the jump. He admits to being surprised when the Coyotes selected him, as he had no idea which team would select him.
"I had no idea until when they picked," said Strome. "I wish I knew so I would've been a little less nervous, but it was exciting. It was interesting, it was a fun day. One of the coolest days of my life, for sure. I had no idea what to expect going in. I mean, that [Arizona] was kind of my gut feeling, but I really had no idea. When my name was called third, that was pretty special and something I'll never forget."
After a season in which he won the OHL's scoring title – beating out McDavid and fourth overall pick Mitch Marner – and narrowly missed winning a league championship, Strome seems poised to make a run at an NHL job in the fall. He admits that's his goal, though he's open to going back to the Erie Otters should the Coyotes deem that the best move.
"I guess [I'll play] wherever they put me," said Strome. "I mean, obviously I want to play in Arizona, that's obviously the goal. I know I'm young, but I think it's important to do whatever you can to make that team. I feel like I can contribute at the NHL level. I've had a good summer so far. It's been busy, but you know, working hard and obviously on ice a lot. [I'll] continue to get bigger and stronger and faster and more powerful, and I'm going to do whatever I can to make the Coyotes. That's my goal."