Defense Defense Defense! By far the biggest pleasant surprise in Colorado's first few games has been their play in their own zone. After last year's debacle, the intention was to build a bigger, tougher unit. So far, the results are exactly that. The Avalanche look harder to play against, and are excelling at eliminating the attacking players' time and space. Jan Hejda (6-3, 229 lbs) has brought a shot-blocking presence, and also added calmness, consistency, and a veteran's defensive awareness. Ryan Wilson (6-1, 207 lbs) has picked up where he left off last year: the man is simply a beast, destroying people with big hits. The defense as a whole has been calmer and more organized, successfully recovering and clearing pucks. Most importantly, they've protected their prized new goalie by forcing shots and chances to come from the outside; they've kept teams out of the slot and the crease area. Perhaps most surprisingly for a unit whose smallest player is the 6-1 Wilson, the Avalanche D is showing signs of being able to successfully move the puck to the team's speedy forwards, and to join the rush on transition.
****************
Landy and the PK Nowhere is this improved defensive coverage more evident than on the PK. The Avalanche are playing an up-tempo, puck-pressure style on the penalty kill, and it is working. They look like a confident group, blocking shots, retrieving pucks, and preventing easy entry into the zone. The success is in the numbers: although they allowed their first power play goal against Ottawa Thursday night, they have killed off 13 of 14 penalties for a success rate of 92.9%.  Much credit has been given to assistant coach Sylvain Lefebvre, who is charge of the PK.
And how about 18 year old Gabriel Landeskog being on the first unit of penalty killers within his first few games in the league! He and Jay McClement have formed a formidable duo shutting down the first 30-40 seconds of opponent's power plays. Seeing Landy hold the puck against the boards in the offensive zone, killing off a good 15 seconds while shorthanded against Columbus Wednesday night makes me wonder just how good this kid is going to be.
****************
Varly Varly Varly! A lot of the confidence the Avs are showing defensively has got to be traced back to the goalie. Semyon Varlamov has given them a presence they can believe in; players don't look afraid to make a mistake out there. Giguere had very little to do in his first start and win against Ottawa Thursday, but Varlamov, in three games, has faced 39, 30, and 33 shots. Stats are often skewed in the early going, but Varly's .960 save percentage and 1.30 goals against average is worth noting. A strong goalie can have a ripple effect through an entire team, and Varlamov's poise and rebound control are doing just that. He looks to be exactly what he was advertized as: a big, athletic, keeper who will consistently take away the bottom of the net.
****************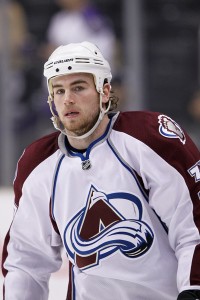 As for the offense, Colorado needs Duchene and Stastny (among others) to start producing offensively; scoring seven goals (including going 4 for 7 on the power play) on Thursday is impressive, but Ottawa hasn't exactly been a paragon of defense in the early season. The Senators have allowed an average of 5.25 goals against a game. Colorado's most consistent offensive pressure has come from the third line of Ryan O'Reilly, Daniel Winnik, and Landeskog. While this bodes well for the future and for secondary scoring (with O'Reilly and Landeskog especially tempting fans with the thought of a long-term dynamic duo,) the top two lines will need to get their names all over the score sheet if the Avs are going to keep up their early season pace.
****************
Meanwhile, the early season trade market has started to trickle out some minor deals, as teams work around their cap and roster issues. Colorado was the first to make a move over the weekend, sending defenseman Kyle Cumiskey to the Anaheim Ducks for defenseman Jake Newton and a conditional draft pick. The Avalanche continue to increase the size of their blue line depth, here switching the 5-10, 185lb Cumiskey for the 6-3, 200lb Newton.
Cumiskey had a short but fairly productive career with the Avalanche. Surprisingly productive, in fact, considering he was a 7th round draft pick (222nd overall in 2005). He first cracked the NHL lineup in 2007, bounced back and forth between Colorado and Lake Erie (AHL) for a few years, and was a key contributor to the 2009-10 Avalanche squad that surprised many by making its way into the playoffs. His 20 points in 61 games that year speak to his offensive potential from the back-end.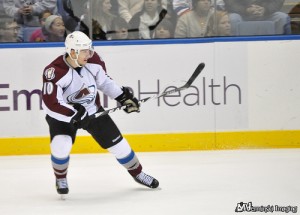 Kyle's lack of size has always been a concern, and he has missed significant time due to injuries. He struggled through a shoulder issue early in his NHL career, and missed almost all of last season due to two separate head injuries. He became expendable in Colorado due to the return to health of Kyle Quincey, and, more directly due to the emergence of Stefan Elliott and Tyson Barrie as the puck-moving defensemen of the future.
He has already been assigned to Anaheim's AHL affiliate in Syracuse, and remains on injured reserve after sustaining a groin problem in training camp. He could eventually crack the Ducks' top six, which, after Visnovsky, Fowler, and Beauchemin, becomes fairly thin. I've always thought Cumiskey could be a useful bottom pairing guy and power-play specialist. He possesses an NHL shot and good vision, but is often a liability in his own zone and is pretty much useless against the boards and in the corners.
We wish him luck in So-Cal!
Adam uses his spare time to absorb as much information he can from the glorious world of the NHL. He covers the Colorado Avalanche closely, but has his heart tied up with that fickle mistress from Southern Ontario.