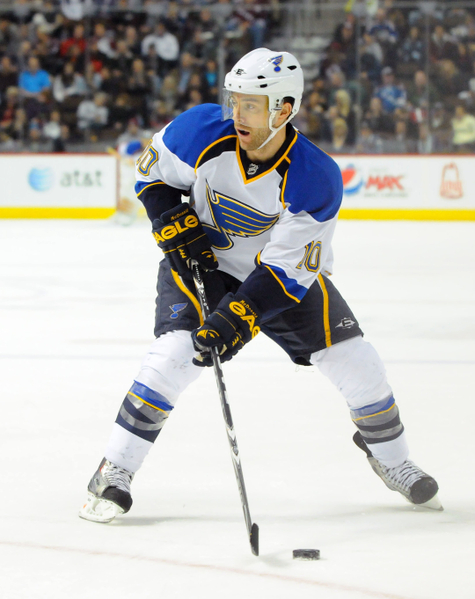 That didn't take long, did it?
In 2010-11, the St. Louis Blues dealt with injury after injury, forcing the club to field a lineup consisting of numerous inexperienced skaters straight off their AHL affiliate, the Peoria Rivermen. Over the summer, the Blues did their best to add depth to the squad, both at the NHL level and AHL level, in case there was another string of injuries in 2011-12.
Only three games into the new season, the Blues are already dealing with several injuries. We won't dive into further detail about David Perron's battle to get healthy (he's been out since November of 2010) but his lingering injury does factor into this mix as well.
B.J. Crombeen
Crombeen broke his left shoulder in the team's final preseason game and is out indefinitely. While he may not be one of the main faces of the franchise his role on the team is a valuable one, that will be difficult to fill. Crombeen throws crushing checks and knows how to disrupt the opposition, and while he may not contribute much offensively, the intangibles will be missed.
While Crombeen has been sidelined, the Blues have replaced his grit in the lineup with Ryan Reaves – the lone regular fighter the Blues have.
Carlo Colaiacovo
Injuries are quickly becoming a regular aspect of Colaiacovo's game. Following an awkward fall into the boards in the team's opener, Colaiacovo has suffered symptoms from his concussion and is on the shelf until his headaches and symptoms subside.
While he recovers, the Blues have used Nikita Nikitin in his place and added additional depth by claiming Taylor Chorney off waivers from the Edmonton Oilers.
Andy McDonald
That brings us to the most recent injury hindering the Blues, Andy McDonald's concussion. Unfortunately, a concussion isn't new territory for McDonald who suffered one in 2010-11 that caused him to miss 24 games. Now McDonald leaves the team to return to St. Louis to get his latest head injury examined.
Concussions are fickle.They vary by incident and by player. Last year, McDonald made a pretty quick recovery while on the flip side, we've seen how long a concussion can endure (David Perron).
While McDonald is out of the lineup, the Blues could turn to Chris Porter or Evgeny Grachev to fill his spot in the lineup. Porter had an enormous preseason yet hasn't proved he can be a regular contributor at the NHL level. The story is similar with Grachev who brings immense size but has yet to find his way at the NHL level. Still, both players have plenty to prove and could be solid injections into the lineup while McDonald recovers.
A social media and marketing professional, David is an NHL writer with a particular passion for the St. Louis Blues. His work has been featured on numerous hockey websites including SI and Comcast. He has made frequent appearances on Sirius XM to discuss fantasy hockey, and currently runs a St. Louis Blues site, FrozenNotes.com.