The Rangers are off to a terrific start to the 2015-2016 campaign. The team was expected to be competitive, and as questions around the roster continue to answer themselves the team will start to explore options to give themselves an extra edge come the trade deadline. With Tanner Glass departed to the minor leagues it seems to me that the team could use some bite in their bottom-nine. Below we consider some potential trade candidates, look into their likelihood of being moved, and  examine what they should cost. I made this list by looking into guys who play this style, and will be unrestricted-free-agents at years end.
Darren Helm
Helm is a speedy, hard-nosed forward who would push the Rangers for-check over the top. Helm is relentless in his style, he isn't a fighter, but he also isn't one to shy away from taking the body.  A bonus with the forward is that he has 77 games of playoff experience and the ability to score. It would take a nice package to land the forward, and he would also be another natural center on a team that already seems to have too many, so these details could deter the Rangers from pursuing him. It's not known if the Red Wings are shopping him, but if they put his name on the board I expect the Rangers to take a serious look at him.
Andrew Ladd
Ladd would be a welcome addition to the Rangers as his Stanley Cup experience, mixed with his ability to play a heavy, yet talented game would be exactly what the team lacks. I see Ladd as a long shot, mostly because the Rangers don't have many assets to part with to land a guy who would be a pure rental. If the Jets decide they are moving him, there is no doubt that the Rangers will take a look. But at the moment it looks like the Jets (who have a ton of cap space) will find a way to get their captain signed. Larry Brooks of the New York Post, lists Ladd as a grinder that could help change the complexion of the team. On a side note, Ladd does hold a limited-no-trade-clause.
Ryan Carter
The Rangers remember Carter from the 2011-2012 playoffs when he ran a muck on the Broadway defense by sending anyone who got in his way through the boards. Aside from being a physical presence, the forward has the ability to put up points, and on a Rangers team that plays a fast style, that is a must-have. Carter is an interesting option, because he can move around the lineup, and he could likely be had for cheap; maybe a mid-round-pick, or a so-so prospect. Still there's no guarantee that Minnesota wants to dump him, as they may be interested in keeping him around for their own push.
Kyle Chipchura
Chipchura is a gritty forward who is willing to drop the gloves, but the bonus with him is that he can produce on both sides of the puck. He has a good frame to play a heavy game and would likely come very cheap at the deadline compared to others on this list. He could give the Rangers a heavier element on their roster, without reducing their speed. Chipchura has notched 34 points over the past two-seasons, so he isn't a great point producer, but he's good enough to get on the board when the opportunity is there. As of now the Yotes are off to a good start, but they will likely be looking to move out some veterans for assets by years end. If the Rangers do pursue Chipchura, then they should look to involve Tanner Glass in the trade. Arizona has some cap space and they may be willing to take a veteran whose been on good teams. This would allow the Coyotes to keep a physical presence on the lower line, and allow the Rangers to off-load some money.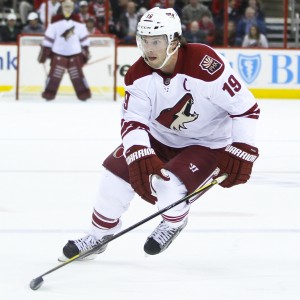 Shane Doan
Doan would be a much cheaper version of Andrew Ladd, and his presence would be instantly felt in the room. He plays with an edge, has the ability to contribute on offense, and if the Rangers wanted him he likely wouldn't have to give up the house to get him. The veteran would have to waive his no-movement-clause to land with New York.
Doan (like everyone on this list) is a UFA at the end of the year, so the Rangers don't have to worry about his money staying on the books. The forwards best days are behind him, but the gritty winger would be an extra right-handed shot, and would fit nicely into the top-nine.
Steve Downie
Downie plays a hard-nosed game, but the fact is that he often times goes over the line and takes bad penalties. The winger has a good combination of talent and grit that make him interesting, but there are still questions with a guy like this even with the potential upside. Look at last season with Pittsburgh; Downie had 14 goals and 14 assists which are respectable numbers for a lower line winger. Then look at his penalty minutes, he had 238, which is way to many, when you consider that he had nine misconduct penalties and one abuse of officials penalty totaling 100 minutes, you start to think about how he could hurt you.. What this tells me is that he has trouble understanding where the line is, and anyone will tell you that bad penalties can break a teams back in the post-season. Maybe if the Rangers feel they can temper him, they make a move, but something would need to push them this route in-my-opinion.
Eric Staal
Staal has had his name connected to the Rangers and largely because his brother suits up in blue. It could happen, but the Hurricanes would have to be willing to eat a ton of cash, which is something their not known for; and Staal would have to waive his no-trade-clause to go to New York, so there are a few things that would need to happen. The big center isn't what he was and his price likely isn't very steep, but the Rangers would again have to move out young talent to grab a guy for a few months. Staal would make the Rangers bigger, he is a solid passer, and can be a nightmare to defend under the goal line. He could stay at left-wing and even make a cameo at center if need be. He has won a Cup back in 05-06 with the Hurricanes and may be hungry for another. If the Rangers really feel like this is the year then maybe you consider moving out Emerson Etem and a pick, but the Rangers should not go anywhere near guys like Brady Skjei and Pavel Buchnevich for Staal.
Riley Nash
You may have read this name and asked yourself "who?", well Nash is a solid lower line option and even though  he isn't overly physical, I love the way he works on the ice. Nash is only 26-years-old, he has up-side, and he's proven that he has a bit of offense in his game by putting up 49 points over his two previous seasons. He isn't as physical as the other guys on this list, but he does play a heavy game, and his style wouldn't be foreign to the Rangers. If the Rangers pushed for him he likely wouldn't be too expensive. Nash is a UFA at year's end but if the Rangers did grab him they might be able to retain him as his current contract only pays him 1.15 million through the course of the year.
Chris Neil
A heavy forward with a decent skill set would be a welcome addition on the Rangers fourth-line. The Rangers have shown interest in the beefy winger in the past and could kick the tires on him again if the Senators are interested at the trade deadline. Neil is a net front presence with an underrated skill set as a grinder. If the Rangers could get him cheap he's worth looking into. The 36-year-old winger could be hungry for another playoff run, and he has the ability to help this team. That being said, if Ottawa asks for anything more than a mid/low round pick, you turn and run. Neil does have a limited-no-trade-clause.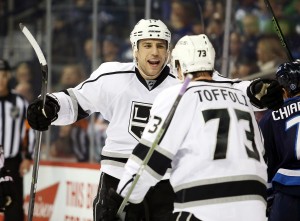 Milan Lucic
I doubt that the Kings move Lucic, but there is always a chance. If they can't re-sign Lucic, then they can grab an asset at the deadline when prices are high. Kings' Head Coach Darryl Sutter has mentioned that he doesn't know where the big man fits. Lucic plays a heavy game and is one of the few players in the NHL who can score, while still being among the toughest players on the ice. I don't know if he would fit in well with the Rangers because he is rather slow on his feet, but his ability to create havoc in front of the net may off set his inability to play a speed game. Another factor that make him appealing is that he only counts for 3.25 million against the cap before hitting free-agency in the summer. I expect the Kings to hang onto him, but I doubt that he falls into the "unmovable" category.
Chris Stewart
Stewart was a free agent this past year and if the Rangers really liked him they could have offered him a cheap contract. He ended up going to the Ducks on a one-year-deal that is currently paying him 1.7 million. The Ducks have gotten off to a bad start so they could consider sending the big winger elsewhere to land an asset. Stewart plays a heavy game, is a right-handed shot, and isn't afraid to drop the gloves.  The most appealing thing about him is that he has underrated speed, and skill and if the Rangers could grab him cheap then he could be a huge pick-up for a playoff run. With Stewart there have always been rumors about his commitment, but on a one-year-deal it's hard to think he wouldn't work relentlessly to earn himself a new contract for next season. The Rangers may be able to grab Stewart for a mid-round-pick, or a decent prospect.
My Take
I laid out basically all of the options that I felt were plausible. Some people will ask where Dustin Byfuglien and Patrick Marleau are, but to me it makes no sense as the Rangers would have to completely dump the only prospects and picks they have left for the foreseeable future to land Byfuglien. For Marleau they would need to put themselves into cap trouble for next year.
I think the guys that make the most sense on this list are Doan and Stewart, I think the Rangers will want some grizzle come the post-season, but anyone they add needs to be versatile. These guys can do all of that and shouldn't cost a fortune.